Updated September 01, 2023
A West Virginia notary acknowledgment form is a written declaration of an individual's willful decision to sign a document. A notary public acts as an impartial witness to the signing. This individual will request that the parties involved in the transaction prove their identity (usually by providing a government-issued photo ID) and confirm that they are aware of the contents of the document. In doing so, the notary public ensures that all signatures are being provided in the document for the reasons stated therein. Once all of the above has been accomplished, the notary will complete the acknowledgment form, thus deeming the signatures authenticated.
Laws – § 39-4-16
Notary Handbook – The West Virginia Secretary of State notary handbook explains the powers of a notarial officer, how to properly validate signatures, and what not to do in order to avoid impropriety and misconduct.
How to Notarize in West Virginia (4 steps)
1. Find Notary
Begin by finding a notary public that operates within the State. There are many places where a notary public can be found including the following:
A Local Bank or Financial Institution (BB&T has locations all across the State)
2. Complete Paperwork
After finding a local notary public, bring your documents to their office for assessment. Ensure that each form has been filled in completely and that there are no blank spaces except for the signature fields. However, a notary public may still notarize your document if it has been previously signed.
3. Show ID
The notary public may request a processing fee for their services depending on where your forms are being notarized; banks sometimes offer notarial services for free. At this point, it will be necessary for you to provide photo identification unless the notary public is personally known to you.
4. Authenticate
After the notary public has verified your identity and reviewed your documents, you will be asked to sign your documents in front of the notary public. Once signed, the individual will authorize your signature by completing the notary acknowledgment form. Your notarized documents will then be returned to you and the process will be completed.
Verify a Notary in West Virginia (3 steps)
Step 2
Using the search menu, enter the first and last name of a notary and click 
Search 
to submit that information.

The next page contains the details of each notary public registered under the name previously supplied. These details include the name, ID number, type, address, county, commission start/end dates, and the E-Notary status of each notary public in West Virginia.

Step 3
It's possible for you to refine your search results by performing an advanced search. This can be accomplished by navigating back to the
main search page
 and clicking 
Show Advanced Search Options
.

In the subsequent menu, describe the notary by entering the following information:
First name
Last name
County
Find an e-notary? (y/n)
Commission start range (start date)
Commission start range (end-date)
Commission expiry range (start date)
Commission expiry range (end-date)
Click Search after specifying the above details.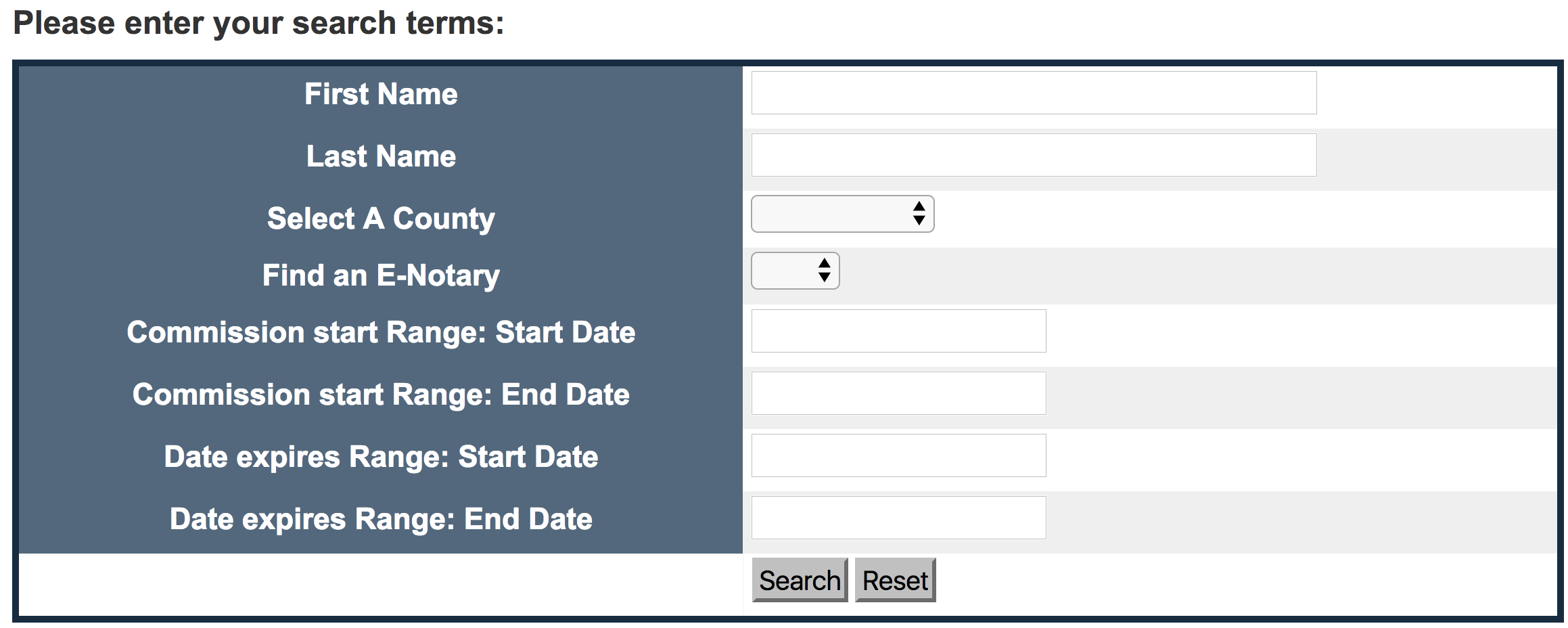 All notaries corresponding with the terms of your search will be presented on the following page. Scroll through the results until you've found your notary of preference.

How to Write (For Notary)
Step 1 – The West Virginia notary acknowledgment form can be downloaded in the following formats: PDF, Open Document Text, Microsoft Word.
Step 2 – After downloading the form, fill in the empty spaces with the following information:
County of acknowledgment
Date of acknowledgment
Name(s) of individual(s)
Seal/Stamp
Notary signature
Notary title of office
Notary commission expiry date