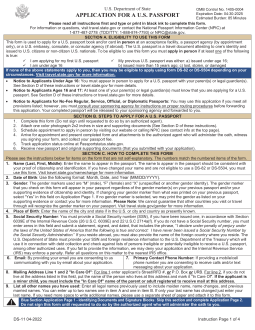 4.4 Stars | 23 Ratings
199 Downloads
Updated September 01, 2023
Passport forms facilitate the process for United States citizens and non-citizen U.S. nationals to replace their existing passports, renew an expired passport, or submit an application for a new passport.
Applying By Mail
The only circumstance in which an individual can apply by mail is if renewing a passport (using Form DS-82) from a US Passport they obtained at the age of 16 or older.
Applying In Person
If any of the following apply, you must apply in person:
Applying for your first US Passport.

You are applying for your child's US Passport who is under 16 years of age. (Note: Your child must be present with you.)

Your previous US Passport was Lost, Stolen, or Damaged.

Your US Passport was issued more than 15 years ago.

Renewing a US Passport that you obtained when you were under 16 years of age.
By Type (3)
Application for a US Passport (Form DS-11) – To apply for a new passport.
Renewal Application (Form DS-82) – To renew your passport.
Data Corrections, Name Changes, and Limited-Validity Passports (DS-5504) – To apply a change to your current passport.
How to Get a Passport (6 steps)
Follow this guide if you are applying for a US Passport in the United States. You must apply in person at a passport facility (operated by the US Department of State) by calling 1-877-487-2778 to make an appointment. You can also submit your application at a passport acceptance facility, which includes post offices, clerks of court, public libraries, and other local government offices.
Notice: You cannot obtain a U.S. passport if you owe more than $2,500 in unpaid child support payments.
1. Fill Out the Passport Application
The official document to be filled out is Form DS-11. Do
not sign
the application; wait until you arrive in person at the facility to be instructed. It's best to fill out the application online, print it out, and bring it with you to your facility of choice.
Personal information you must provide:
Name (Last, First, Middle) – Your name has to be consistent with the name shown on your currently valid identification. Now is not the time to try and change your name. If you have had other names in the past (maiden name, name changes, and previous married names), you must include them when prompted.
Date of Birth – Entered in the format of (MM/DD/YYYY)
Place of Birth – If born in the US, enter the City and State; else, enter the City and Country.
Social Security Number (SSN) – A social security number must be provided if you have been issued one. If not, you must enter zeros in the format of (000-00-0000) and attach the SSN Affidavit form that must be signed and dated.
Email + Phone Number
Mailing Address – Enter your legal address (P.O. Box addresses are accepted). If you do not live at the mailing address or the application is for a minor child, you must include the name of the guardian/person who lives at the address and mark it "In Care Of (name of guardian/person)."
Proof of Parental Awareness
Parents and guardians must bring the following documentation when helping their minor children apply for a passport.
Applicants Aged 15 and Younger
Evidence of the minor's relationship to both parents with either a birth certificate or a Consular Report of Birth Abroad.
Government-issued identification for both parents or guardians.
If only one parent or guardian can be present when applying in person, the other parent or guardian must sign and notarize Form DS-3035 in order to give consent. Otherwise, the sole parent or guardian must show proof of sole legal custody. If the second parent is dead, bring the death certificate.
Applicants Aged 16 and 17
Requires the consent of only one parent or legal guardian via signing and notarizing Form DS-3035 when the minor submits the application.
2. Gather Evidence of U.S. Citizenship
You need to prove that you are a US citizen or national. The easiest way to prove U.S. citizenship is with an original or certified Birth Certificate. If you have lost your birth certificate, you can
request a certified copy
from your local records office or consulate.
Other forms of acceptance:
An undamaged US Passport (valid or expired)
Certificate of Naturalization
Certificate of Citizenship
Important!
In addition to submitting proof of U.S. citizenship, you must also submit a photocopy of this document that must be:
Legible

On white 8.5" by 11" standard paper

Black and white

Single sided
If you are certain that you are a U.S. citizen but unable to present evidence of U.S. citizenship, you can request a file search by attaching a written request for a file search to your application and paying $150 for the file search fee (paid to the U.S. Department of State).
3. Bring Your Identification
The acceptance agent must be shown
one
of the following identification documents (IDs) and a photocopy of the ID:
Valid or expired, undamaged U.S. passport book or passport card
In-state, fully valid driver's license with photo – If out-of-state, you will need to bring an additional form of ID
Certificate of Naturalization
Certificate of Citizenship
Government employee ID (city, county, state, or federal)
U.S. military or military-dependent ID
Current (valid) foreign passport
Matricula Consular (Mexican Consular ID) – Used by a parent of a U.S. citizen child applicant
U.S. Permanent Resident Card (Green Card) – Used by a parent of a U.S. citizen child applicant
Trusted Traveler IDs
Enhanced Tribal Cards and Native American tribal photo IDs
4. Passport Photo
It's recommended to have your passport photo completed using a professional service that guarantees all mandatory government parameters are met, such as
Walgreens
,
CVS
, or the US Postal Service. Most
passport acceptance facilities
offer passport photo services.
After completing your passport photo, do not staple or attach the photo to the application. Keep the photo secured until you arrive at the passport facility for further instructions.
You are required to provide one photo that meets the requirements, which are as follows:
It must be a recent photo of you taken within the last six months.
The background must be plain white with no shadows.
Eyeglasses, head coverings, and uniforms are not allowed to be worn in the photo.
If you take a selfie, ensure the camera is on a tripod.
No filters or image altering allowed, commonly used on Social Media.
The photo should include your head and show just below your shoulders.
In-Person or By Mail Sizing
Photo: 2"x 2" (51 x 51 mm)
Head: Centered and sized between 1" and 1.4" (25 and 35 mm)
Digital Sizing
Format: JPEG
Dimensions: Minimum 600 x 600 pixels, Maximum 1200 x 1200 pixels
5. Payment
If you are applying for the first time,
two separate forms of payment are required.
The first form of payment must be paid by check or money order to the "Department of State" for the application fee. The second payment, by check or money order, is paid to the acceptance facility for the execution/acceptance fee.
The best option for payment is to bring two blank checks. If you do not have the ability to pay by check, determine the final amount and obtain two money orders from your nearest bank.
Adult Applicants (16 years and Older)

Minor Applicants (15 years and Younger)
Optional Fees to Consider (paid to the U.S. Department of State)
Expedite Fee ($60) – For faster processing times.
1-2 Day Delivery ($19.53) – The Department of State, having completed your passport, will send it back within 1 to 2 days.
If you are applying for a passport (book only) as an adult and want it as quickly as possible, it will cost you a total of $244.53.
6. Track Status
Visit
Check Passport Application Status
. You will need the following personal information to check your status:
Last Name
Date of Birth
Last Four Digits of your Social Security Number (xxx–xx–

xxxx

)
Tracking your passport's status is only available after your application has arrived in the mail and the U.S. Department of State has processed your payment. There is typically a delay of two weeks (unless expedited) from the day you apply before you can see the status of your passport, which will then show "In Process" as its status.
FAQ
How long does it take to get a passport?
The US State Department offers four (4) processing speeds to deliver your passport. *Processing times do not include mailing times, which can take up to 2 weeks if not expedited.
Routine (slowest) – Processing takes, on average, 10-13 weeks.
Expedited (faster) – Processing takes, on average, 7-9 weeks.
Urgent (fastest) – Processing takes, on average, 2 weeks.
Emergency – Processing takes, on average, 3 business days. Note: You must show proof of a life-or-death emergency to qualify.
Speeding Up the Process
You can purchase Priority Mail Express (1-2 day delivery) from the United States Postal Service when submitting your application. In addition, you can pay $19.53 for your passport to be expedited back to you, which also takes 1-2 days. However, you must include a check or money order (in the amount of $19.53), payable to the "U.S. Department of State" when sending in your application.
How much is a passport?
The US State Department sells the passport book and the passport card; both can be bought together. Passport fees are non-refundable and collected when you apply for the passport service. If you want your passport expedited, it will cost an additional $60 dollars.
Costs and Fees For Adults
Passport Book – $130
Passport Card – $30
Passport Book & Card – $160
Execution Fee – $35
Costs and Fees For Child Applicants (Aged 15 and younger)
Passport Book – $100
Passport Card – $15
Passport Book & Card – $115
Execution Fee – $35
Do you need a passport to go…
To Puerto Rico?
Puerto Rico is a U.S. territory; therefore, citizens of the United States do not need a passport to travel there.
---
To the Bahamas?
The Bahamas is a country in the Caribbean that is not part of the United States or its territories. Citizens of the United States need a passport when traveling to the Bahamas.
---
To Canada?
Citizens of the USA and U.S. nationals must carry a U.S. passport when entering Canada. All travelers are subject to a background check; you will be denied entry if criminal activity (for example, a DUI) is found.
In addition, an immigration officer may ask you to provide the following information:
Proof that you are financially capable of enduring your stay.
Proof of intent to return to the U.S. at the end of your trip.
---
On a Cruise?
If the cruise begins and ends at a U.S. port, referred to as a "closed-loop cruise," you are not required to bring a U.S. passport. However, if you do not bring a U.S. passport, you will be required to bring the following:
A valid government photo I.D. if 16 years of age or older.
A certified birth certificate or certificate of U.S. naturalization
The Department of State still recommends that U.S. citizens carry a passport in the event of an emergency, or if you get left behind, you'll need your passport to return home.
Where to get passport photos?
When submitting your application to an acceptance facility, it's recommended that you come fully prepared with all your supporting documents and photo. Due to the nature of the photo requirements, the easiest option to get a passport photo is at your local Walgreens or CVS pharmacy, each charging $16.99 for their services. Or you can opt to have your photo taken by the following:
A family member (least recommended).
Acceptance facility (post office, library, local government office) or photo vendor.