An Alabama advance directive allows an individual to select someone else to make health care decisions on their behalf and to decide life-ending treatment options. This is a form primarily used for those in riskier health situations and the elderly. After signing, it should be kept in a safe and accessible place in the event of an emergency.
Table of Contents
Laws
Statute – § 22-8A-4
Signing Requirements (§ 22-8A-4(c)(4)) – Two (2) witnesses of at least 19 years old and can't be the agent or related to the principal by blood, marriage, or someone entitled to any portion of the principal's estate or the person paying for the principal's medical care.
State Definition (§ 22-8A-3(3)) – "A writing executed in accordance with Section 22-8A-4 which may include a living will, the appointment of a health care proxy, or both such living will and appointment of a health care proxy."
Versions (5)
---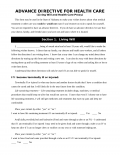 Download: Adobe PDF
---
Download: Adobe PDF
---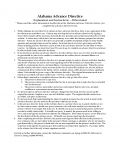 Download: Adobe PDF
---
Download: Adobe PDF
---
Download: Adobe PDF
---
How to Write
Download: English (Adobe PDF), Español (Adobe PDF)
1 – Acquire the "Alabama Advance Directive | Living Will & Power of Attorney" Form
You may obtain this form directly from this site as a PDF or a Word file. Locate the buttons labeled "PDF" and "Word" on the right. Download the version you prefer working with.
2 – Provide Basic Information
Begin by entering the following in Section 1. Living Will:
Name of principal 
Initial if you
Would like to receive life-sustaining treatment if you are terminally ill or injured; 
Would like food and water provided through a tube if terminally ill or injured;
List any other directions you would like done in the chance something happens to your health 
If none initial the line that states "No, I do not have any other directions."
3 – Naming an Agent
In Section 2., titled 'If I need someone to speak for me', you must enter the following:
Initial if:
The first line if you

do not

want to name a health care proxy or the second line if you

do

not want a health care proxy
If you elected to have a proxy enter their name, relationship to you, full address, and day-time/night-time phone number. 
In addition, if you would like a second (2nd) agent you may enter the same information on the next set of fields.
4 – Empowering the Agent
Under the 'Instructions for Proxy' heading you will need to make decisions on how much power your agent will have by following the questions below;
Initialing the following "yes" or "no" question:
Would you like your agent to make decisions based on whether to give you food or not through an IV?
Place your initials by one of the following questions:
You would like the agent to follow

only

directions listed
You would like the agent to make decisions based on what is written on the form and not on the form
You would like the agent to make any and all final decisions even though it could be something different from what is listed on this document
5 – Identify a Party for Life-Sustaining Consultations
In Section 3, Things listed on this form are what I want, list the individuals that the principal would like the doctor on site to talk about the good and bad points of no longer receiving life-sustaining treatment or food and water through a tube and IV.
6 – Principal Signature
On the signature areas the principal, health care proxy, and at least two (2) witnesses are required to authorize the form. Once complete the form should be given to the principal's primary care physician and distributed to all participants in the document.
The first Witness listed for this Signing must provide his or her Printed Name, Signature, and Current Date
The second Witness listed for this Signing must also Print his or her Name, Sign his or her Name, and supply the current Date
7 – Health Care Proxy Acknowledgment
Locate the "Signature of Proxy" section. The first choice for the Principal's Health Care Proxy must Print and Sign his or her name and provide a Signature Date in the Health Care Proxy Acknowledgment Statement
The second choice(if applicable) for the Principal's Health Care Proxy must also Print and Sign his or her Name as well as provide a Signature Date. This must be done in the "Signature of Second Choice for Proxy."
Resources
Related Forms
---
Download: Adobe PDF
---
Download: Adobe PDF, MS Word, OpenDocument