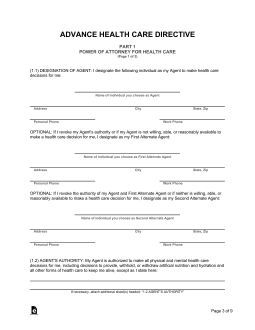 A California advance health care directive allows an individual to choose an agent to make medical decisions on their behalf and select end-of-life treatment options. An advance directive combines a medical power of attorney and a living will. It is recommended to be completed by elderly individuals and those seeking high-risk medical procedures. It allows loved ones to make medical decisions on a person's behalf and to outline their preferred life-saving treatment options. It is a combination of a medical power of attorney and a living will.
Table of Contents
Laws
Statute – PROB § 4701
Signing Requirements (PROB § 4701) – Two (2) witnesses or a notary public.
State Definition (PROB § 4605) – "Advance health care directive" or "advance directive" means either an individual health care instruction or a power of attorney for health care."
Registering
An individual can register an advance directive by completing the Registration Form (SFL-461), attaching a check for $10 (payable to the "Secretary of State"), and sending to:
Secretary of State
Special Filings Unit
P.O. Box 942870
Sacramento, CA
94277-2870
Versions (5)
---
Download: Adobe PDF
---
Download: Adobe PDF
---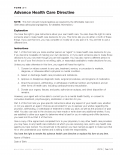 California Hospital Association
Download: English, Spanish (español)
---
Download: Adobe PDF
---
Download: Adobe PDF
---
How to Write
Download: Adobe PDF
Step 1 – Access The California Advance Health Care Directive From This Site
Locate the "Adobe PDF" link above to access the Health Care Directive. This link will initiate a direct download of the form once it is selected. You may also view a sample of the form using the preview image then save the same form using the "PDF" button on display. Notice that other forms are also available on this page as a matter of convenience.
Step 2 – Review The Form's Introduction
Open the template then read the introduction. This will provide a wealth of information regarding this form and make several disclosures regarding boundaries. 
Step 3 – Name Your Alternate Health Care Agent Choices
If you have decided to grant a specific Party with the power to make health care decisions on your behalf, then locate the title "Part 1 Power Of Attorney For Health Care." The first section "(1.1) Designation Of Agent." will require the full "Name Of Individual You Choose As Agent" presented on the first blank line after the words "…To Make Health Care Decisions For Me." As the Principal behind this issuance, you will be granting the authority to make medical decisions on your behalf (regarding your healthcare/treatment) to the individual you name here. This will be your Primary Health Care Agent until you revoke his or her principal authority or issue an updated directive. Note, it is generally recommended to issue revocations in writing before issuing a new directive.
The next four blank spaces carry several labels in parentheses. Produce the "Address," "City," "State," and "Zip Code" of the chosen Health Care Agent's home address. This must be a geographical location thus, do not record a mailing address such as a PO Box in this area since this will not define the Health Care Agent or enable a reasonably reliable method of contact.   
The final two empty lines are labeled as "Home Phone" and "Work Phone" and refer to where your Health Care Agent can be reached by phone. If your Health Care Agent does not have a landline and is usually reached by cell phone, then document his or her cell phone number on the line labeled "Home Phone." 
The next two sections in this first part are titled "Optional." The first of these areas should be used to name your choice for an Alternate Agent. This is the person who will take up the obligations and the responsibilities of the Health Care Agent (named above) regarding your principal authority if, or when, the Primary Health Care Agent will not, does not, or cannot fulfill your directives and instructions. Naming an Alternate Health Care Agent is not mandatory, but it is recommended since many consider attempting to plan for every contingency (in such paperwork) wise. If you have determined who may assume and act in this role then document his or her name on the "Name Of Individual You Choose As First Alternate Agent" line.
If you have named an Alternate Agent, then furnish his or her address on the lines presenting the labels "Address," "City," "State," and "Zip Code" lines. Again, this may not be a PO Box address but must be the home address where the Alternate Health Care Agent can be found physically.  
Finally, record the Alternate Health Care Agent's home and business telephone numbers on the lines labeled "Home Phone" and "Work Phone" accordingly.   
As mentioned earlier, two areas named "Optional" follow the Primary Health Care Agent's designation. The second "Optional" area is reserved for the designation of a Second Alternate Agent. It is, unfortunately, possible that both the Agents named above may not be available to act when needed, may not wish to act as instructed, or are otherwise unable to carry your wishes forcing a revocation of their principal power. In such cases, having a Second Alternate Health Care Agent already set in place can be considered a conveniently arranged necessity. Input the full "Name Of Individual You Choose As Second Alternate Agent" if you have determined who may represent your wishes with principal authority should Primary and Alternate Health Care Agent be unable to do so.
After identifying the Second Alternative Health Care Agent, furnish the "Address," "City," State," and the "Zip Code" lines presented below with the Second Alternate Health Care Agent's geographic or physical home address.
The Second Alternate Agent's home and business telephone numbers are the next required items. Produce them on the "Home Phone" line and the "Work Phone" line.   
Step 4 – Discuss Limits On The Health Care Agent's Authority
As the introduction discussed, the Health Care Agent that is named and approved to represent your decisions and interests (as you require) may be placed under some restrictions. If you wish to limit the decision or action-taking powers the Health Care Agent(s) can engage in using your name, then use the blank lines following the "(1.2) Agent's Authority" paragraph should be used to report any such restrictions you wish imposed on the Health Care Agent's principal powers. Naturally, you may need more than a few lines, thus, you may insert more as needed or simply cite an attachment with such information.
Step 5 – Define When The Health Care Agent's Principal Powers Become Active
The next paragraph that seeks definition in this area is "(1.3) When Agent's Authority Becomes Effective." If you mark the box between the phrase "If I Mark this Box" and the words "My Agent's Authority…" then the Health Care Agent will be able to represent you immediately. Otherwise, if left unmarked, the Health Care Agent will be unable to wield principal power until a Physician determines your inability to communicate (in writing). 
Step 6 – Deliver Your Stance On Organ Donation
There will be an opportunity to discuss the full extent to your wishes regarding organ donation later in this template, however, paragraph "(1.5) Agent's Post-death Authority" will give the opportunity to place restrictions or limitations on the Health Care Agent's ability to donate your "Organs, Tissues, and Parts" in this part of the directive. This is especially useful for those who do not wish to include the next section but wish to address this issue. The blank lines in this paragraph have been placed to accept your wishes in this matter. 
Step 7 – Furnish Directives Governing Your End-Of-Life Decisions
In "Part 2 Instructions For Health Care," the first section "(2.1) End-Of-Life Decisions" allows you to instruct the Health Care Agent and any Reviewer of this paperwork to understand your preferences as to whether medical intervention is approved as a response to a (medical) event that will result in your death. This will be handled through some standard language presented in two checkbox choices. Thus, if you do not approve of medical staff prolonging your life during scenarios where you have an incurable disease, are rendered as unconscious with little hope of waking, or when any treatment available will cause significant deterioration to one's personal life or health then, you must mark the checkbox statement "(a) Choice Not To Prolong Life" to indicate this directive. 
If you wish your life prolonged under any circumstances, even those named in the previous choice, then select the checkbox corresponding to the label "(B) Choice To Prolong Life" 
Step 8 – Indicate How Pain Management Should Be Handled By Your Representative
Generally, a Medical Facility will attempt to keep a patient pain-free as possible however some pain management regiments may involve factors, such as pharmaceuticals or invasive surgeries, that a Patient may not wish to be subjected to. If  there are any pain management treatments that you do not wish employed, then document them on the blank lines provided in "(2.2) Relief From Pain."
Step 9 – Continue With Specific Directives Of Your Choosing
The previous sections have discussed scenarios that occur frequently enough to be universal concerns for this document. The blank lines in "(2.3) Other Wishes" deliver an area where you can freely address any other concerns. You may use this section for such actions as to impose limitations upon specific treatments, address how a medical emergency should be handled, document a preferred plan of action for certain scenarios, and any other directives or instructions that have not been discussed. This is not a mandatory section; however, it is recommended that you have a discussion with your Physician prior to addressing this paragraph section with material defining your health care wishes.   
Step 10 – Solidify Your Post-Death preferences
The next section of this form, "Part 3 Donation Of Organs, Tissues, And Parts At Death," may be considered optional. If you choose to include this section, then begin in the first paragraph ("(3.1)"). If you mark the checkbox placed at the beginning of this paragraph, then you will be granting the Health Care Agent and Reviewers of this document the approval to discuss and proceed with your organ donation.
Naturally, when an organ, tissue, or body part is wanted, it will be for a specific purpose. If you wish to express a directive governing the donation of your body parts (including organs and tissues) then review the list in section "(3.1)" placed after the statement beginning with "My Donation Is For The Following…" Any item left intact on this list will be considered an approved purpose for your organ, tissue, and body part donation while any item that you cross out or delete will define a purpose that you do not approve of. For instance, if you approve of donating your organs for the purpose of satisfying an organ transplant then, leave "(A) Transplant then proceed to review the other items (see below). If you do not approve of your organs, tissues, or body parts being donated for the purpose of a "Transplant," then cross out the first item on this list; "(A) Transplant." 
If you do not wish your organs and body parts donated for "Therapy," then cross out the second item on this list ("(B)" Therapy) as demonstrated below.
The third item, "(C) Research," should be removed or crossed out should you not wish any of your bodily donations to be subjected to examination and experimentation by Scientific Entities. The example below indicates that the Principal of this directive will approve of organ donations made in the name of "Research" because this item has been left intact.
If you do not wish your bodily donations made to schools or for educational purposes, then cross out "(D) Education."
Step 11 – Further Define Your Post-Death Organ And Tissue Donation Directive If Desired
Additional restrictions, preferences, instructions, or limitations you wish engaged when considering the donation of your organs, tissues, and parts can be documented directly in this section by producing these directives on the blank line below the statement starting with the words "If You want to Restrict…"   
Step 12 – Dispense The Identity Of Your Primary Physician
The next part of this paperwork is also optional. You may identify your Doctor for the convenience of your Health Care Agent and this paperwork's Reviewer in "Part 4 Primary Physician (Optional)." If you wish to proceed with this task, then seek out the blank line labeled "Name Of Physician" in the section labeled "(4.1)" and document the full name of your Primary Physician on its content.
Use the next labeled areas ("Address," "City," "State," and "Zip Code") to dispense your Primary Physician's office address. This must be where the Physician's Office is physically located as opposed to a PO Box number.
The Office Phone Number maintained by your Primary Physician's Practice should be entered on the next blank line (labeled with the word "Phone").   
The next area in this section is "Optional" as well. If you wish to provide back-up or secondary Physician that can be contacted (if necessary) then, locate the next "Name Of Physician" line. Dispense the full name of this "Physician" as requested. 
It will also be important to make sure the address of the Physician available for contact to have his or her Practice's contact information provided. Thus, record the physical "Address," "City," "State," and "Zip Code" where his or her Practice is found on the next four blank lines.
Finally, record the current "Phone" number of the Physician's practice on the last blank line.   
Step 13 – Execute Your Wishes With This Documentation
This document must be executed properly once it is completed. This action can only be carried out by the Principal issuing his or her authority to the Health Care Agent(s). You, as the Principal, must therefore sign your name either before two Witnesses or a Notary Public. Once these arrangements have been made and you are ready to execute your Advance Health Care Directive, locate section "(5.2) Signature," then present the month, calendar day, and year of the current "Date" on the first blank line and  "Sign Your Name" on the adjacent blank line.
Your street "Address" and printed name must be presented directly to this area as well, make sure to produce these items where requested.  
Complete your address by furnishing the appropriate "City" and "State" on the next line down.  
Step 14 – Use Two Witnesses To Authenticate Your Signature
If you have opted to execute this document before two Witnesses, then you must relinquish it once signed. Each Witness must read the next paragraph "(5.3) Statement Of Witnesses" then claim a signature area by printing his or her name directly under the title "First Witness" or "Second Witness." 
The first line in the Witness's "Address" must be presented directly underneath his or her name.

Conclude each Witness "Address" report by recording his or her "City" and "State."
Now, both Witnesses must sign the "Signature Of Witness" line at the end of the column presenting his or her printed name and address.
The final responsibility each Witness must satisfy is to record the "Date" of his or her signature on the blank line directly below it. 
Step 15 – At Least One Witness Must Satisfy Additional Requirements
One of the Witnesses must be ineligible to receive any portion of your assets or estate upon your death and be completely unrelated to you for the purpose of this directive. To this end, both Witnesses must review "(5.4) Additional Statement Of Witnesses" and at least one must sign a "Signature Of Witness" line presented below. Ideally, both will be able to attest to the above statement and sign this area. In our example, only one Witness was qualified to make this testimony. In most areas, this is acceptable, however it is recommended to make sure that any city or local requirements that differ from the State's on this matter are well-researched before this directive's execution takes place.
Step 16 – Produce An Additional Witness Signature As The Situation Dictates
If you are a Patient or Client of a Skilled Nursing Facility, or an institution that provides extended (skilled) nursing care, then a statement to this document's authenticity as well as that of your signature's must be made by your Patient Advocate or Ombudsman. This testimony is already provided in section "(6.1)" under the title "Statement Of Patient Advocate Or Ombudsman." He or she must read this statement then agree with it by signature. This accomplished by his or her entry of the current "Date" followed by signing the line labeled "Sign Your Name." 
The Patient Advocate Or Ombudsman must continue printing his or her "Address" and full name where requested.   
Once done, the Patient Advocate or Ombudsman must supply his or her "City" and "State" on the last line of this area then release this document to the proper Party (You).  
Step 17 – Present The Notary With This Document And Notary Page
If you have opted to verify your signature execution of this directive by signing it in the presence of a Notary Public, then make sure to follow his or her directions as they are delivered. The final page of this directive should be provided with the Notary's report on the location date of this signing. 
Related Forms
---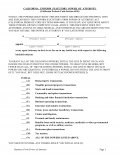 Durable Financial Power of Attorney
Download: Adobe PDF
---
Download: Adobe PDF, MS Word, OpenDocument