5.0 Stars | 6 Ratings
57 Downloads
Updated August 08, 2023
A Delaware advance health care directive is a combination of a medical power of attorney and a living will and allows a person to define his or her end-of-life preferences, such as resuscitation or artificial nutrition. In addition to these directives, the issuing principal must name a predetermined agent to make sure such health care decisions are carried out – even when the principal is unconscious or otherwise unable to act on his or her own behalf.
Advance Directive Includes
Part I. Instructions for Health Care Decisions
Part II. Power of Attorney for Health Care
Part III. Anatomical Gift Declaration
Laws
Statute – Title 16, Chapter 25 (Health Care Decisions)
Signing Requirements (§ 2503(b)) – Two (2) witnesses.
State Definition (§ 2501(a)) – "Advance health-care directive" shall mean an individual instruction or a power of attorney for health care, or both.
Versions (4)
---
Download: PDF
---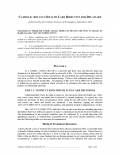 Catholic Diocese of Wilmington
Download: PDF
---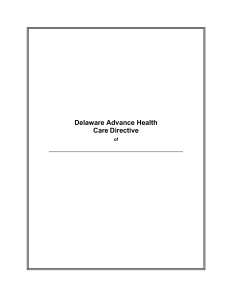 Dept. of Health and Social Services (DHSS)
Download: PDF, MS Word, OpenDocument
---
Download: PDF
How to Write
Advance Health Care Directive Principal
(1) Principal Name. The full name of the Delaware Declarant (also known as the Principal) must be submitted to attach this directive to the proper Party.

End Of Life Instructions For Delaware Physicians
Complete Either Item 2 Or Items 3, 4, And 5
(2) Prolonging Life Directive. The first definitive instruction expected of the Delaware Declarant is presented as a choice. If the Delaware Declarant is unconscious with a serious medical condition (i.e., he or she is the victim of a life-threatening accident or has fallen into a coma from pre-existing condition) then Delaware Health Care Professionals will justifiably seek the Principal's consent to use life-support or life-prolonging techniques to keep his or her body alive. This may involve procedures ranging from intubation to dialysis depending on the Delaware Declarant's condition and the default treatment responses required by the State and relevant Medical Facility. To give immediate consent for all life-prolonging techniques to be employed when this is necessary to keep the Delaware Declarant alive, he or she must initial Statement 1. If this does not match the Delaware Declarant's desire with this directive, then it should be left unmarked.

(3) Choice Not To Prolong Life. The Delaware Declarant may wish, as the future Patient, to declare specific treatments as unacceptable when he or she has an incurable medical condition or has been rendered permanently unconscious. If so, then Statement 2's directives must be reviewed beginning with the treatment responses Delaware Medical Staff may automatically seek consent to employ when the Declarant (or Principal) has been diagnosed with an untreatable medical condition. To address the life-prolonging incentive when in such a condition, Directive (i) must be initialed by the Declarant.
(4) Treatments When Terminal. A list is displayed to gain the Delaware Declarant's approval or consent to artificial nutrition through a conduit, hydration through a conduit, cardiopulmonary resuscitation, or other treatments that the Delaware Declarant defines. Each one of these treatments should be presented as one the Delaware Declarant wants to be used or does not want to be used through his or her initials in the appropriate column. The Delaware Declarant can list as many "Other" treatments as he or she likes and may continue composing this list either by inserting additional lines in all columns or composing an attachment.
(5) Treatments When Permanently Unconscious. Whether the Delaware Declarant has issued treatment decisions when terminally ill, he or she can address life-prolonging treatments if diagnosed as permanently unconscious by attending to Directive (ii). By using his or her initials, the Delaware Declarant can indicate that he or she wishes artificial nutrition, artificial hydration, cardiopulmonary resuscitation, mechanical respiration, and other concerned treatments utilized when appropriate or does not want one or more of these treatments used.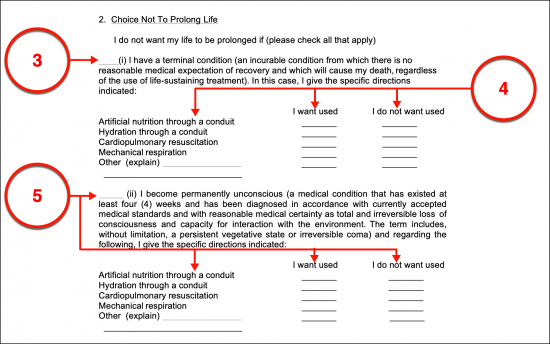 Other Medical Instruction
(6) Delaware Declarant Directives. This paperwork readily provides the most common directives regarding treatments used when the Patient is unconscious, untreatable, and/or incapacitated to a point where he or she cannot communicate with Delaware Health Care Providers. The Delaware Declarant has the opportunity to list other instructions, preferences, sought treatments, preferred Facilities or Physicians, and medications by providing such provisions directly to this paperwork as formal medical instructions and preferences. If more room is needed, then an attachment with this information should be fashioned. It is advisable that the Delaware Declarant have a frank discussion regarding such additional directives with a Medical Professional or Attorney licensed in the State of Delaware.

Part II: Power Of Attorney For Health Care
(7) Designation Of Agent. The Delaware Declarant can also act as the Principal behind the designation of a Health Care Representative or Agent. Naming such a Party in this form will give him or her the ability to speak with Delaware Doctors on behalf of the Principal (or Delaware Declarant). If this appointment is desired by the Delaware Declarant (or Principal), then the full name of the Delaware Health Care Professional must be presented as a part of the appointment statement provided.
(8) Designation Alternate Health Care Agent. It is worth considering that the Delaware Health Care Agent appointed by the Declarant or Principal may not be able to act in this role. For example, he or she may be out of the country for a significant period of time, may be incapacitated at the time his or her representation is required, or has been disqualified or revoked from this role. Thus, it is strongly recommended that an Alternate Agent be given the power to succeed an ineffective or revoked Delaware Health Care Representative. The appointment of this Reserve or Alternate Agent should be made by submitting his or her name to the final part of the declaration.

(9) Health Care Agent Contact Information. The full name, address, home phone number, and work phone number should be documented so that future Delaware Physicians can easily (and quickly) contact this Party.

(10) Alternate Health Care Agent Contact. If the Health Care Agent cannot satisfy the requirements of this role when contacted, then it will be especially important that Delaware Physicians be able to contact the Alternate Health Care Agent. Thus, his or her full name and contact information (address, phone numbers) must be presented.

Agent's Authority
(11) Delaware Principal Review. The Delaware Principal is encouraged to review the default powers given through this paperwork. Any of these may be removed by deleting them or striking through them with a horizontal line however, an appropriate Professional such as a Medical Attorney or a Physician should be consulted before doing so.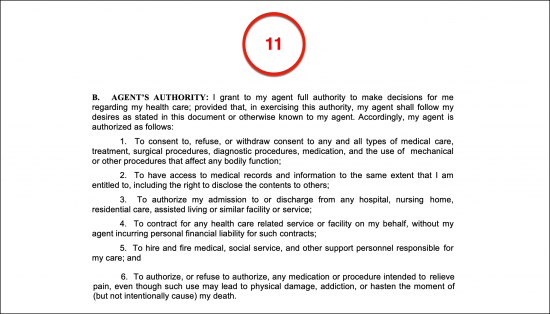 Part III. Anatomical Gift Declaration
(12) Authorized Anatomical Gifts. If the Delaware Principal wants to be a Delaware Organ Donor, then an optional area presented in this paperwork can be utilized for such a declaration. To attend to this area the Delaware Principal must use the checkbox choices to define if he or she wishes to donate his or her body as a whole to one Entity, any needed organs, or parts, or provide a list of the body parts (organs, tissues, bone, etc.) that are approved for anatomical donations.

(13) Principal-Approved Recipient. The Delaware Principal can also declare the identity of the Entity that may receive his or her anatomical gifts. By selecting the checkbox corresponding to the appropriate statement, anatomical gifts may be designated to the Physician present at the time of the Delaware Principal's death, the hospital where death occurs, or an Entity(ies) that he or she lists.

(14) Intended Purpose. The reason(s) the Delaware Principal authorizes for his or her anatomical gifts can be set for any purpose or further defined as only for therapy, transplantation, research, and/or medical education.

Delaware Principal Signing
(15) Principal's Signature Date. This document requires a verifiable signature to be provided by the Delaware Declarant or Principal. This means the signature he or she provided must be attached to a specific calendar date and provided before (at least) two Witnesses. The Delaware Declarant should produce the date of his or her signature just before executing this document.
(16) Delaware Principal Signature. The signing of this document can only be executed by the Delaware Declarant.
(17) Printed Name And Address. The full name of the Delaware Principal or Declarant along with his or her address should be provided when the Delaware Principal or Declarant signs this document.

Witness Statement
(18) Ombudsman Or Patient Advocate Contingency. If the Delaware Principal is in an Advance Care Facility, then at least one Witness must be his or her Health Care Advocate or Ombudsman. If so, then the full name of the Patient Advocate Witness must be a part of the Witness Statement.

(19) Witness Information. Both Witnesses should prepare their signature areas with a record of their names and addresses.
(20) Witness Signature. Each Witness verifying the act of the Delaware Principal's signing must show agreement to the declarations made in the Witness Statement by signing his or her name.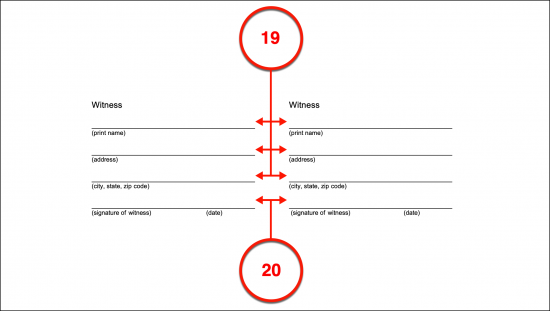 Optional Notarization
(21) Notary Process. A predetermined area has been set aside for the exclusive use of the Notary Public to use the notary process to verify the Delaware Principal's act of signing. 

Related Forms
---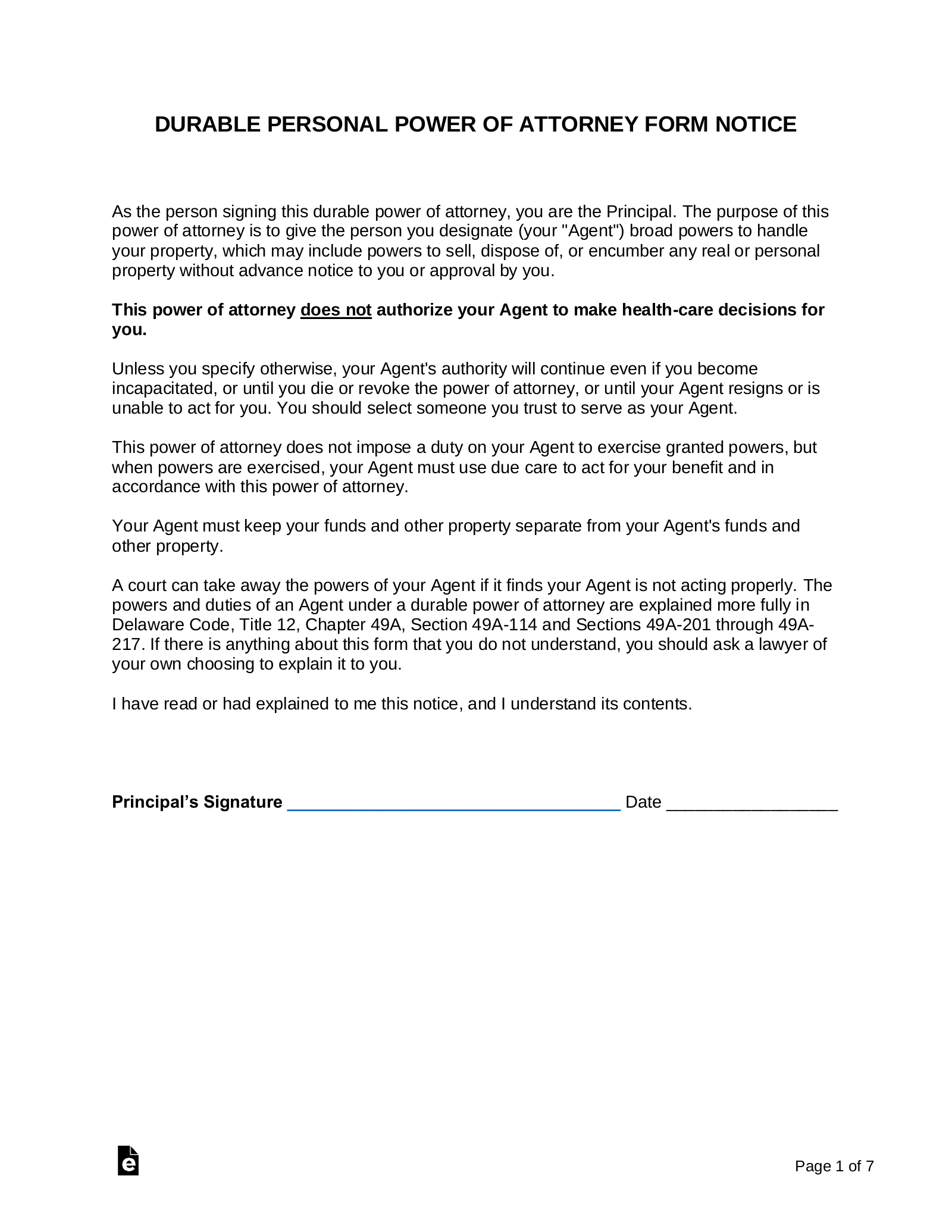 Durable (Financial) Power of Attorney
Download: PDF, MS Word, OpenDocument
---
Download: PDF, MS Word, OpenDocument