A Delaware durable statutory power of attorney form provides a way in which a person can choose another person to legally handle his or her financial affairs. A durable power of attorney continues in effect even if the principal (person assigning powers) is declared incompetent and unable to handle his or her own financial affairs. This is an important legal document that should only be issued to appoint powers the principal can trust implicitly. It is generally recommended the principal precisely define the powers he or she wishes to grant.
Execution (§ 49A-105) – Must be signed in the presence of a notary public and one (1) witness that is not related by blood, marriage, or adoption or entitled to any portion of the principal's estate through a Last Will and Testament, codicil, or trust.
Laws – Title 12, Chapter 49 (Durable Powers of Attorney)
Statutory Form – § 49A-105
Versions (2)
---
Standard Durable Statutory Power of Attorney
Download: Adobe PDF, MS Word, OpenDocument
---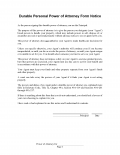 Durable Statutory Power of Attorney – Version 2
Download: Adobe PDF
---
Medical Power of Attorney (Advance Health Care Directive) – Gives the opportunity to select someone to make healthcare decisions in the event that you become incapacitated.
How to Write
Download: Adobe PDF, MS Word, OpenDocument
Step 1 –