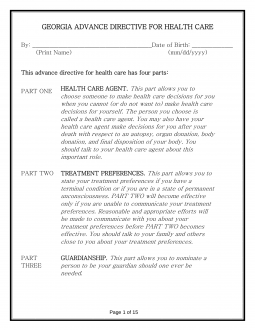 4.8 Stars | 105 Ratings
1,287 Downloads
Updated October 22, 2023
A Georgia advance directive for health care gives an individual the right to select a medical agent to make decisions on their behalf and select their end-of-life treatment options. The form also allows for post-death decisions such as autopsy requests, organ donations, and the final disposition of the body. The form does not need to be notarized and is required to be signed by two (2) witnesses.
Advance Directive Includes
Part 1. Health Care Agent

Part 2. Treatment Preferences

Part 3. Guardianship

Part 4. Effectiveness and Signatures
Laws
Statutes – Title 31, Chapter 32 (Advance Directives for Health Care)
Signing Requirements (§ 31-32-5(c)(1)(2)) – Two (2) witnesses who are of sound mind and at least 18 years of age. Neither witness may be the declarant's agent nor should they stand to inherit or gain anything upon the declarant's death.
State Definition (§ 31-32-2(1)) – "Advance directive for health care" means a written document voluntarily executed by a declarant in accordance with the requirements of Code Section 31-32-5.
Versions (5)
---
Download: PDF
---
Download: PDF
---
Download: PDF
---
Download: PDF
---
Download: PDF
How to Write
Download: PDF
(1) Name. The Patient seeking to communicate with Georgia Physicians using this document is the Principal or Declarant. His or her full name should be attached to this paperwork as its first presentation.
(2) Date Of Birth Of Georgia Principal.

Health Care Agent
(3) Georgia Health Care Agent. The Principal can name a Georgia Health Care Agent (sometimes referred to as a Medical Attorney-in-Fact) by simply declaring this appointment's full name and contact information. The Georgia Principal may choose nearly anyone at his or her disposal however, it is recommended (strongly) that the Medical Attorney-in-Fact is a trusted and reliable Party for the Principal.
(4) Georgia Health Care Agent Address.
(5) Direct Contact Information. It is crucial that Georgia Physicians be able to contact the Medical Attorney-in-Fact or Health Care Agent with the information presented. Thus, his or her current home telephone number, work telephone number, cell phone number, and e-mail address should be recorded.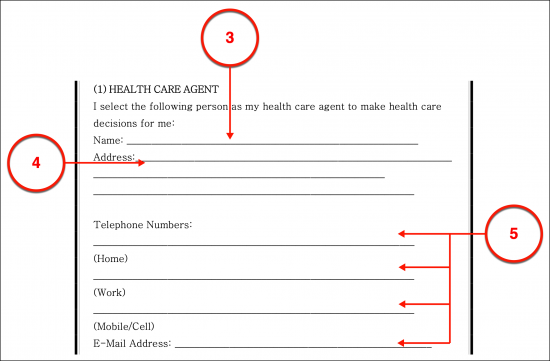 Back-Up Health Care Agent
(6) First Back-Up Agent Name. The Georgia Health Care Agent appointed at the time of this document may not always be available or qualified. For instance, the Georgia Health Care Agent may be outside of the country when he or she is needed to discuss the Principal's medical treatments with Physicians in this state. A Back-Up Agent can be set in place to assume the responsibilities of an ineffective or revoked Georgia Health Care Agent as well as the authority to represent the Principal's medical wishes. This is an optional appointment however naming a Back-Up Agent is considered a wise precaution.
(7) Address.
(8) Phone Number(s) And E-Mail.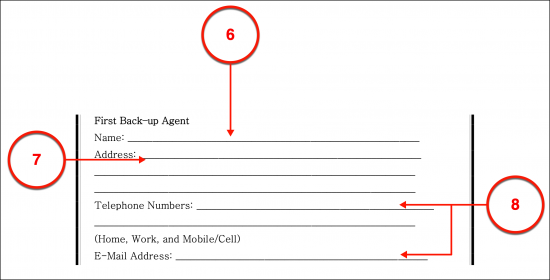 Second Back-Up Agent
(9) Second Back-Up Agent Name. An additional appointment option available through this form is that of a Second Back-Up Agent. If the Medical Attorney-in-Fact and the First Back-up Agent are not available to represent the Georgia Principal or has been revoked or disqualified from using the principal authority to discuss and decide upon the Principal's treatment options with Physicians in this state, then a Second Back-up Agent, named here, will be able to assume this role with the health care powers this document grants.
(10) Address And Direct Contact Information.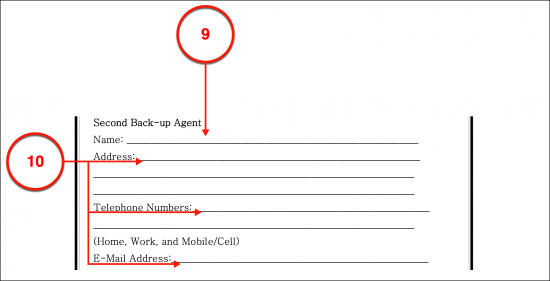 Powers Of Health Care Agent After Death
(11) Autopsy. In addition to the principal authority to speak to Georgia Physicians on behalf of the Patient, the Georgia Principal can grant the Health Care Agent the power to decide if a private autopsy is acceptable or should be denied. This type of authority requires the additional verification that comes from the Principal's initials.

(12) Organ Donation And Donation Of Body. By default, this document appoints the Georgia Health Care Agent with the power to decide upon the disposition of the Principal's body after death. The Georgia Principal may limit this ability with a declaration of his or her intentions by initialing the statement restricting the Health Care Agent from donating the Principal's anatomical gifts to a medical study program and/or restrict the Health Care Agent from deciding upon the Principal's organ donations at all.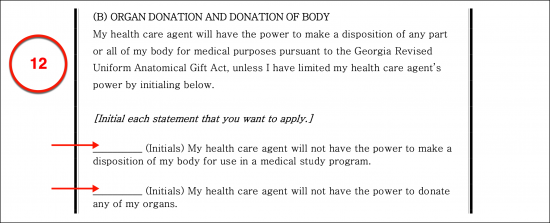 (13) Final Disposition Of Body. If the Principal has a specific Party in mind for the final decisions regarding his or her body and funeral arrangements, then he or she must designate this position through this document beginning with his or her initials of authorization.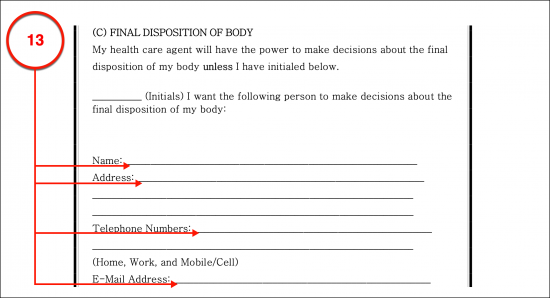 (14) Authorized Agent For Final Disposition. If the Georgia Principal has indicated that a specific Party should make the decisions and employ the necessary actions to handle the disposition of his or her body after death, then this Party must be named. The address, telephone numbers, and email address of this Disposition Agent should also be documented.

Conditions To Treatment Preferences
(15) Medical Condition Causing The Living Will. The Georgia Patient or Declarant issuing this directive must set the living will portion to go in effect in response to a predetermined medical condition. The Georgia Declarant's living will can be set to be effective if the Principal (or Declarant) has a terminal condition that will lead to death shortly regardless of treatment, if he or she is permanently unconscious and will not recover, or both by supplying his or her initials to the appropriate statements(s).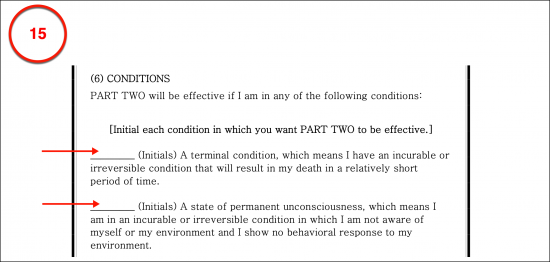 (16) Treatment Preferences. If the Georgia Declarant wishes attending Health Care Providers to use this document to determine his or her treatment needs, then a directive must be presented. The Georgia Declarant can inform attending Health Care Providers that his or her life should be extended as long as possible, that he or she wishes a natural death, or that he or she does not generally want life-prolonging procedures administered but will grant consent to the procedures listed in this directive by initialing Statement A, B, or C (respectively).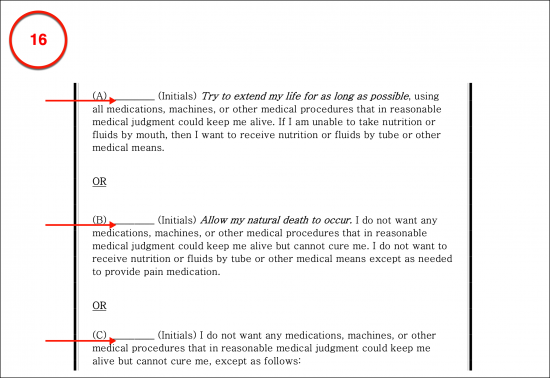 (17) Exceptions To Natural Death Directive. If the Georgia Principal has established that only some life-prolonging treatments be withdrawn or denied in Statement C, then some additional authorizations will need to be supplied to this declaration to accurately assess the level of this treatment denial. The Georgia Principal can state that while a natural death is preferred, he or she will consent to receiving nutrition/water through a feeding tube, receiving aid in breathing using a breathing machine (i.e. intubation), and/or receive cardiopulmonary resuscitation (when needed) by initialing the appropriate statement. Any combination of treatment authorizations in this follow-up to Statement C can be approved of by the Georgia Principal.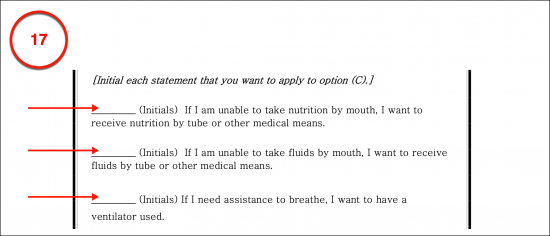 Additional Statements
(18) Georgia Principal Instructions. The Georgia Declarant will need to make sure this document is an accurate portrayal of the treatment he or she wishes used or denied if rendered persistently unconscious or near the end stages of a terminal or untreatable medical condition. For instance, the Georgia Declarant can set a timeline for the withdrawal of treatment (i.e., he or she may wish to be given fluids or assistance in breathing for a trial period during a condition of permanent unconsciousness). All such instructions can be delivered in the optional section provided. Be advised that any directive not reported in this paperwork or cited by name and attached will not be considered a part of this document. Make sure all Declarant attachments are present at the time of signing.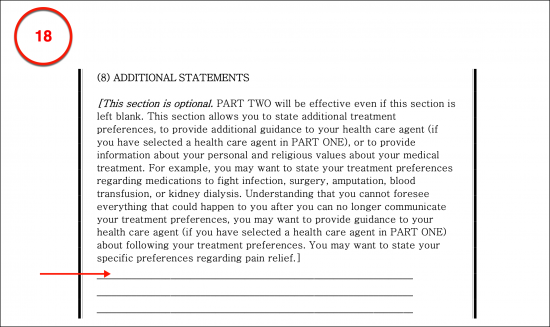 In Case Of Pregnancy
(19) Directive When Pregnant. If it becomes known that the Georgia Declarant is pregnant when her condition is terminal, or she is permanently unconscious then additional approval will be needed to place the living will in effect when pregnant and the fetus is not viable by initialing the authorization statement provided.

Georgia Court-Appointed Guardianship
Complete Item 20 Or Item 21
(20) Nomination Of Agent.  In addition to the Georgia Agents appointed thus far, the Declarant or Principal can consider the scenario where the courts decide that a Bonded Agent should be appointed as Guardian or Conservator. While the Georgia Declarant would not have the power to appoint this Party, he or she can make a nomination of the Health Care Agent or Medical Attorney-in-Fact for the role of Court-Appointed Guardian or Conservator by supplying his or her initials to the nomination statement.
(21) Separate Nomination. If the Georgia Declarant has determined that his or her nomination for a Court-Appointed Guardian or Conservator should be a Private Party other than his or her Medical Attorney-in-Fact then Statement B should be initialed by the Declarant and the name, address, telephone number(s), and email address of the Nominee should be documented.
Effectiveness And Signatures
(22) The Effective Date. The default effective date for the appointment of the Georgia Principal's Health Care Agent and the statements made in Part II will be the same calendar date the Principal (or Declarant) signs this document before two Witnesses. To set a different date, the initials of the Georgia Principal must be supplied, and the desired date of effect presented.
(23) The Termination Date Or Event. The Georgia Principal behind this issue can also set a termination date for these directives. That is, they will be considered void and revoked as of a specific date or event that is established in this document. If no termination date or event is set, then this directive will remain effective for the entirety of the Georgia Principal's life unless he or she revokes it.

(24) Georgia Declarant Principal. The signature of the Georgia Declarant or Principal is needed to establish this directive as a valid representation of his or her medical instructions. It should be provided as two Witnesses observe.
(25) Signature Date.

Witness Statement
(26) First Witness Signature. The signature provided by the Georgia Declarant should be verified as authentically produced. To this end, two Witnesses should observe the Georgia Declarant (or Principal) as he or she signs this document. Once done the First Witness should read the statement discussing the Declarant's act of signing then sign his or her own name. Notice the current calendar date will also be required of the First Witness and should be the same as the Declarant's signature date.
(27) Printed Witness Name And Address.
(28) Second Witness Signature. The Second Witness present should also review the provided statement concerning the Georgia Declarant's signature then, upon agreement, sign his or her name and document the current date.
(29) Second Witness's Name And Address.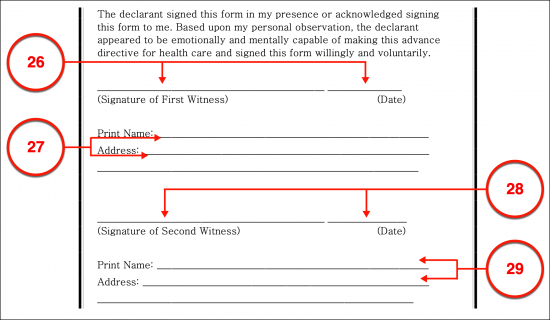 Related Forms
---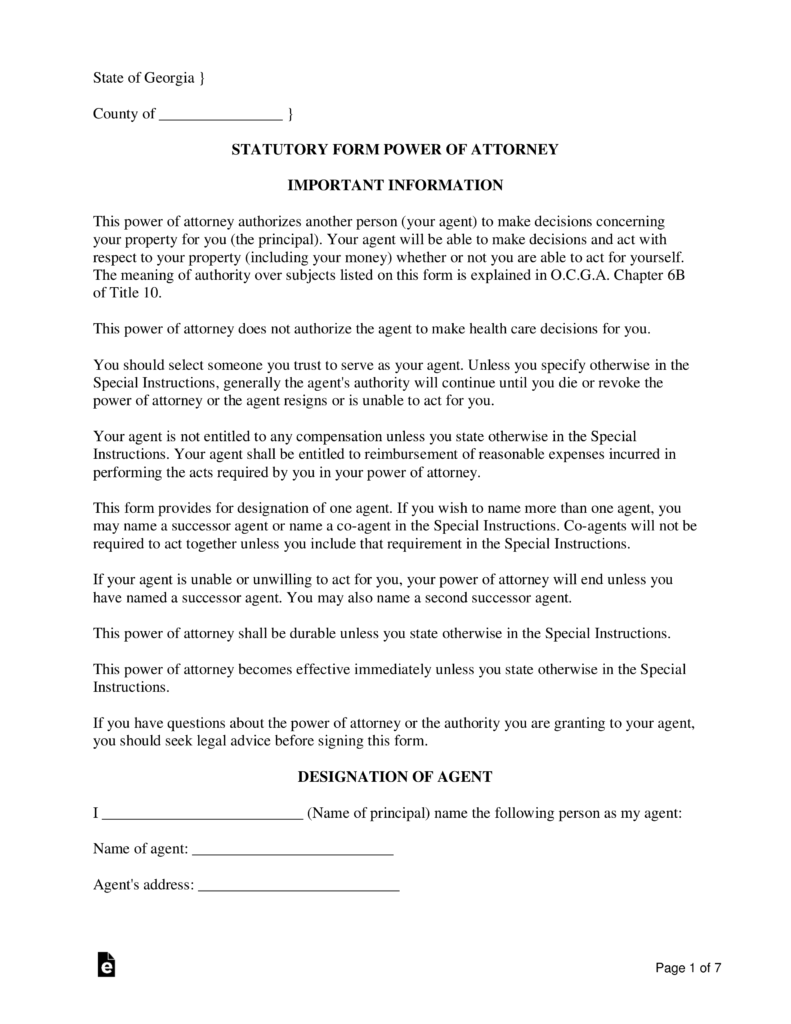 Durable (Financial) Power of Attorney
Download: PDF, MS Word, OpenDocument
---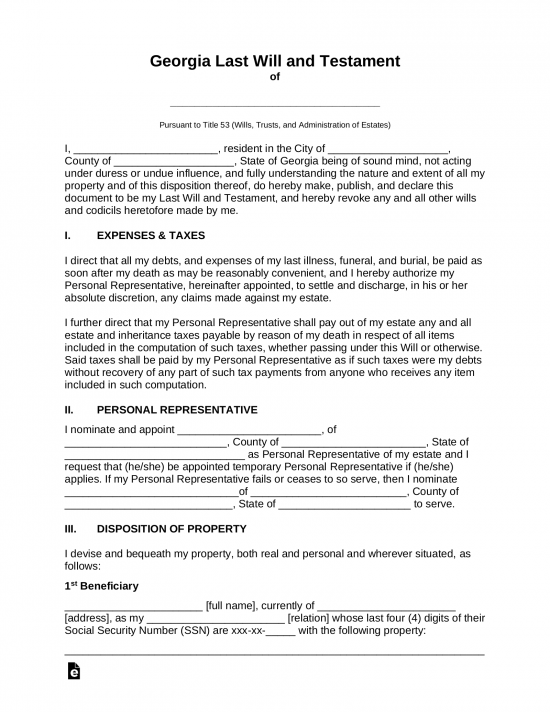 Download: PDF, MS Word, OpenDocument