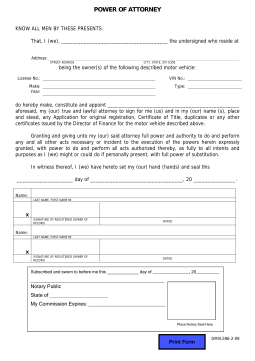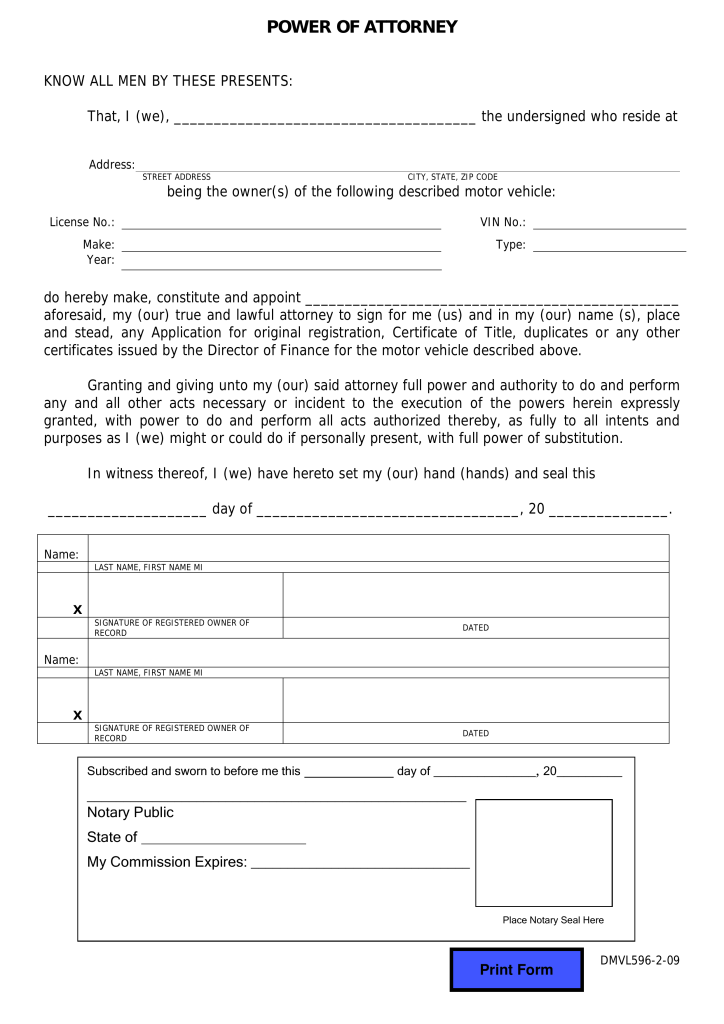 4.7 Stars | 3 Ratings
128 Downloads
Updated June 02, 2022
A Hawaii motor vehicle power of attorney can be employed by the owner of a vehicle to allow someone else to deal with matters involving their vehicle in Hawaii. Hawaii does not have a state motor vehicle department as registration and titling is on the county level. Thus, one should be fully abreast of any regulations his or her county imposes on this paperwork before filling out to be executed.
How to Write
1 – Open Or Download The Attorney Form On This Page
Obtain this form by clicking on the PDF button on the right. After which, you may enter the information onscreen or print it then fill it out. You will need to provide some specifics on the Vehicle so, it will be a good idea to keep the paperwork handy for reference.
2 – Each Vehicle Owner Should Be Identified
The Vehicle Owner granting authority will need to have his or her Full Name filled out in the blank space after the words "That, I(we),"

The "Street Address" and "City, State, Zip Code" where the Vehicle Owner resides must be supplied on the blank line following the word "Address."

3 – Correctly Identify The Vehicle
The next step to satisfying this form's requirements will be to fill in several lines of information below the words "being the owner(s) of the following described motor vehicle"
Enter the Vehicle's License Plate Number on the blank line labeled "License No."

Next, enter the Vehicle Identification Number on the blank line after the words "VIN No."

Enter the "Make" and "Type" of the Vehicle on the next line.

The blank line labeled "Year" must have the Year of the Vehicle entered on the blank line.

4 – Formally Declare The Agent
This form must have the Full Name of the Agent (appointed with Principal Power over this vehicle) entered on the blank line after the words "do hereby make, constitute and appoint"
5 – Each Vehicle Owner Must Sign And Date This Form
After the required statement, there will be a set of blank lines after the "In witness thereof…" statement. The Vehicle Owner will need to enter the Day, Month, and Year using this set of lines.

Below this will be a Table provided to the Principal Vehicle Owner. There will be three cells each Vehicle Owner will need to fill out. Two separate areas have been determined in case there are two Vehicle Owners.
On the row labeled "Name." Print the Last Name, First Name, and Middle Initial of the Vehicle Owner.

In the cell above the words "Signature of Registered Owner Of Record," the Vehicle Owner must sign his or her Name.

Finally, the Date of Signature must be reported, by the Principal, in the cell above the word "Dated."

The last table in this document is for the use of the Notary Public who is validating this form's signing.