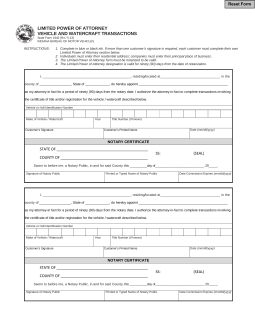 4.9 Stars | 9 Ratings
247 Downloads
Updated June 02, 2022
An Indiana motor vehicle power of attorney (Form 01940) is a form whereby an owner of a motor vehicle or watercraft can designate a person to represent him or her with the registration and titling matters of a vehicle owner's vehicle in front of the Indiana Bureau of Motor Vehicles. This is a type of limited power of attorney that pertains to vehicles and watercraft only and it is valid for 90 days.
How to Write
1 – Obtain The Indiana Form Required To Designate Authority Over A Vehicle
The required BMV form may be downloaded using the PDF button on the right. Each Vehicle Owner must submit a separate form, thus two forms are provided on this page. If there is only one Vehicle Owner, then only one of these forms should be filled out.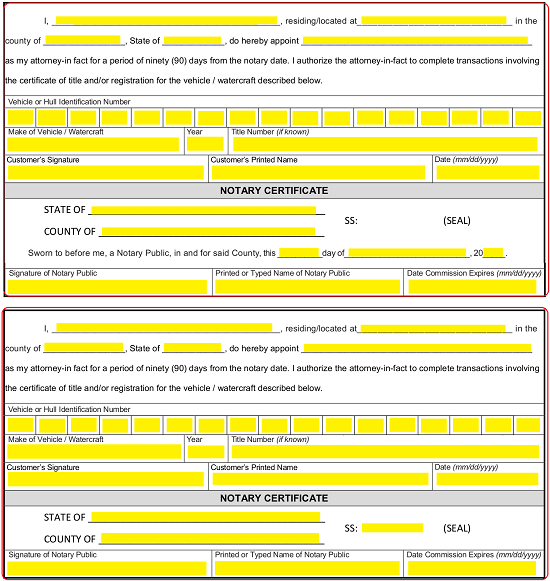 2 – Supplement The Initial Statement With Requested Information
The first blank line on this form, between "I" and "residing/located at," must have the Full Name of the Vehicle Owner granting Authority.

The next blank space should have the Principal Vehicle Owner's Complete Street Address entered.

This report on the Principal Vehicle Owner will continue with his or her County Name and State supplied on the next two spaces.

The Full Name of the Agent being appointed with Principal Authority over the Vehicle should be presented on the last blank space of this statement.

3 – The Concerned Vehicle Must Have Its Information Recorded
The Vehicle's information will be reported in the table beneath the initial statement. The first row will contain a series of boxes. Each box should have one digit. Record the "Vehicle or Hull Identification Number."

The next row will have three boxes where you can report the "Make of Vehicle/Watercraft," "Year," and "Title Number" of the concerned Vehicle. If the Title Number is unknown, you may seek further information with the BMV. Otherwise, you may leave this item blank.

The last row has been provided so the Vehicle's Owner may verify the identity of the named Agent and the Vehicle's information as true by signing his or her Name in the box titled "Customer's Signature." The next box will require the "Customer's Printed Name." Finally, the last box should be supplied with the Date of Signature.

4 – Notarization
The section labeled "Notary Certificate" will require several pieces of information, including a Notarization Seal and a Notary Public's Signature. This section may only be filled out by the Notary Public overseeing the signing.