A Kentucky advance directive is a form that gives guidelines to a hospital on how a patient would like to be treated and if they have a health care agent to represent their needs. An advance directive combines a medical power of attorney and a living will to create a form that fulfills the end-of-life treatment options for an individual. The document needs to be signed in accordance with State law, with either two (2) witnesses or notary public, and the form must be kept in an easily accessible place for future use.
Table of Contents
Laws
Statute – Kentucky Living Will Directive Act (§ 311.621 to § 311.647)
Signing Requirements (§ 311.625(2)) – Two (2) witnesses or a notary public.
State Definition (§ 311.621(2)) – "Advance directive" means a living will directive made in accordance with KRS 311.621 to 311.643, a living will or designation of health care surrogate executed prior to July 15, 1994, and any other document that provides directions relative to health care to be provided to the person executing the document.
Versions
---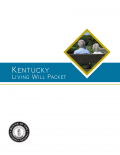 Attorney General
Download: Adobe PDF
---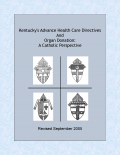 Catholic Conference of Kentucky
Download: Adobe PDF
---
ENT and Allergy Specialists
Download: Adobe PDF
---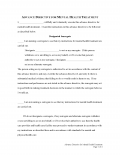 National Alliance on Mental Illness (NAMI)
Download: Adobe PDF
---

Norton Healthcare
Download: Adobe PDF
---

Spanish (Español) Version
Download: Adobe PDF
How to Write
Download: Adobe PDF
Step 1 –
Related Forms
---
Durable Financial Power of Attorney
Download: Adobe PDF, MS Word, OpenDocument
---
Download: Adobe PDF, MS Word, OpenDocument