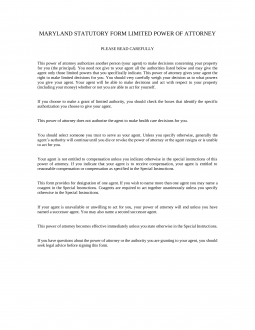 Maryland Limited Power of Attorney Form is a POA that allows you to appoint someone to act on your behalf for in a limited capacity, such as a real estate transaction or for a short period of time, such as if you are going to be away temporarily. It is important that you appoint someone that you trust and that carefully write the exact nature of the appointment.
How to Write
1 – Open the Limited Power Designation Form
A delegation of Limited Power may be issued by filling out the template on this page with the required information. Once you are ready, access the form by clicking on one of the buttons below the file image to open it.
2 – Fill In The Granting Principal's Information
The individual granting Limited Authority or Limited Authorities to an Agent must be presented clearly in the declaration statement provided. Enter this Principal's Full Name on the first blank line.
The Principal's Complete Residential Address should be entered on the second blank space in this declaration statement.
3 – Declare The Identity Of The Agent And Principal Power
In addition to the Identity of the individual granting Power, the Full Name of the Agent accepting the Principal Power must be clearly defined. The third blank space (in the declaration statement) requires Agent's Legal Name entered upon it.
The final part of the declaration statement will seek to name precisely what the Agent may do in the Name of the Principal. That is, a definition to the Agent's Principal Powers must be supplied on the blank lines labeled "1" and "2." You may add additional lines if you are using software (i.e. Adobe or MS Word) or you may simply add an attachment with the Power definitions to this form.
4 – Present The Date Of Execution and Principal Signature
The Principal must enter the Calendar Date this document is being signed using the blank spaces in the statement beginning with "In Witness Whereof…" then sign his or her Name immediately after this statement
5 – Witnesses To The Principal Signing Must Sign This Form
Two Witnesses should have observed the Principal signing this form. Each one will need to sign their names using one of the blank lines under the word "Witnesses" then report his or her Address using the corresponding blank lines under the word "Address."