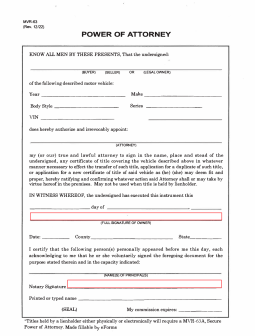 4.9 Stars | 35 Ratings
696 Downloads
Updated September 18, 2023
A North Carolina motor vehicle power of attorney (Form MVR-63) is a document a principal can use to appoint someone to handle matters related to their vehicle that involve the North Carolina Division of Motor Vehicles. This appointment will supply the required proof that the agent performing principal actions with a vehicle has been given the right to do so by the vehicle owner. For instance, once this paperwork has been filled out, signed, and notarized the agent will be able to engage in actions such as arranging for the registration and titling of your vehicle on your behalf.
How to Write
1 – Download The Vehicle Power Form On This Page
Open this Vehicle Power Delegation as a PDF, MS Word, or ODT (text) document once you have gathered all the reference information required.
2 – Name The Individual Granting This Power
The Principal may be categorized as the Buyer, Seller, or Legal Owner of the Vehicle. Enter the Full Name of the Principal delegating his or her Authority to the Agent on this form.


3 – Definitively Identify The Vehicle
Locate the statement "…Of The Following Described Motor Vehicle." Here, several pieces of information will be called for on a series of blank lines. Record the "Make," "Model Number," "Year Built," "Type," "Serial Number"(i.e. Vehicle Identification Number), and "Model" of the Vehicle using the appropriately labeled blank lines.

4 – Formally Declare The Agent's Identity
Now, find the statement "…Does Hereby Authorize And Irrevocably Appoint," then present the Attorney-in-Fact or Agent's Legal Name on the blank line below it (labeled "Attorney").

5 – Execute With A Notarized Principal Signature
The conclusion of paperwork will be marked with the statement "In Witness Whereof…" Use the first blank line below this statement to enter the Calendar Day (1-31) of Execution. Then on the two blank lines after the words "…Day Of," document the Month and Year of Execution.

The Principal must sign the "Full Signature Of Owner" line to execute this document. Below this, he or she must record the Date when this document was signed as well as the County and State where he or she signed this paperwork.