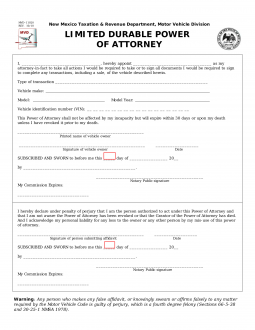 4.9 Stars | 16 Ratings
208 Downloads
Updated June 02, 2022
A New Mexico motor vehicle power of attorney (Form MVD-11020) is a form you can use to appoint someone to take care of your affairs with the New Mexico Motor Vehicle Division. It is a limited power of attorney that can only be used with regard to titling and registering your motor vehicle.
How to Write
1 – The Designation Paperwork On This Page Must Be Obtained
The documentation required by the Motor Vehicle Division of the New Mexico Taxation & Revenue Department to delegate Principal Authority over a vehicle to an Agent can be found on this page. You may download it in any of the available formats listed beneath the preview image. Make sure you have the information this form requests before filling it out. All the requested information must be supplied in an accurate manner.
2 – Present The Principal Vehicle Owner And The Agent In The Declaration Statement
The first paragraph will be a declaration statement defining the Principal Vehicle Owner's intent in executing this paperwork. Two pieces of information will need to be supplied to this statement. The first piece will be that of the identity of the Vehicle Owner appointing an Agent with his or her Principal Power over the concerned Vehicles. Supply the Principal Vehicle Owner's Full Name on the first empty space in this statement.

The second required piece of information in this statement is the identity of the Agent who will be assigned Principal Power over the Principal's Vehicle. The Full Name of this Agent should be provided on the second blank line in this paragraph.

3 – Describe The Principal Authority And The Vehicle
The Principal must provide a detail of what Transaction(s) he or she is approving the Agent to perform in his or her name with Principal Authority. This definition can be presented on the blank line labeled "Type of Transaction."

Now, we will need to identify the Vehicle the Agent may use Principal Power with. This will involve several pieces of information. Document the Make, Model, Model Year, and VIN on the blank lines labeled "Vehicle Make," "Model," "Model Year," and "Vehicle Identification Number (VIN)." Make sure this information is correct otherwise the Agent may not be able to act on it.

4 – The Principal Vehicle Owner Must Present A Notarized Signature
At the conclusion of this document, the Principal will need to Print and Sign his or her Name. Two blank lines ("Printed Name Of Vehicle Owner" and "Signature Of Vehicle Owner") have been supplied so the Principal may provide these items.

Immediately after printing and signing his or her Name, the Principal should enter the current Date on the blank line labeled "Date."

The final section provides an area for the Notary Public to notarize this form. Make sure to follow this entity's direction so this process may be completed successfully.