Updated October 22, 2023
An Oregon advance directive allows a person to select a health care representative to act on their behalf in medical matters. Specifically, the form outlines medical treatment options for a patient in the chance they can no longer speak for themselves.
Advance Directive Includes
My Health Care Representative (POA);

My Health Care Instructions (Living Will); and

POLST ("Portable Orders for Life-Sustaining Treatment") – Must be obtained from a local physician's office or the

State of Oregon

(see

Sample

).
Laws
Statute – ORS Chapter 127 (Sustaining Treatment Registry; Declarations for Mental Treatment; Death with Dignity)
Signing Requirements (ORS 127.515(2)(b)) – Two (2) witnesses or a notary public.
State Definition (ORS 127.505(2)) – "Advance directive" means a document executed by a principal that contains:
A form appointing a health care representative and instructions to the health care representative; and
Includes any supplementary document or writing attached by the principal to the document described in paragraph (a) of this subsection.
Versions (3)
---
Download: PDF
---
Download: PDF
---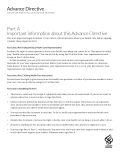 Oregon Health and Science (OHSU)
Download: PDF
How to Write
Download: PDF
Article 1. About Me
(1) Oregon Principal Name. Present your full name as the Oregon Patient issuing medical instructions with this document.
(2) Date Of Birth Of Oregon Principal.
(3) Telephone Numbers.
(4) Oregon Principal Address.

(5) Page Acknowledgement. Furnish your full name as confirmation that you have read the first page upon its completion and intend to issue this document as your own.

(6) Oregon Principal's Email Address.

Article 2 My Health Care Representative
(6) Name And Relationship Of Your Health Care Representative. If you wish to use a Health Care Representative to consult with Oregon Physicians on your behalf when you require medical care but are unable to communicate, then you must name a specific Party to this role. Determine who is best suited to act in a reliable manner with this responsibility then document his or her name as well as the manner in which your Health Care Representative is related to you.
(7) Oregon Health Car Representative's Telephone Numbers
(8) Address.
(9) Email Address Of Oregon Health Care Representative.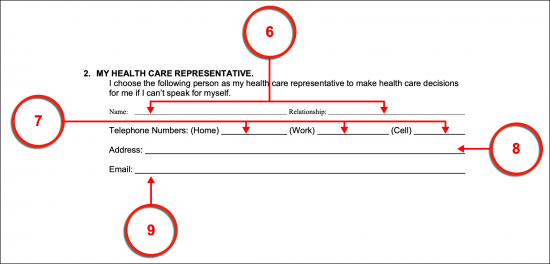 First Alternate Health Care Representative
(10) Alternate Health Care Representative Name And Relationship. Your Oregon Health Care Representative may, unfortunately, be unable to take up this role. For instance, your Oregon Health Care Representative may be out of the country, incapacitated, or unable to represent you for personal reasons. By setting up an Alternate Health Care Representative to consult with Physicians on your behalf you can automatically transfer the grant of power given to your original Representative to your  Alternate Representative. Produce the full name of the Alternate Oregon Health Care Representative and a record of how he or she is related to you.
(11) Alternate Representative's Telephone Numbers.
(12) Address Of Alternate Oregon Health Care Representative.
(13) Email.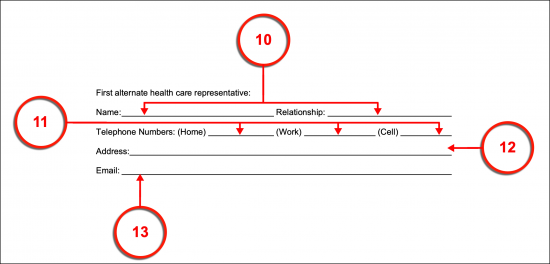 (14) Name And Relationship Of Second Alternate Representative. If both of the Health Care Representatives above do not accept the responsibility of representing you, are not available for this role, or has been disqualified (i.e., revoked), then having a Second Alternate Representative set through this document will aid you in making sure your medical decisions can be conveyed to attending Oregon Physicians.
(15) Telephone Numbers.
(16) Residential Address.
(17) Second Alternate Representative's Email Address.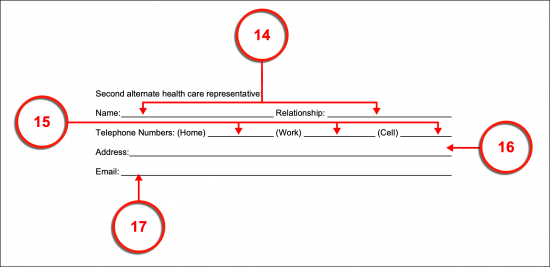 (18) Second Page Acknowledgment. Your name should be furnished to the bottom of the second page to ensure that it is always attached to this paperwork.

Article 3. My Health Care Instructions
Terminal Condition
(19) Directing For Full Treatment. If you have less than six months to live because of an illness or medical condition with no cure or treatment available, then Oregon Doctors will seek this document for your treatment preferences should you have been rendered uncommunicative (i.e., you are unconscious or incognizant). If you wish to declare to Oregon Health Care Providers that you authorize the use of life-sustaining treatments and approve of medically inserted nutrients and/or water, then initial the first statement in this section.
(20) Instruction Calling For Only Artificial Nutrition And Liquids. You can develop a treatment directive calling for the exclusion of any invasive life-sustaining treatment or life support machines (i.e., a breathing machine or respirator) but require that your fluid and nutrition levels be maintained even if a tube must be inserted or an I.V. feed administered by using your initials to select the second declaration.
(21) Requesting Only Comfort Care. The third declaration (made to define your treatment instructions if terminally ill) allows you to deny the administration of life-sustaining medical techniques, being attached to any life support machines (i.e., artificial breathing, nutrition, etc.), and request that a natural death occur even through dehydration. By initialing this statement, you will authorize Oregon Medical Professionals to detach you from any life-support machines and prevent any new life-support measure to be applied. It should be noted, that if you change your mind when this happens your direct verbal instructions will take precedence.
(22) Authorizing Your Health Care Representative For This Decision. If you do not wish to decide on how Oregon Physicians should proceed when you are diagnosed with a terminal medical condition that will result in death within six months from the diagnosis, then you can opt to have your Oregon Health Care Representative make this decision for you when communication is no longer possible because you have lost consciousness or self-awareness. Initial the fourth declaration in this list to formally grant your active Oregon Health Care Representative this decision-making power.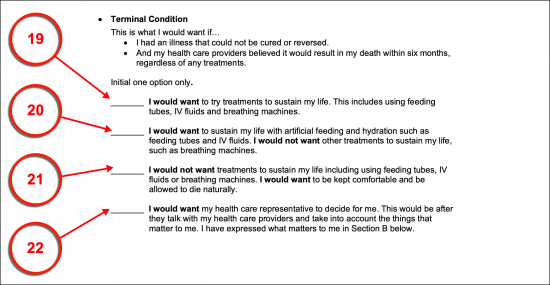 (23) Page 3 Acknowledgment. Furnish your name to the bottom of the third page.

Advanced Illness Directive
(24) Full Treatment In Oregon Directive. Another medical scenario where the question of how or whether you wish your life maintained when death is unavoidable is the end stages of an advanced illness (i.e., leukemia, cancer, Alzheimer's disease). In the majority of cases, an Oregon Patient in the end stages of an advanced illness lacks the ability to maintain his or her body independently as one or more vital body functions (i.e., intaking water/nutrients, breathing, liver functions) without medical intervention and maintenance. Initial the first statement made on this topic to authorize Oregon Physicians to maintain your life through any legal life-support measures available.
(25) Limiting Treatment To Nutrition And Liquid Requirements. If you wish that Oregon Physicians only employ life-preserving measures that will keep you well-fed and hydrated but no other invasive life support treatments (i.e., intubation), then initial the second declaration.
(26) Denying All Treatment. If Oregon Medical Staff have determined that you are in the late stages of an advanced illness and can no longer maintain body functions independently then as a default, they will wish to apply life-preservation measures and interventions when needed to keep you alive for as long as possible. You can deny all life-preservation machinery and techniques (i.e., a pacemaker, intubating with a tube leading directly to a breathing machine) if you choose. Initial the third declaration on this topic to prevent such measures so that you may be allowed to die a natural death while directing that your comfort (only) is maintained.
(27) Grant Your Oregon Health Care Representative With This Power. If preferred, you can grant your Oregon Health Care Representative the power to make the decision to either have your life preserved or extended for as long as possible or to allow a natural death. To make this appointment, initial the final option of this topic.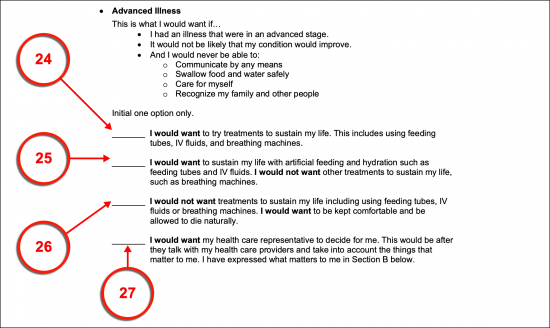 Permanently Unconscious
(28) Receive Full Treatment In Oregon. If Oregon Physicians pronounce you as permanently unconscious several decisions on treatment will need to be determined. The primary decision will be whether you wish your life to be extended through medical procedures, machinery, and medications or whether you wish a natural death. To inform Oregon Physicians that you approve of all life-sustaining procedures including the delivery of oxygen, food, and water through medical technology, then initial the first statement.
(29) Limit Treatment To Nutrition, Fluids, and Noninvasive Procedures. You can specifically approve of life-sustaining procedures including the medical delivery of food and water without authorizing invasive procedures such as surgeries or the insertion of tubes by initialing the second statement. This act informs Oregon Physicians that you wish a natural death that is not the result of malnutrition or dehydration.
(30) Declaring Your Treatment Refusal. If you do not wish your life extended after being diagnosed as permanently unconscious and do not authorize the delivery of food, water, and oxygen through a machine so that natural death can occur, then initial the third option for this directive.
(31) Appoint Your Health Care Representative To This Decision. This decision can be placed in the scope of your Oregon Health Care Representative's scope of principal powers to inform Doctors in this state of your treatment preferences when you are pronounced permanently unconscious. Display your authorization of this power by initialing the final statement.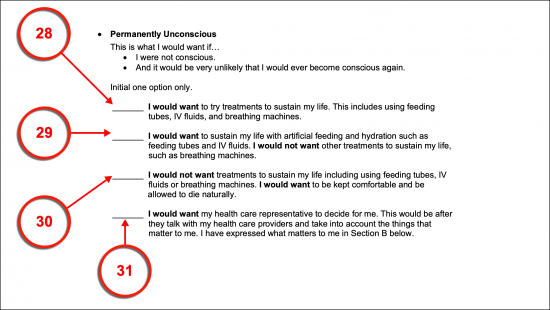 Additional Oregon Directives
(32) Address Remaining Concerns. As you review this document, you may notice this directive makes basic or broad statements concerning your health care. While these will all conform to the legal abilities of an Oregon Patient in the discussed medical scenarios, there are quite a few other concerns that can be accounted for when you are unconscious and in need of medical care to survive. An area is reserved for instructions that you wish to give your Oregon Health Care Representative and Medical Personnel including placing limits on the representational powers of your Oregon Agent (Health Care Representative). Utilize this space to present your treatment preferences, concerns, and provisions that you wish applied to the powers of your Representative.

(33) Page Confirmation. Present your name at the bottom of page four after completing it.

Quality Of Life
(34) Discuss Desired Quality Of Life. There are certain life activities you may wish to weigh in on when the question of extending your life through medical science while in an advanced illness or experiencing a terminal condition. A list of activities, actions, and capabilities has been provided so that you can document what you consider important for Oregon Doctors and your Health Care Representative to review. Place a check mark or an "X" next to every item defining what you wish to be able to do even when receiving life-extending or life-preservation treatments.
(35) Additional Quality Of Life Concerns. Any activities that you consider imperative to maintaining a minimum quality of life should be listed in the space provided if they have been unaddressed in the discussed list of "Quality Of Life" actions and capabilities above.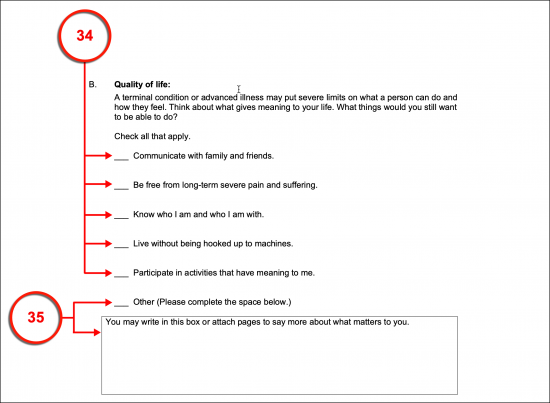 (36) Page Acknowledgment. Claim the fifth page as a part of your directive by printing your name at the bottom.

Article 4 More Information
(37) Spiritual Or Religious Directive. This directive includes the ability to discuss any instructions or requests based on your spiritual or religious beliefs. If there are any such requests that you wish submitted to Oregon Physicians attending to your care or your Health Care Representative, then make sure they are documented in the space provided.

(38) Personal Beliefs Directive. Any beliefs, values, or ethical concerns that Oregon Physicians should consider before determining or engaging in treatment, can be included. The first area of Article 4 will enable you to make personal beliefs applicable to your medical treatment known.
(39) Facility Preferences. Document every Medical Facility that you prefer to receive treatment in. Order these from the Medical Facility you wish to be treated in then deliver your second and third choices. Make sure to include the contact information for that Facility as well as to reach any Primary Care Physician you may have. You may also specifically name Medical Facilities that you do not wish to receive treatment from.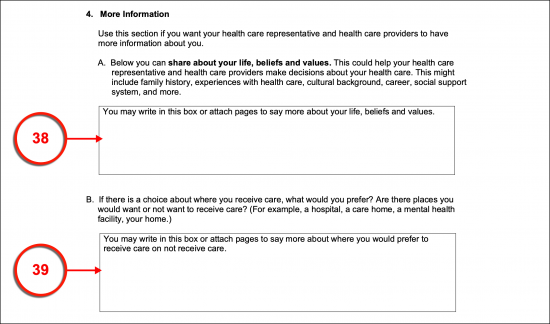 (40) Page Acknowledgment. The sixth page requires your name printed at the bottom.

(41) Other Documents. List every attachment that will be coupled with your directive by name. If there are no attachments containing your medical preferences provided with this directive, then place the word "None" in this area  so that Oregon Medical Professionals will not seek such additional documentation.

(42) Inform Others. If you have Family Members, a Partner, or Significant Other that you wish Oregon Medical Personnel to inform of your condition when you are unable to do so yourself, then list each Party by Name, document the Relationship you share, as well as his or her contact telephone number and e-mail address.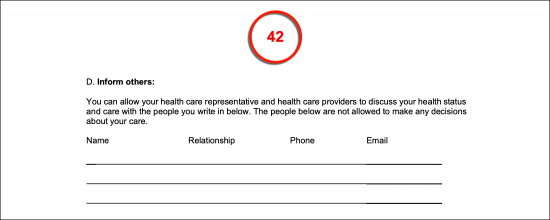 Article 5  My Signature
(43) My Signature And Date. Perform an adequate review of the information, appointment, and attachments you wish Oregon Health Care Providers to treat as your medical instructions (or directives). When you are ready to make this document active, gather with either a Notary Public or two Witnesses who are both adults, then sign your name and present the date.

Article 6 Witness Or Notary
(44) Notarize Your Signature. Your participation has concluded. Once you sign this document before licensed Notary Public, he or she will testify that you signed this document in accordance with Oregon and Federal laws by notarizing your signature.

(45) Page Acknowledgment. Complete the seventh page with your full name.

Witness Declaration
(46) Witness Names And Signatures. To demonstrate that the Witness Statement is accurate, each Witness must print and sign his or her name.
(47) Witness Signature Dates. After completing the name and signature requirements for this testimony, each Witness must furnish the current calendar date.

Article 7 Acceptance By My Health Care Representative
(48) Health Representative Name And Signature. An acceptance statement should be acknowledged by each Person who you will grant the ability to present your medical treatment directives. Upon reading this statement, the Oregon Health Care Representative should print his or her full name, present his or her legal signature, then document the date these items are produced.
(49) First Alternate Representative Name And Signature. As mentioned, each Party receiving powers to represent your health care directives should acknowledge this statement (even if this appointment is contingent upon your original Agent's inability to take the role). Once your First Alternate Health Care Representative reads the acknowledgment statement, he or she must print and sign his or her name then record the date.
(50) Second Alternate Representative Name And Signature. Once your Oregon Health Care Representative and Alternate Oregon Health Care Representative have acknowledged the statement above, the Second Alternate Health Care Representative should demonstrate his or her willingness to this role by documenting his or her printed name and signature as well as deliver the current calendar date he or she presented these items.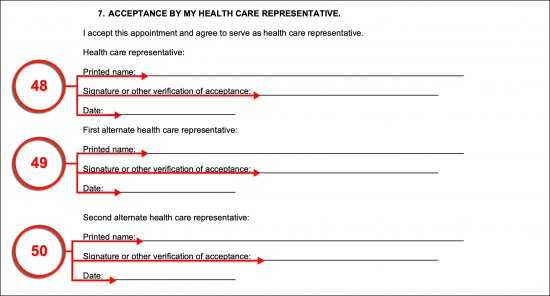 (51) Page Acknowledgment. The eighth and final page must have your full name printed at the bottom.

Related Forms
---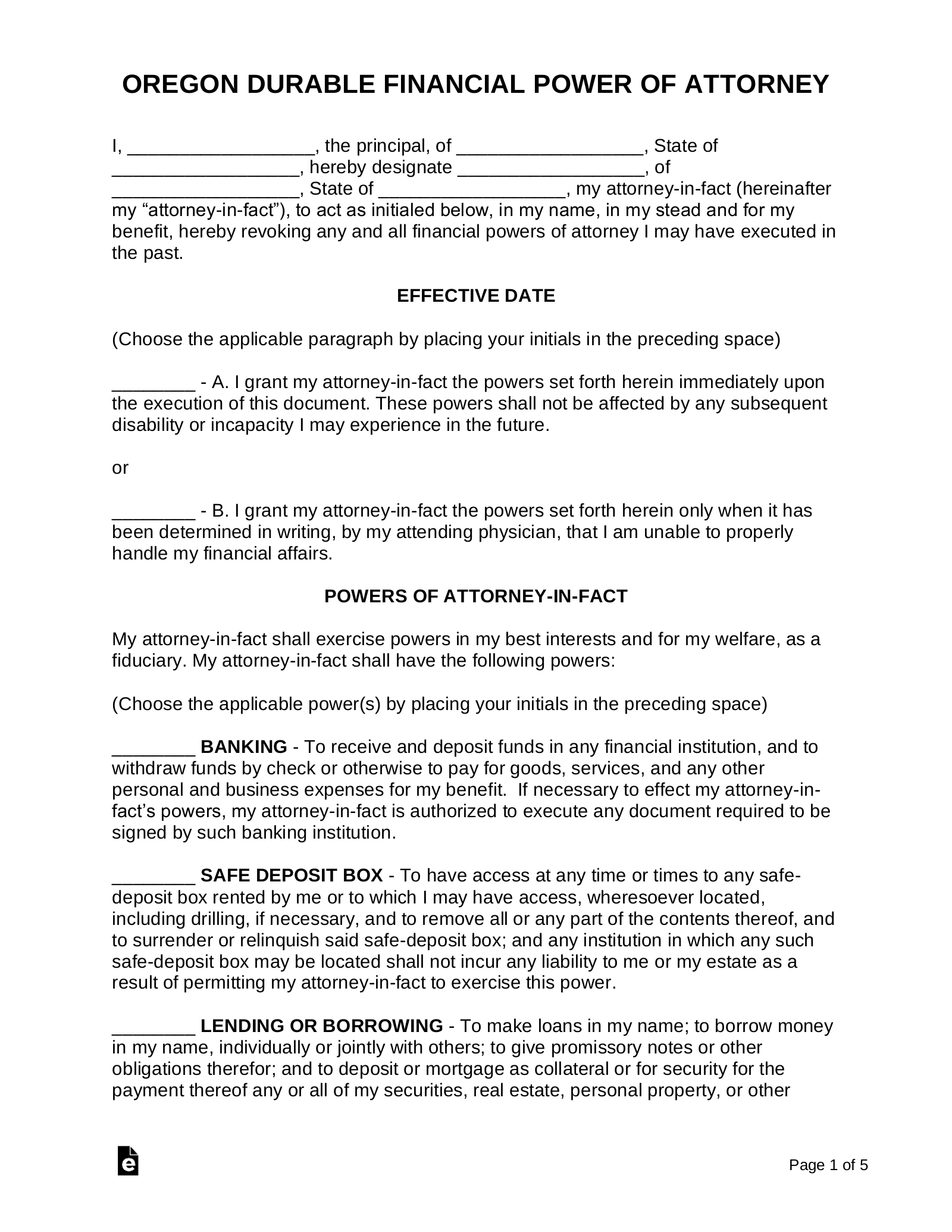 Durable (Financial) Power of Attorney
Download: PDF, MS Word, OpenDocument
---
Download: PDF, MS Word, OpenDocument
---