Updated October 22, 2023
A Virginia advance directive is a document that combines a medical power of attorney and a living will to allow someone to select their end-of-life treatment options. An advance directive lets someone choose an agent to carry out their treatment options and speak to medical staff if they are unable to make the decisions themselves.
Advance Directive Includes
Section I. Appointment and Powers of My Agent

Section II. My Health Care Instructions

Section III. Anatomical Gifts
Laws
Statute – § 54.1-2981 – § 54.1-2993 (Virginia Health Care Decisions Act)
Signing Requirements (§ 54.1-2983) – Two (2) witnesses.
State Definition (§ 54.1-2982) – "Advance directive" means (i) a witnessed written document, voluntarily executed by the declarant in accordance with the requirements of § 54.1-2983 or (ii) a witnessed oral statement, made by the declarant subsequent to the time he is diagnosed as suffering from a terminal condition and in accordance with the provisions of § 54.1-2983.
Versions (4)
---
Download: PDF
---
Download: PDF
---
Download: PDF
---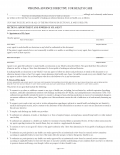 Wythe County Community Hospital
Download: PDF
How to Write
Download: PDF
Virginia Principal Declaration
(1) Printed Name Of Virginia Principal. It is important that no question remains as to who is issuing this directive. To this end furnish your entire name as the Virginia Health Care Principal or Declarant.

A. Appointment Of My Agent
(2) Name Of Primary Agent. The individual who you have decided will present your health care preferences and treatment instructions to Virginia Medical Personnel when you are unconscious, incognizant, or otherwise unable to while suffering a severe or traumatic medical condition must be defined. His or her name, as well as the information needed to contact him or her should be distributed to Section 1. This will attach your choice to the Virginia Health Care Agent role and give any Reviewers of this paperwork the means to contact him or her.
(3) E-Mail Address.
(4) Home Address.
(5) Telephone Number.

(6) Name Of Successor Agent. It is important to make sure that when you have been rendered uncommunicative because of a serious injury or illness, someone that you authorize is present to communicate with Virginia Physicians on your behalf. This will aid them in developing a treatment that you approve of. If your Virginia Health Care Agent is no longer qualified to represent you at such a time, cannot be located or contacted, or declines altogether then you will be left vulnerable and unable to communicate your wishes. Therefore, naming a Successor to your Virginia Health Care Agent will allow a second Party to take this role on. This is optional but strongly recommended. To designate a Successor to your Virginia Health Care Agent, his or her complete name and current contact information should be presented.
(7) E-Mail Address.
(8) Home Address.
(9) Telephone Number.

B. Powers Of My Agent
(10) Health Care Decisions. A brief list of the types of actions the Virginia Health Care Agent may take on your behalf has been presented. When you sign this document, any statement that you have not removed will apply to the Health Care Agent's decision-making powers over your treatment. The first statement grants the Virginia Health Care Agent the power to give your consent to medical treatments as well as refuse them or have them withdrawn in your name. This gives him or her a wide scope of power over your health care so make sure to review every part of this statement. Any portion defining an action you do not approve of your Virginia Health Care Agent to engage regarding your treatment should be crossed out or deleted.
(11) Medical Information Access. Your Virginia Health Care Agent will be granted the ability to access, handle, and read through your medical records and hospital records as well as provide your consent of disclosure so that they may be distributed if needed.
(12) Health Care Providers. The Virginia Health Care Agent will be designated with the authority to hire and dismiss your Health Care Providers with the same authority you have through the third power statement's language.
(13) Agent Decision On Health Care Facility. The fourth statement continues along this course by granting the concerned Agent with the principal authority to admit you to a Health Care Facility (i.e., a Hospital) or have you discharged.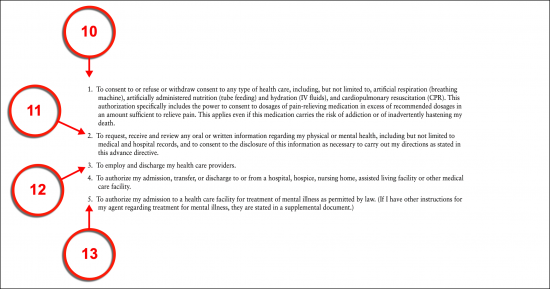 (14) Mental Health Care Facility. If you intend to approve of your Virginia Health Care Agent's ability to authorize your admission to a Facility for the purpose of treating any mental health illness or crisis requiring treatment, this can be handled through the fifth statement. You may remove this statement if you do not want your Virginia Health Care Agent to be able to make such a decision on your behalf.
(15) Overriding Your Authority. You can give the Virginia Health Care Agent the authority to override your treatment instructions when you have been declared as unable to provide informed consent. This means that if you are unable to reason, require intervention for a medical or mental health crisis, and object to your Virginia Health Care Agent's decisions, he or she will be able to insist on treatment or on the admission to Medical or Mental Health Facility. For example, you may be in a life-threatening accident and wholly unaware of your surroundings or even of events that threaten your life.
(16) Health Care Study. The seventh statement gives your Virginia Health Care Agent the principal approval required to consent to your admission to a health care study so long as it is approved by a credible Institutional Review Board/Research Review Committee, is beneficial to your health, and is compliant with State and Federal Law.

(17) Scientific Understanding. If you approve of your Virginia Health Care Agent's decision over entering you in a Health Care Study Program Or Facility whose goal is the scientific understanding of your medical condition, then review the eighth statement. If you do not wish the Virginia Health Care Agent to obligate you to participate in a Health Study Program or Facility for this purpose, then remove or strike through the eighth statement.
(18) Visitation Rights. You may designate the Virginia Health Care Agent with the right to dictate who may visit you when you are hospitalized, who may not, and when through the language of the ninth statement. Notice, an area has been providing so that you may dictate any instructions regarding visitation when you are staying in a Facility.
(19) Enforcing Your Directives. Your Virginia Health Care Agent will wield the authority you have to legally enforce your medical preferences and instructions. If you do not intend to allow your Virginia Health Care Agent to use the courts to enforce this document, then remove the tenth statement.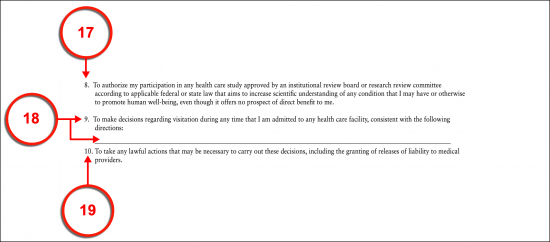 (20) Additional Powers Or Limitations. Compose any provisions that apply to the Virginia Health Care Agent's use of your principal authority to decide upon your treatment decisions. 

Section II: Health Care DecisionsWhen Death Is Imminent
(21) Restriction Of Life-Prolonging Treatment. By marking the first box of this section you can inform Virginia Medical Professionals who have determined and declared that death is near and no medical procedures or medications will reverse or cure your medical condition that you do not want any life-sustaining treatment administered in an attempt to extend your life.
(22) Approval For Life-Prolonging Treatment. Conversely, if you prefer to receive life-sustaining treatment in the State of Virginia when diagnosed as near death with an incurable medical condition, then select the second statement in this article.
(23) Specialized Life-Prolonging Treatment. Select the third statement if you wish to impose limitations or conditions on the life-prolonging treatment that may be needed when you are unable to live otherwise. This statement also gives an area where you may discuss any trial periods you wish applied to life-prolonging treatment, procedures, or medications.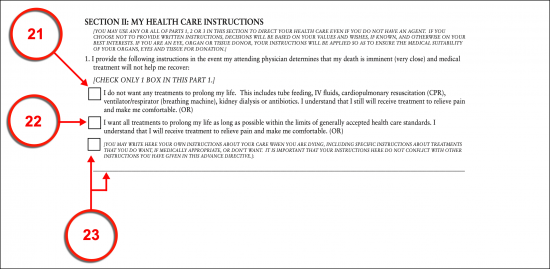 When Permanently Incognizant
(24) Denial Of Life-Prolonging Treatment. If you have been diagnosed with a lifelong condition of being unaware of your environment or the people around you and Virginia Medical Professionals have declared that you will not regain awareness, then you may refuse or deny the administration of any life-prolonging procedures or medications by selecting the second statement.
(25) Acceptance Of Life-Prolonging Treatment. You may inform Virginia Medical Providers that you authorize the application of health care procedures and medication that will prolong your life even while rendered permanently unaware, unable to interact, and/or unable to comprehend your environment and the people around you regardless of the treatment options medical technology provides.
(26) Limited Life-Prolonging Treatment Instructions. You have the option of accepting life-sustaining treatment while unable to comprehend or interact with your surroundings and those around you but only for a trial period that you define by selecting the third statement. Utilize the space provided to define the trial period constituting when and for how long life-prolonging treatment may be authorized when you are incapable of comprehension and/or communication.
(27) Specific Instructions For Life-Prolonging Treatment.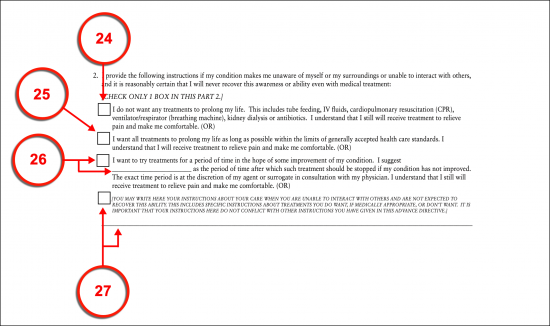 3. Other Instructions For Health Care
(28) Additional Health Care Provisions. It is important that you provide as much information as possible regarding your concerns and expectations for the medical treatment you receive once declared as permanently incapacitated, incognizant, and/or with a fatal medical condition to the Virginia Medical Professionals administering your care. Use the space presented in this section to provide documentation defining the medical treatment goals you wish taken into consideration or imposed when experiencing such lifelong debilitating conditions.

Section III. Anatomical Gifts
(29) Anatomical Donations For Any Purpose. If you wish to declare or solidify your status as a Virginia Organ Donor using this document, then attend to the third section. By selecting the first anatomical donation statement, you will declare that you approve of donations made consisting of any organ, tissue, or body part for any purpose required at the time of your death.
(30) Anatomical Donation For Research And Education. If you wish to donate your entire body to science (or research/education) in the State of Virginia then, select the second statement.

(31) Principal Directives On Anatomical Donation. Whether you have selected one of the anatomical gift directives or not, you may utilize the space in this area to document your organ donation preferences, instructions, and/or arrangements.
Affirmation And Right To Revoke
(32) Calendar Date. It is crucial that Reviewers of your directives are able to confirm that it is the most recent set of medical instructions you have issued. To this end, submit the date of your signature.
(33) Signature Of Declarant. Sign your name as the Virginia Principal behind this document.
(34) Witness Signature. Two Witnesses, who are both adults in the State of Virginia, will be required to watch you sign your name. Each will need to sign a declaration statement regarding your signature then print his or her name.
(35) Witness Printed Name.
(36) Witness Signature.
(37) Witness Printed Name.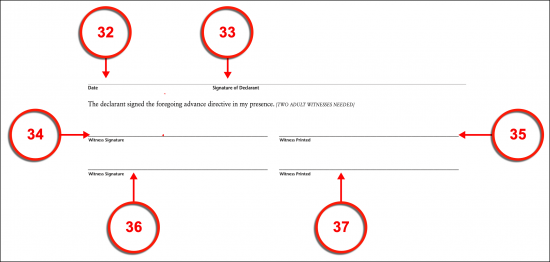 Related Forms
---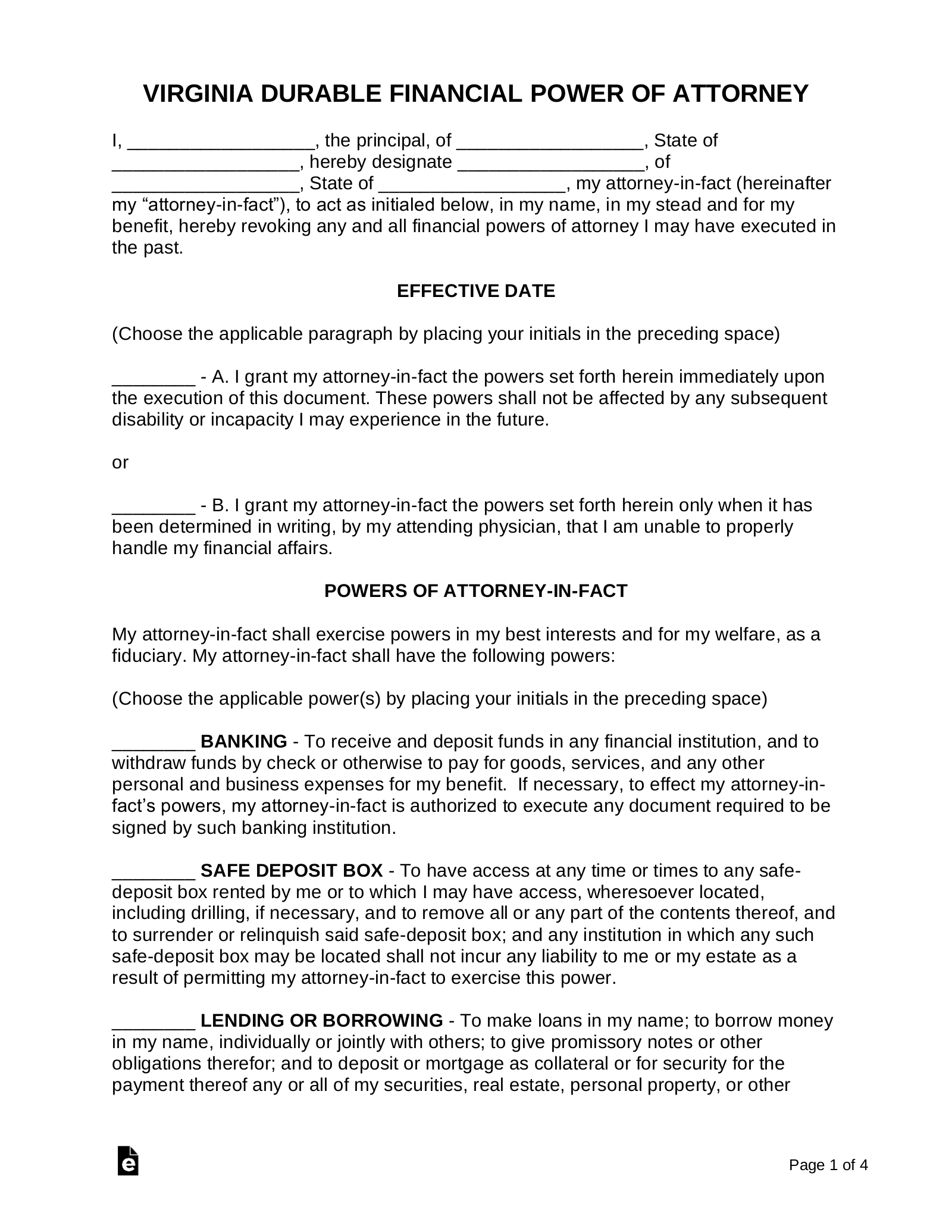 Durable (Financial) Power of Attorney
Download: PDF, MS Word, OpenDocument
---
Download: PDF, MS Word, OpenDocument