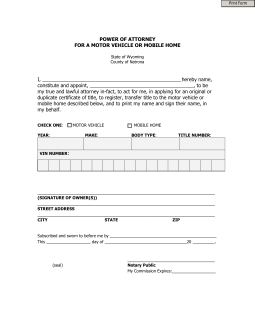 0.0 Stars | 0 Ratings
42 Downloads
Updated June 02, 2022
A Wyoming Motor Vehicle Power of Attorney Form can be used to appoint a representative to handle your titling and registration matters before the Department of Transportation in Wyoming. This would apply to your motor vehicle or motor home.
How to Write
1 – The Wyoming Motor Vehicle Template On This Page Grants Principal Vehicle Authority
The paperwork supplied here will deliver Principal Authority to an Agent over a Vehicle the Principal owns once it is filled out. Obtain a copy for your use by selecting either the buttons on this page or the image just above them.
2 – The Vehicle Owner And Agent Should Be Reported
The first blank area introducing this document requests the Full Name of the Vehicle Owner furnished on it.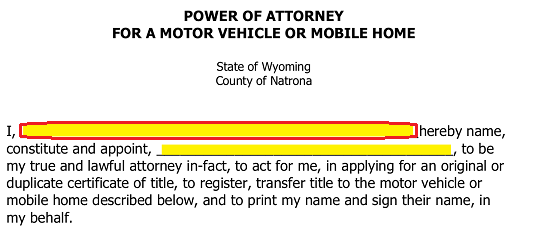 The next space (after the phrase "…Constitute And Appoint") must present the Name of the Agent who will accept Principal Vehicle Authority.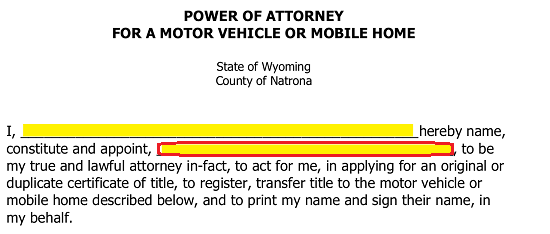 3 – Produce The Vehicle's Identifying Information Where Requested
Just below the declaration statement two checkboxes are presented: "Motor Vehicle" and "Mobile Home." Mark the check box that best describes the Vehicle the Agent will be granted Power over.

The next item appearing on this page that requires some material supplied to it is a table. The first row of the table will contain a series of labeled boxes where Vehicle Information should be documented. Use this row to document the "Vehicle's Year," "Make," "Body Type," and "Title Number"

The second row has been reserved for the Vehicle's Identification Number. A separate box for each digit of this number has been supplied under the label "VIN Number" for a clear presentation of this information

4 – The Vehicle Owner's Signature Is Mandatory For This Delegation Of Authority
The Principal Vehicle Owner must attend to the "Signature Of Owner(s)" line once all the above information has been supplied. Each Vehicle Owner must sign his or her Name on this line.

Below the Vehicle Owner Signature(s) will be two additional lines where the Vehicle Owner's "Street Address," "City," "State," and "Zip" Code

In order to finalize the verify the information and signature on this document, it will have to be given to the Notary Public in attendance at the signing. He or she will supply some items to the final portion of this document so that it may be notarized properly