Updated July 27, 2023
An Alaska promissory note is a legal document that outlines the terms of money borrowed, by an individual or entity, for a term and the interest rate agreed upon by the parties. In addition, the lender may charge fees for late payment and in the event of default by the borrower. Once the money has been transferred, with the note signed by both parties, the document goes into effect and the borrower will be liable for the payment to the lender.
Usury Rate
– For loans less than $25,000,
5% above the 12th Federal Reserve District interest rate on the day the loan was made,
or
10%
, whichever is greater. If the amount is more than $25,000, there is
no maximum
rate.
By Type (2)
---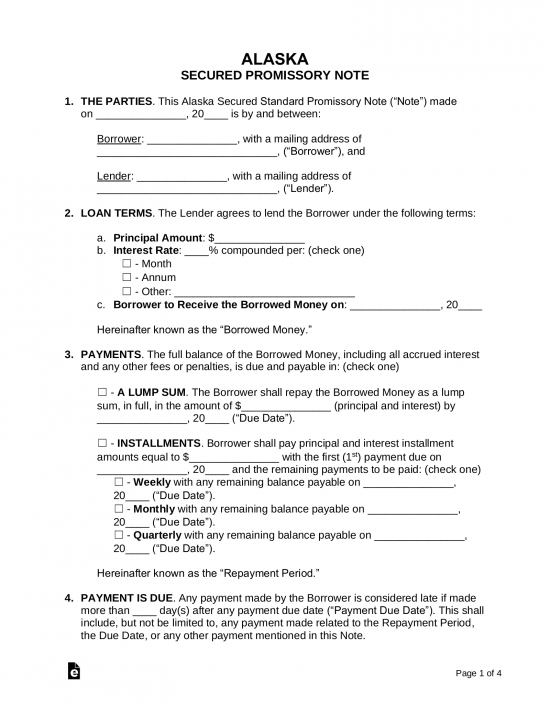 Secured Promissory Note – A promise to pay with the added security of having a property of value to possess in the chance the borrower does not pay the note.
Download: PDF, MS Word, OpenDocument
---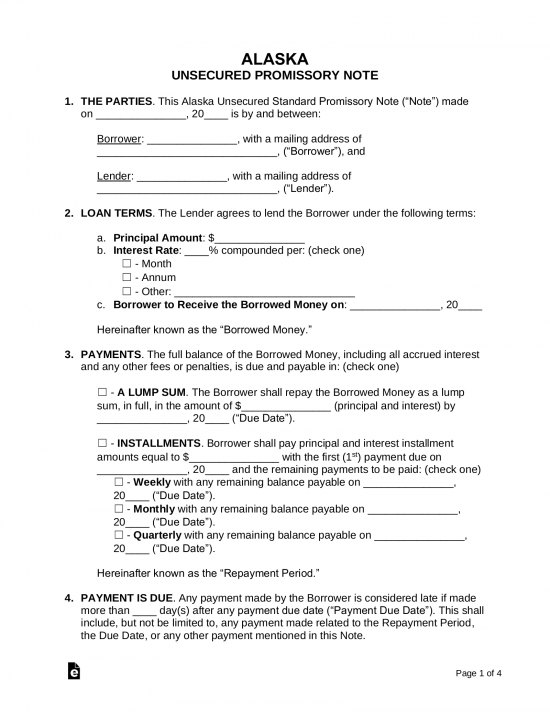 Unsecured Promissory Note – Not recommended unless the borrower is a person that is a close friend or has a history of great credit. If the borrower refuses to pay the money back to the lender the only recourse would be small claims court ($10,000 or less) or other legal action.
Download: PDF, MS Word, OpenDocument
Usury Statute
(a) The rate of interest in the state is 10.5 percent a year and no more on money after it is due except as provided in (b) of this section.

(b) Interest may not be charged by express agreement of the parties in a contract or loan commitment that is more than five percentage points above the annual rate charged member banks for advances by the 12th Federal Reserve District on the day on which the contract or loan commitment is made. A contract or loan commitment in which the principal amount exceeds $25,000 is exempt from the limitation of this subsection.

(c) [Repealed, Sec. 3 ch 84 SLA 1973].

(d) [Repealed, Sec. 2 ch 94 SLA 1981].

(e) [Repealed, Sec. 4 ch 146 SLA 1974].

(f) A bank, credit union, savings and loan institution, pension fund, insurance company, or mortgage company may not require or accept any percent of ownership or profits above its interest rate. This subsection does not apply to a loan if the principal amount of the loan is $1,000,000 or more and the term of the loan is five years or more, or to a negatively amortizing loan secured by owner-occupied real property originated under a program approved or sponsored by

(1) the federal government, including congressionally chartered national corporations; or

(2) the state if

(A) the real property that secures the loan is not subject to forced sale provided the owner has not violated the terms of the loan agreement including terms regarding

(i) payment of property taxes;

(ii) payment of hazard or fire insurance premiums;
Video