Updated July 27, 2023
An Indiana promissory note template is designed for a single party consisting of a lender and a borrower who would like to engage in the lending activity. The templates outline the amount being borrowed from the lender, various interest rates, the cost of late fees, and many other sections.
Usury Rate
– With no written agreement, the rate is
8%
. With a written agreement, the maximum limit is
25%
for consumer loans other than supervised loans.
By Type (2)
---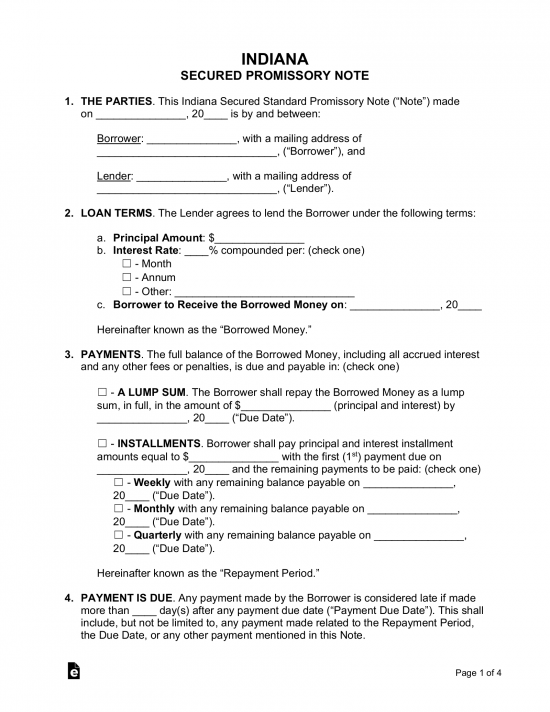 Secured Promissory Note – Covers payment types, fees, due dates, acceleration time periods, and other areas that help ensure the legality and structure of the note. Includes security, which is an item(s) of the borrower that is guaranteed to the lender in the case of a default on the balance.
Download: PDF, MS Word, OpenDocument
---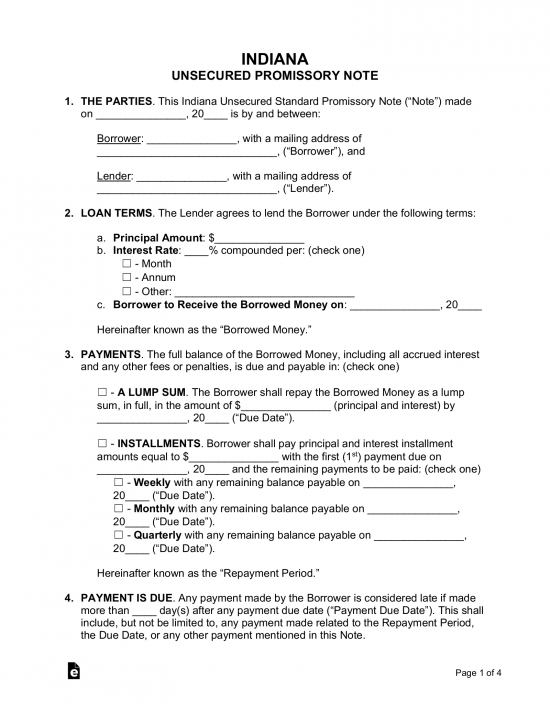 Unsecured Promissory Note – Covers all the aspects of the secured version, but differs in the fact that there is no security embedded in the note. This is an added liability to the lender and means the lender should ensure the borrower is a trustworthy and capable individual before engaging in the transaction.
Download: PDF, MS Word, OpenDocument
Usury Statute
When the parties do not agree on the rate, interest on loans or forbearances of money, goods or things in action shall be at the rate of eight percent (8%) per annum until payment of judgment.
(1) This section does not apply to a supervised loan (as defined in section 501 of this chapter). Except as provided in subsections (7) and (9), with respect to a consumer loan, a lender may contract for a loan finance charge, calculated according to the actuarial method, not exceeding twenty-five percent (25%) per year on the unpaid balances of the principal (as defined in section 107(3) of this chapter).
Video