Updated July 27, 2023
A North Carolina promissory note template is a document designed to assist the lender in a money-lending transaction with earning his or her money back (with the addition of interest) from a borrower in a timely fashion. Sections of the agreement like Late Fees, Interest Rates, and Acceleration help motivate the borrower to ensure all payments are made correctly and in full.
By Type (2)
---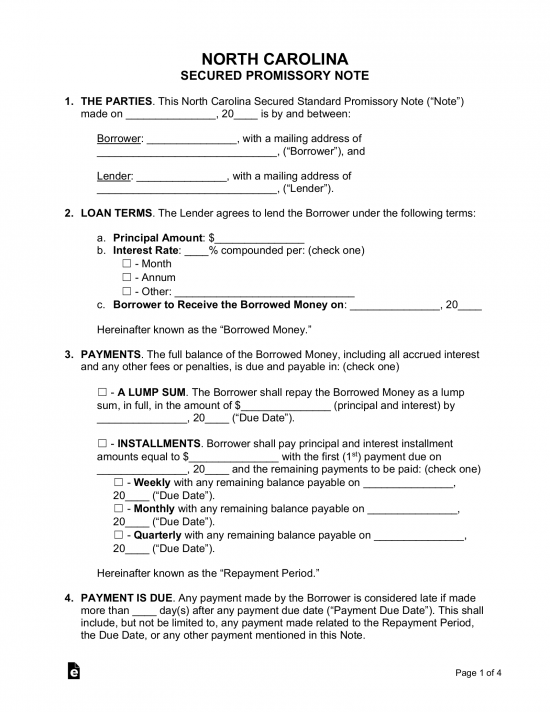 Secured Promissory Note – The secured version of the template includes a section on security. Security requires the borrower to set aside an item of relative value to that of the loaned amount of money. This item is given to the lender if the borrower enters into default to help cover the remaining outstanding balance.
Download: PDF, MS Word, OpenDocument
---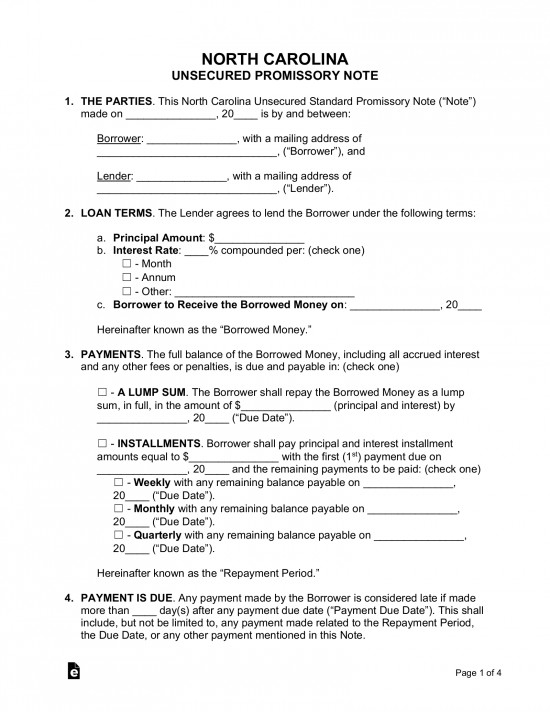 Unsecured Promissory Note – The unsecured version does not include a section on security, substantially increasing the financial risk for the lender. This is because the lender is not guaranteed a reimbursement on his loaned money if the borrower fails to pay back the balance. We recommend the lender in the agreement to only work with family, friends, and those with a strong credit score.
Download: PDF, MS Word, OpenDocument
Usury Statute
(a) Except as otherwise provided in this Chapter or other applicable law, the parties to a loan, purchase money loan, advance, commitment for a loan, or forbearance, other than a credit card, open-end, or similar loan, may contract in writing for the payment of interest not in excess of the following:

(1) Where the principal amount is twenty-five thousand dollars ($25,000) or less,
the rate set under subsection (c) of this section.

(2) Any rate agreed upon by the parties where the principal amount is more than
twenty-five thousand dollars ($25,000)

…
Video