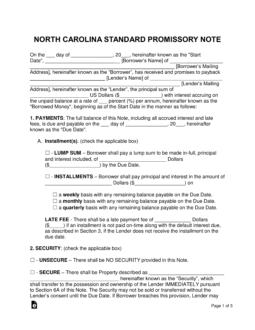 The North Carolina promissory note templates are documents designed to assist the lender in a money-lending transaction with earning his or her money back (with the addition of interest) from a borrower in a timely fashion. Sections of the agreement like Late Fees, Interest Rates, and Acceleration help motivate the borrower to ensure all payments are made correctly and in full.
Usury Rate – Legal rate of interest is 8% but consumers and creditors can contract for a higher rate.
Laws – § 24-1
Types (2)
---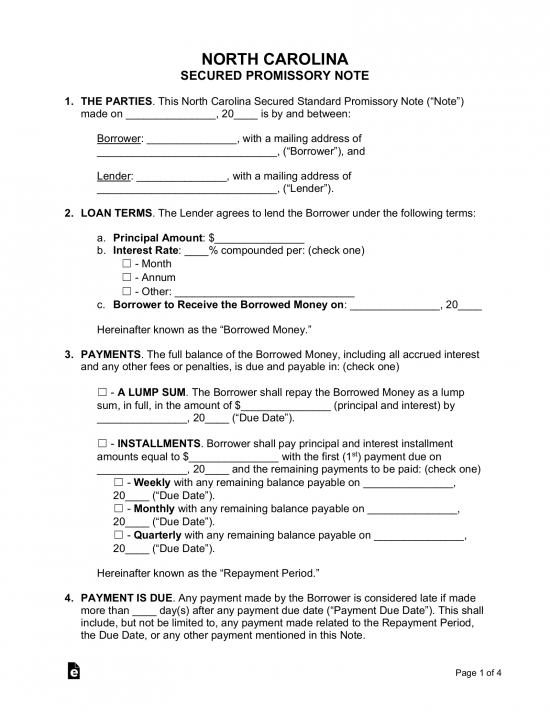 Secured Promissory Note – The secured version of the template includes a section on security. Security requires the borrower to set aside an item of relative value to that of the loaned amount of money. This item is given to the lender if the borrower enters into default to help cover the remaining outstanding balance.
Download: Adobe PDF, MS Word (.docx), OpenDocument
---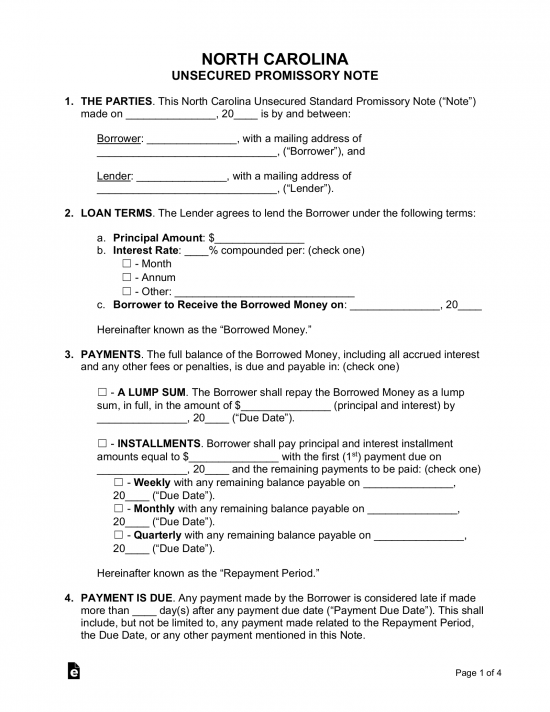 Unsecured Promissory Note – The unsecured version does not include a section on security, substantially increasing the financial risk for the lender. This is because the lender is not guaranteed a reimbursement on his loaned money if the borrower fails to pay back the balance. We recommend the lender in the agreement to only work with family, friends, and those with a strong credit score.
Download: Adobe PDF, MS Word (.docx), OpenDocument
---
Usury Rate
In North Carolina, if the loaned amount is over $25,000, the parties may agree to any interest rate. If it is under $25,000, the parties shall consult the Commissioner of Banks notice published on the 15th of each month for the maximum rate allowed. NC ST § 24-1.1
(Video) What is a North Carolina Promissory Note?
How to Write
Step 1 – Begin by downloading a North Carolina note document –
Submit the start date of the document –in mm/dd/yyyy format
Borrower's name
Mailing address
AND
Lender's name
Mailing address
AND
Submit the principal amount of the note
Submit the remaining portion of the annual percentage rate
Step 2 – Payments – Enter the following information:
Provide the total amount of the note that would be payable on the stated due date
Also include any accrued interest as well as any late fees
Installments – Select the preferred payment method by checking the box preceding the selection
Provide the total amount of the note (all inclusive
Enter the principal amount on the note
Choose a payment frequency from one of the three (3) boxes
Submit the agreed amount that is required for late payments
Step 3 – Security-
Check the applicable box that would indicat the type of note to be used
If the note will be"secured," Enter the description of property (to be secured)
Step 4 – Titled Sections and Subsections –
Interest due in the Event of Default
Allocation of Payments
Prepayment
Acceleration (and 6A.- Security)
Attorney's Fees and Costs
Waiver of Presentments
Non-Waiver
Severability
Integration
Conflicting Terms
Notice
Co-Signer – Co-signer's name (if required
Execution
Governing Law – (North Carolina state law)
Step 5 – Signatures – Shall be witnessed:
Lender's signature
Signature dated – in mm/dd/yyyy format
Printed name
AND
Borrower's signature
Signature dated in mm/dd/yyyy format
Printed name
AND
Signature of the Co-signer(s)
Signature dated in mm/dd/yyyy format
Print Co – signer's name
AND
Signature of Witness (first witness signatures ) in mm/dd/yyyy format
Printed name