Updated July 27, 2023
A Rhode Island promissory note template is a document completed and signed by both parties involved in a money lending transaction. The lender of the monetary balance profits from the agreement by receiving payments over a scheduled period of time that consist of the original balance plus interest.
Usury Rate
– The maximum interest rate is
21%
, or the domestic prime rate as published in the Wall Street Journal plus 9%.
By Type (2)
---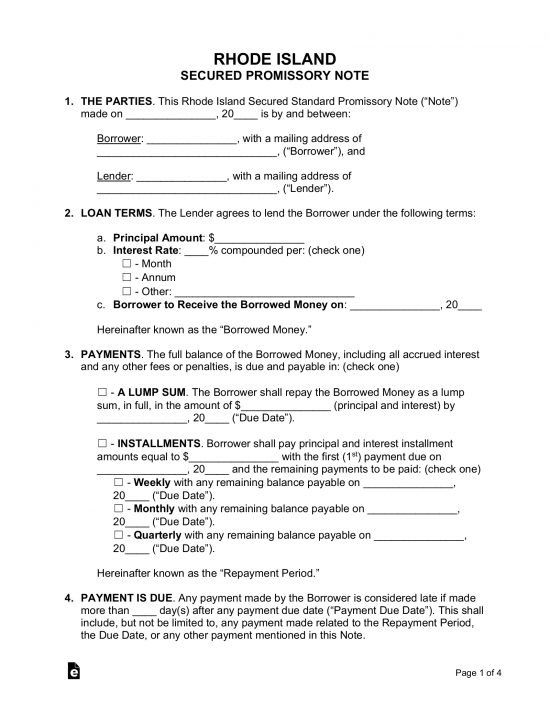 Secured Promissory Note – This template is secured by an item such as a home, vehicle, or boat. If the borrower were to enter into default that he or she could not recover from, the item in security would be given to the lender to help cover the amount of the unpaid balance.
Download: PDF, MS Word, OpenDocument
---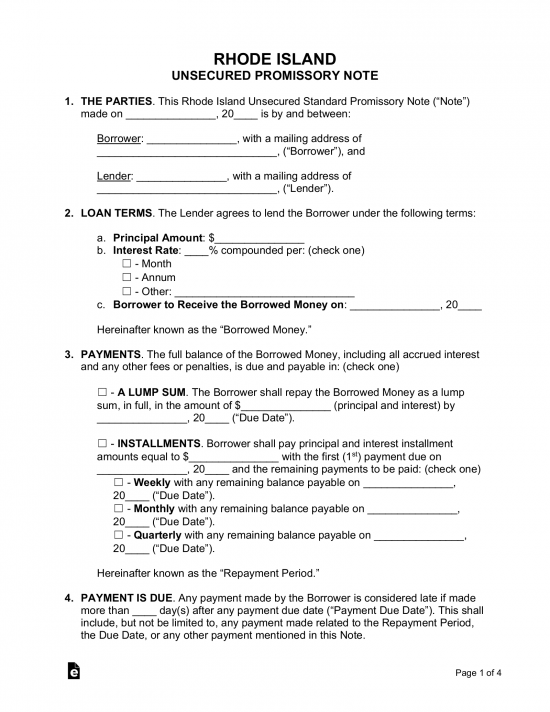 Unsecured Promissory Note – This template does not include security, resulting in an overall riskier transaction for the lender. To help reduce financial risk, the lender should screen potential borrowers to ensure they have strong credit.
Download: PDF, MS Word, OpenDocument
Usury Statute
(a) Subject to the provisions of title 19, no person, partnership, association, or corporation loaning money to or negotiating the loan of money for another, except duly licensed pawnbrokers, shall, directly or indirectly, reserve, charge, or take interest on a loan, whether before or after maturity, at a rate that shall exceed the greater of twenty-one percent (21%) per annum or the alternate rate specified in subsection (b) of this section of the unpaid principal balance of the net proceeds of the loan not compounded, nor taken in advance, nor added on to the amount of the loan.

(b) The alternate rate means the rate per annum that is equal to nine percentage points (9%) plus an index that is the domestic prime rate as published in the Money Rates section of The Wall Street Journal on the last business day of each month preceding the later of the date of the debtor's agreement or the date on which the interest rate is redetermined in accordance with the terms of the debtor's agreement. If the Wall Street Journal ceases publication of the prime rate, the director of business regulation shall designate a substantially equivalent index. In the event an index is published as a range of rates, then the lowest rate shall be the index.

…
Video