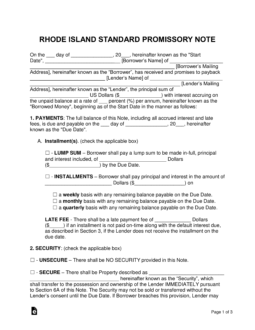 The Rhode Island promissory note templates are documents completed and signed by both parties involved in a money lending transaction. The lender of the monetary balance profits from the agreement by receiving payments over a scheduled period of time that consist of the original balance plus interest.
Usury Rate – Maximum interest rate is 21%. Alternate rate of 9% plus domestic prime rate may be applied.
Laws – § 6-26-2
Types (2)
---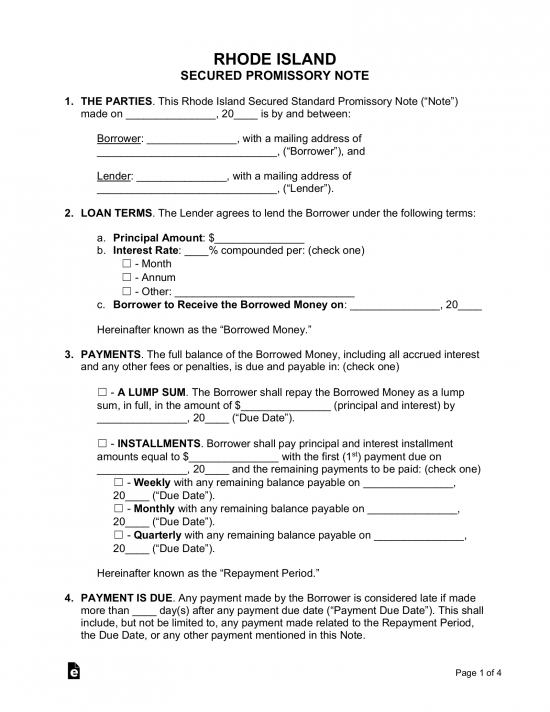 Secured Promissory Note – This template is secured by an item such as a home, vehicle, or boat. If the borrower were to enter into default that he or she could not recover from, the item in security would be given to the lender to help cover the amount of the unpaid balance.
Download: Adobe PDF, MS Word (.docx), OpenDocument
---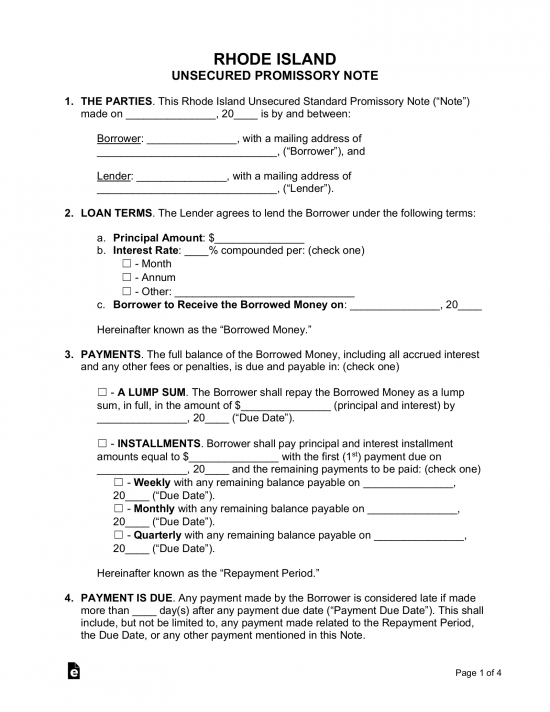 Unsecured Promissory Note – This template does not include security, resulting in an overall riskier transaction for the lender. To help reduce financial risk, the lender should screen potential borrowers to ensure they have strong credit.
Download: Adobe PDF, MS Word (.docx), OpenDocument
---
Usury Rate
The maximum amount of interest allowed to be charged in Rhode Island is the greater of 21% per year or the rate per annum that is equal to nine percentage points (9%) plus an index that is the domestic prime rate as published in the Money Rates section of The Wall Street Journal on the last business day of each month. RI ST § 6-26-2
(Video) What is a Rhode Island Promissory Note?
How to Write –
Step 1 –  Begin by downloading the Rhode Island note document – Enter:
The start date of the note agreement in dd/m/yy format
Enter the name of the borrower's
 Mailing address
AND
Enter the name of the Lender's
Mailing address
AND
Enter the sum of the principal
Enter the remaining amount of the annual percentage
Step 2 – Payments –
Enter the amount of the note that must be paid by the due date
Include accrued interest on unpaid balance
Installments – Submit the final due date of the note in dd/m/yy format
Submit the total amount of the note
Provide the principal sum of the note agreement
Specify the preferred payment frequency and check the applicable box
Specify the amount due with payment required for late payments
Step 3 – Security –
Check the box indicating the type of selected note (secured/unsecured)
If the note will be"secured," describe the property used as security
Step 4 – Titled Sections and Subsections –
Interest due in the Event of Default
Allocation of Payments
Prepayment
Acceleration (6A.- Security)
Attorney's Fees and Costs
Waiver of Presentments
Non-Waiver
Severability
Integration
Conflicting Terms
Notice
Co-Signer – Submit the Co-signer's name (if needed)
Execution
Governing Law – (Rhode Island State Laws)
Step 5 – Signatures –
Provide the Lender's signature
Submit Signature date in mm/dd/yyyy format
Print name
AND
Provide the borrower's signature
Enter Signature date in mm/dd/yyyy format
Printed name
AND
Enter Co -Signer's signature (if any)
Signature date in mm/dd/yyyy format
Print name
AND
Submit Signature of Witness
Provide Signature date in mm/dd/yyyy format
Printed name