Updated September 19, 2023
A Tennessee property management agreement is a written agreement between a real estate professional licensed to broker real estate and an owner of commercial or residential real estate seeking a representative to manage their property. The primary purpose of the document is to ensure that both parties are clear on the terms and conditions of the business relationship; namely, the length of the term, the fees charged, and the duties and responsibilities of both manager and owner. Both parties will need to execute their signatures to make the document legally binding.
Laws
Requirements – It is usually necessary that a property manager obtain a real estate broker license (§ 62-13-301), as the general duties of a property manager fall under the definition of real estate broker (§ 62-13-102). However, licensing is not required providing that the manager's duties are restricted to supervising and showing the rental unit, and collecting security deposits and rent (§ 62-13-104 (a)(1)(E)).
Verify a Property Manager – Department of Commerce and Insurance
Sample Agreements (2)
---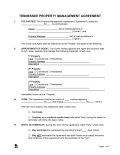 Tennessee Realtors
Download: PDF
---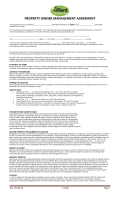 4Rent Properties LLC
Download: PDF
Management Forms (4)
---
Download: PDF, MS Word, OpenDocument
---
Download: PDF, MS Word, OpenDocument
---
Tennessee Listing Agreements
Download: PDF, MS Word, OpenDocument
---
Download: PDF, MS Word, OpenDocument