Updated July 28, 2023
A Florida commercial real estate purchase and sale agreement formalizes the details of a commercial property transaction between a seller and a buyer. Generally speaking, each party will have their own real estate agent and attorney present when looking over a purchase and sale agreement. Commercial property sales are more complex than residential real estate transactions and often involve more paperwork and rigorous inspections and research. A purchase and sale agreement for commercial real estate sets forth the terms and conditions for the sale of the property in question, including sale price, financing, insurance, titles and deeds, property condition, termination options, and closing date.
Disclosures
Transaction Broker Relationship (§ 475.278(1)(b) and (2)) – Unless a single agent or no brokerage relationship is established, it is presumed that a licensee is operating as a transaction broker. Should the parties wish for a single agent to become a transaction broker, they can complete pages two (2) and three (3) of this form.
Single Agent Relationship (§ 475.278(3)) – A real estate agent acting as a single agent (representing either the seller or buyer in a transaction) must complete this disclosure form.
No Brokerage Relationship (§ 475.278(4)) – A real estate agent having no brokerage relationship with a seller or buyer must disclose their obligations by completing this form.
Realtor Version
Florida Assoc. of Realtors – PDF
Residential Property
---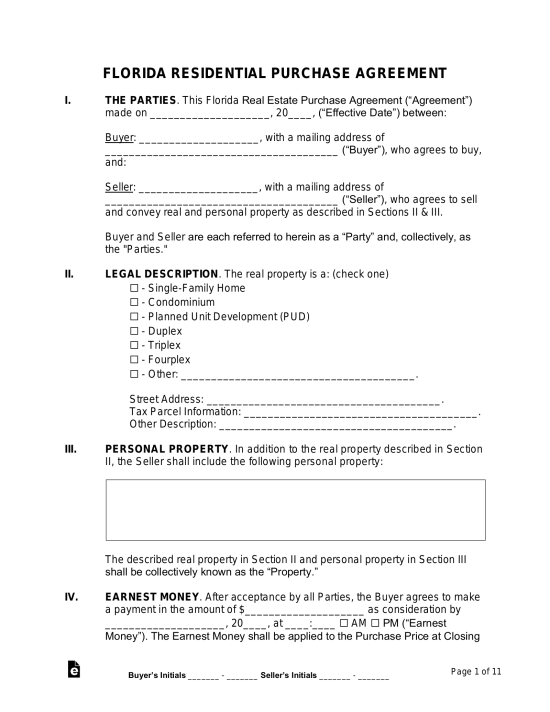 Florida Residential Purchase Agreement – A legal agreement used to outline the terms of a residential real estate transaction between a buyer and seller.
Download: PDF, MS Word, OpenDocument



---