Updated September 20, 2023
An Indiana residential purchase and sale agreement is a legally binding contract between a seller and buyer of residential real estate. This contract covers all elements of the sale of the property including price, property condition, inspections, closing terms, rights, and responsibilities of both parties, among other important terms.  Both parties must sign the agreement but only after the seller has accepted the buyer's offer and all terms have been agreed upon. The seller is also obliged to supply the buyer with a disclosure form outlining the various material defects and pertinent information pertaining to the property.
Disclosures (2)
---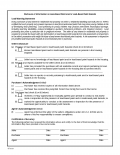 Lead-Based Paint Disclosure – Houses built before the year 1978 may contain lead-based paint. Therefore, sellers must disclose this information to all prospective buyers by completing this federally mandated form.
Download: PDF
---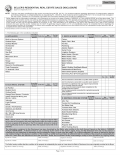 Seller's Residential Real Estate Sales Disclosure (Form 46234) (§ 32-21-5-7) – This is an all-encompassing disclosure form that must be completed by the seller and presented to any potential buyer. It lets the buyer know of any defects, issues, or other information* that they should be made aware of.
Download: PDF
*It's important to note that there is a separate law in regard to property governed by a homeowners association (§ 32-21-5-8.5) that requires the seller to provide the buyer with a copy of recorded governing documents, a statement of assessments, and information on management services of the HOA. On the seller's disclosure form, the box has to be checked next to the question inquiring about HOA and the required information should be entered into the additional comments section or included as an addendum.
---
Commercial Property
---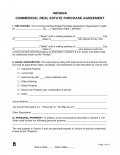 Commercial Purchase Agreement – Use between a purchaser and seller to buy commercial property.
Download: PDF, MS Word, OpenDocument
---