Updated September 20, 2023
An Ohio residential purchase and sale agreement is a document used during the process of buying real estate from a property owner or licensed real estate agent. To begin the process, a potential buyer will outline the stipulations of their offer in the agreement and deliver it to the seller for assessment. The information specified in the document will address the purchase amount, earnest money, inspection procedures, financing terms, and required disclosure forms.
The seller will then be able to amend the proposal by responding with a counteroffer unless they accept the initial offer as-is. Should both parties agree to the terms and sign the contract before it expires, the document will be completed and legally binding.
Other Versions (3)
---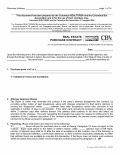 Columbus Realtors Version
Download: PDF
---
Download: PDF
Disclosures (2)
---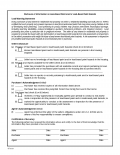 Lead-Based Paint Disclosure – Relays information to buyers regarding toxic paint which may have been used on a property. Owners of any home built before 1978 must provide this disclosure to buyers before signing a purchase agreement.
Download: PDF
---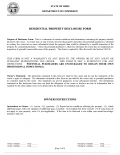 Residential Property Disclosure Form (§ 5302.30) – When selling a residential property, the owner will need to describe the condition of their property using this disclosure statement.
Download: PDF
The completed disclosure should be given to the buyer before both parties sign the purchase agreement. If the buyer has yet to receive the disclosure upon entering into an agreement, they may be eligible to rescind their offer and cancel the purchase within 3 days. Note that the disclosure requirement does not apply under the circumstances listed in § 5302.30(B)(2).
Commercial Property
---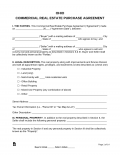 Commercial Purchase Agreement – Use this document as a legal contract to buy or sell commercial property.
Download: PDF, MS Word, OpenDocument