Updated August 01, 2023
A Vermont commercial real estate purchase and sale agreement is used during real estate negotiations to establish terms for the purchase of commercial property. Buyers will draft an agreement to convey the details of their purchase offer to the seller. If the seller is not content with the initial purchase offer, they can respond with a counteroffer containing terms adjusted to their selling requirements, a process which is standard when negotiating the final purchase price or closing date.
Realtor Version
Vermont Association of Realtors – PDF
Residential Property
---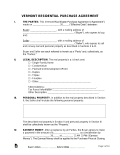 Vermont Residential Purchase Agreement – Used to convey the terms of a residential real estate purchase and sale in Vermont.
Download: PDF, MS Word, OpenDocument