Updated September 20, 2023
A Vermont residential purchase and sale agreement is a contract that a potential home buyer will negotiate with a seller when offering to purchase a property. The process of purchasing a home begins with the buyer outlining the terms in the contract and providing the document to the seller or their agent. In the agreement, the buyer specifies their desired purchase price, financing information, closing date, and any other condition requisite to them acquiring the property.
It is up to the seller to accept the agreement or submit a counter-offer within the period designated in the document. The agreement is legal once both parties indicate their compliance by signing the contract.
Buyer Beware
Vermont is a "buyer beware" state, which means that homeowners are not legally obligated to disclose material defects to potential buyers. Due to this lack of legislation, all buyers should take it upon themselves to investigate the condition of a property before signing a purchase agreement. Different rules apply when a licensed agent sells the home. In these cases, the agent must provide the buyer with a Property Disclosure Report. (§ 2296(4))
Realtor Version
---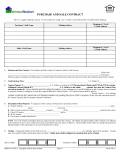 Vermont Association of Realtors 
Download: PDF
Disclosures (2)
---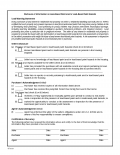 Lead-Based Paint Disclosure – Homeowners must provide this disclosure to buyers when selling any property constructed before 1978.
Download: PDF
Additional lead information disclosures and educational material may also be required depending on the type of property. This Fact Sheet and the Health and Environment guide provide helpful information on which documents must be given to the buyer before they purchase a property.
Additional Lead Disclosures:
---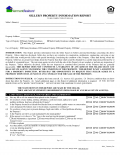 Seller's Property Disclosure (§ 2296(4)) – If a seller sells their home using the services of a licensed agent, the agent must provide the buyer with a property disclosure statement that informs the buyer of any material defects and other details pertaining to the condition of the property.
Download: PDF
Commercial Property
---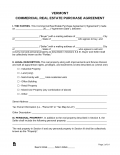 Commercial Purchase Agreement – This document can be used to purchase or sell any type of commercial property.
Download: PDF, MS Word, OpenDocument