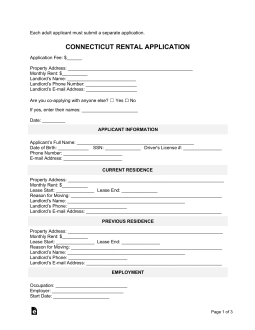 The Connecticut Rental Application Template is used when information from a prospective tenant must be submitted to a landlord or property manager to ascertain if that tenant is a viable rental candidate. This form will contain a standard set of questions that may be answered either by filling in blanks or by marking a checkbox. The application will be in compliance with the federal Fair Housing Act and will not require any information that may violate this law. Also, there will be a consent line where a candidate may give the landlord or property manager permission to run a background and/or credit check on the applicant.
Application Fee (No Statutes) – Landlords are permitted to charge prospective tenants any amount as an application fee.
Security Deposit (§ 47a-21(14)(b)) – A security deposit cannot exceed two (2) months' rent. However, if the tenant is aged sixty-two (62) years or older, the landlord may only charge one (1) month's rent.
How to Write
Step 1 – The first step will be for the applicant to identify him or herself. Enter your full name, date of birth, social security number, driver's license number, address, and home/work phone numbers. Finally, identify whether you rent or own and the expense of doing so in the last two spaces of this section.
Step 2 – The next couple of sections are meant to identify your living and employment situation. Under the Current Landlord/Mortgages section enter the current landlord's full name, telephone number, and address. Below this will be a space to document the reason why you wish to move. Finally, enter how long you have lived at the current address. It should be noted that if you have lived at this address for less than three years then, you must document your prior residences in the past three years on a separate piece of paper and attach it. Include all the information required in this section then sign and date it.
Step 3 – Next, under "Current Employment," enter your current employer's name, telephone number, and address. Following this initial information, enter the position you hold with this employer, your income, and how long you were employed. This information must account for the past three years. If you have been at your place of employment for less than three years report this on a separate document, sign, and date it. Then attach this to the application.
Step 4 –  Indicate what your military status is.
Step 5 – The next area of this section will require you to report any additional income next to "Other Income." Then enter the total income of your household. That is, all the money you make in a year added to all the money other members of your household earn.
Step 6. The final area of this section will require the number of vehicles in your possession (this will include accompany cars), type of each vehicle, year of each vehicle, tag number of each vehicle, and the state of each vehicle.
Step 7 – The next section is the "Credit Cards – Mortgage – Car Loans" section. There will be a table here where you may enter the name of the financial obligation, the account number, balance, and monthly payment. Following this will be a section to enter your "Checking Account" information. In this area, enter the bank, bank address, account number, and balance. Do the same for your savings account in the area named "Savings Account."
Step 8 – The next section, "Additional Personal References," will also contain a table. There will be enough room to enter three personal references. Enter the name, relationship, and phone number of each. Make sure you have obtained confirmation from each individual listed that he or she will provide a positive reference.
Step 9 – There will be several questions that need to be answered next. Report whether you have been bankrupt in the last seven years, if you are required to pay alimony or child support, if you have ever been evicted or asked to leave a rental, if you have ever missed a rent payment, and if you have a criminal record. If you do have a criminal record, there will be an opportunity to divulge some details regarding this. Also, if you have a parole officer enter his/her name and phone number.
Step 10 – If there will be other occupants on the premises, enter the total number in the space provided next to "Other Occupants.: Then list the names, ages, and relationship (to you) for each one. If there are any over 18, they must fill out a separate application.
Step 11 – Finally will be some odd and ends. Enter the type, breed, and age of each pet that you will be bringing with you. On the next line, enter the preferred area or location you wish to live in. The next two lines will require the address of the state property you are applying to and the rental offer per month.  If there is any information you would like to add to your application, enter it next to the words "Additional Information."
Step 12 – The last section will be a paragraph to acknowledge you give consent for the landlord to conduct a landlord, criminal, and credit check. This paragraph also states that all the information you have just submitted is accurate. Each applicant will need to sign and date this document in the space provided.