Updated August 04, 2023
A Connecticut lease agreement is a legal contract written between an owner or agent and a tenant for a rental property. The tenant agrees to use the premises, either for residential or commercial purposes, for an agreed-upon length of time in exchange for a monthly payment to the landlord. Both parties are bound to the terms of the lease until its termination.
Rental Application
– If a landlord/agent is unaware of the background and employment of a tenant and would like to verify they may do so with this document.
Agreement Types (7)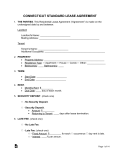 Standard Lease Agreement – The standard template for an arrangement between a landlord and tenant for the use of a residential property.

Download: PDF, MS Word, OpenDocument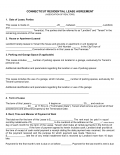 Association of Realtors Residential Lease Agreement– From the Northern Fairfield County Association of Realtors but may be used statewide between a landlord and tenant.

Download: PDF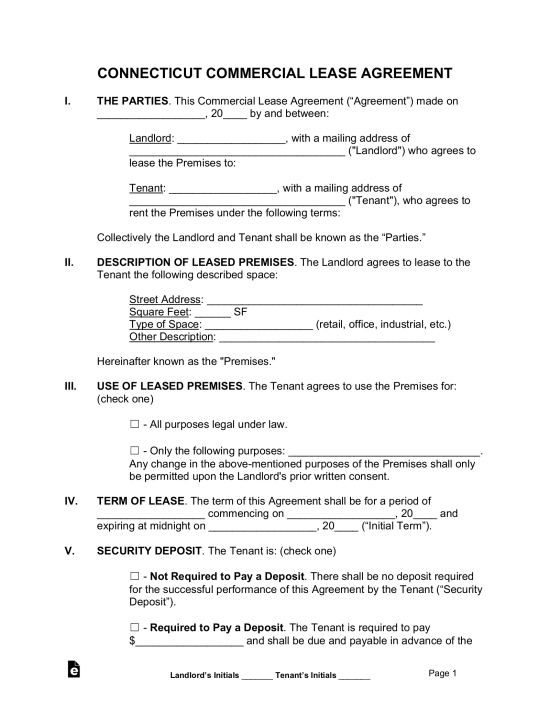 Commercial Lease Agreement – For any business-related use such as office, retail (store, restaurant, etc.), or industrial type of space.

Download: PDF, MS Word, OpenDocument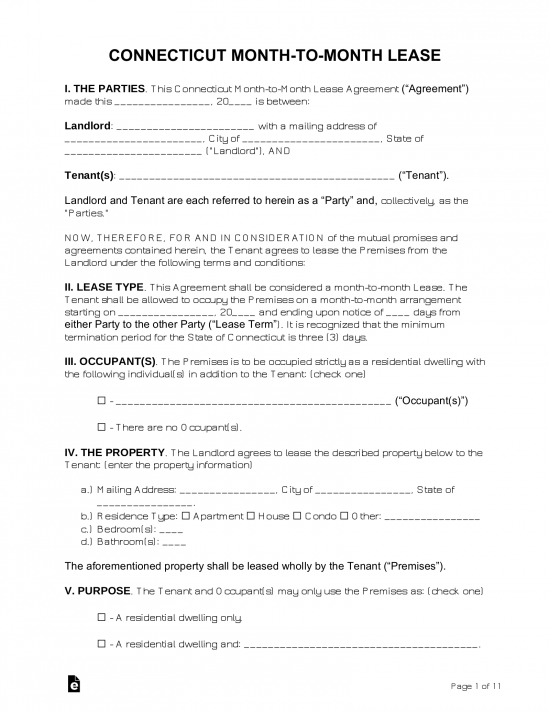 Month-to-Month Rental Agreement – Known as a "tenancy at will" with no end date in the contract. It is terminated via notice through a lease termination letter.

Download: PDF, MS Word, OpenDocument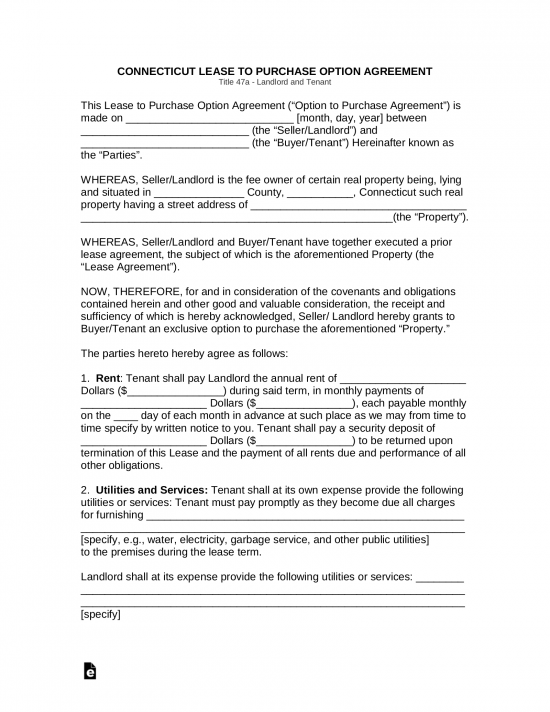 Rent-to-Own Lease Agreement – Period of time allowed for the lessee to purchase the property at a pre-determined amount stated in the contract. If the option is not used by the tenant, the form works as a standard lease.

Download: PDF, MS Word, OpenDocument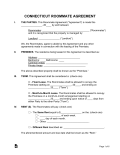 Roommate (Room Rental) Agreement – For parties living in a shared housing arrangement.

Download: PDF, MS Word, OpenDocument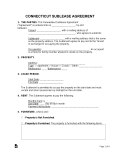 Sublease Agreement – Allows the tenant of a property to accept a subtenant to take their place. The original lessee remains responsible until the end of the term.

Download: PDF, MS Word, OpenDocument
Required Disclosures (4)
Condominium Interest Community Disclosure (§ 47a-3e) – If the residence is located in a common-interest community, this disclosure must be attached.
Landlord's Identity (§ 47a-6) – The landlord must identify themselves in the lease and include the address where the tenant can send legal notices.
Lead-Based Paint Disclosure – According to federal law, all residential units built prior to 1978 must include this disclosure.
Sprinkler Disclosure (§ 47a-3f) – The lease must include whether or not a sprinkler system is installed. If so, the date of the last inspection must be mentioned.
Security Deposits
Maximum (§ 47a-21) – The landlord may request up to the equivalent amount of two months' rent from individuals under the age of sixty-two (62) years old. Although, individuals 62 years and older may only be charged up to one (1) month's rent.
Returning (§ 47a-21) – Tenant is due their deposit back, along with any accrued interest, within thirty (30) of handing the premises back to the landlord or within 15 days of receiving the tenant's forwarding address, whichever is later.
When is Rent Due? (Grace Period)
There is a nine (9) day grace period in Connecticut. The landlord cannot begin charging for late fees or start an eviction process until the 10th day.
Late Fees
Maximum Penalty – No statute, although a court case (Begin v. Reissman (2005)) established that 5% of the total rent amount was a reasonable fee. It also claimed that $5 per day was excessive.
NSF Fee (§ 21a-4(b)) – For a tenant writing a bad check, the maximum fee is $20.
Right to Enter (Landlord)
The landlord must give the tenant reasonable notice prior to entering the premises for any repair, inspection, or need for the agent to show the property (§ 47a-16).
Resources