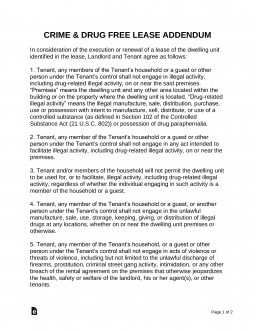 The crime and drug free lease addendum is a written agreement between a landlord and tenant that establishes the criminal and drug policies for a dwelling. A tenant who agrees to the terms of the addendum indicates their compliance to not engaging in or enabling any criminal activity on the premises of the dwelling. It shall be executed in conjunction with the initial signing or renewal of a lease, consequently setting forth the policies described therein for the fixed period of time determined in the lease.
(Video) What is a Crime & Drug Free Lease Addendum?
How to Write
Step 1 – Download in Adobe PDF, Microsoft Word (.docx), or Open Document Text (.odt).
Step 2 – Proceed to section (8) on page (2) and specify the following details in the empty spaces:
Date of addendum execution (day, month, year)
Name of landlord
Name of tenant
Property address
City
State
Step 3 – Both the landlord and the tenant must provide their signatures in the available spaces. Along with their signatures, each individual should record the date of signing.