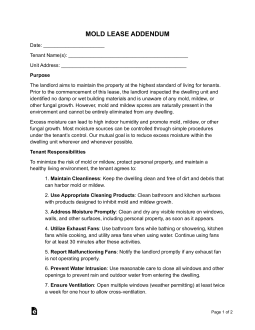 The mold lease addendum is a form that notifies the tenant of their responsibility pertaining to the prevention of mold in the leased property. The owner must inspect the property beforehand to confirm there are currently no areas in the house/apartment where mold could exist. Once the addendum has been signed by the landlord and tenant, it is the tenant's duty to ensure the property remains mold-free. A list of responsibilities are included on the addendum so the tenant is aware of how to keep the property from getting contaminated. Because some areas are more susceptible to mold, certain states have enacted mold disclosure requirements. Landlords with property in insusceptible states will find this particular addendum unnecessary.
How to Write
Step 1 – Download in Adobe PDF, Word, or ODT.
Step 2 – At the top of the addendum, enter the date, the tenant's name, and the unit address.
Step 3 – Once the tenant has understood the guidelines and responsibilities laid out in the form, they can sign and date the bottom of the page. Below that, the owner/agent must sign, date, print their name, enter their address, and provide their telephone number.