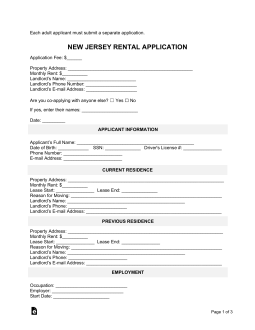 The New Jersey Rental Application Form is a document that is used by landlords, property owners, and property management companies. This document will help determine whether or not a potential tenant would be a suitable renter to contract for a rental lease. The document will gather information about the prospective tenant that will assist in ascertaining the viability of an agreement between the landlord and tenant. The document will gather personal information as well as rental and credit history. Prior to acquiring a needed credit check and rental history, the landlord should get permission from the prospective tenant to do so.
Application Fee (No Statute) – No limit mandated by law.
Security Deposit (§ 46:8-21.2) – Maximum deposit amount is one and a half (1.5) months' rent for the first year. After the first year, the landlord may request up to an additional ten percent (10%) of the initial amount as a further deposit.
How To Write
Step 1 – Tenant Information – Complete the required fields:
Full Name
Home Phone
Work Phone
Cell Phone
Date of Birth
Social Security Number
Drivers License Number
State
Co-Applicant Name
Co-Applicant Date of Birth
Co-Applicant Social Security Number
Names and Ages of everyone who will live in the residence
List all pets
Email Address
Vehicle Make/Model
Year
License/State
Step 2 – Employment Information – Enter employment information as follows:
Applicants Employment Status (check appropriate fields)
Full Time
Part Time
Student
Unemployed
Employer Address
Job Title
Dates employed
Supervisor Name
Phone
Monthly Pay
Applicants Employment
If you would like us to consider other sources of income for this Rental Application, list the amount and the person we may contact for confirmation. Do not reveal alimony, child support, or anyone else's income unless you want us to consider it in this New Jersey Rental Application.
Amount $
Contact Name (If more space is required, add a sheet with all of the appropriate information and attach it to the document)
Step 3 – Residential History for the Last 3 Years – Enter the required information:
Current Address
Move In Date
Rent $
Owner/Agent
Phone
Reason for Leaving
Also enter the information on the two rentals prior to this one
Step 4 – Credit History – Complete the credit history information as required:
Have you ever filed bankruptcy?
Check Yes or No
Have you ever been evicted from a rental residence? Check Yes or No
Are you a party to any lawsuits?
Check Yes or No
Have you had any late rental payments in the last year?
Check Yes or No
Are there any judgments against you?
Check Yes or No
If you answered yes to any of the above questions, please explain
Step 5 – References – Complete the required credit reference information:
1st Bank Reference –
Bank Name
Account Type
Account Number
AND
2nd Bank Reference
Bank Name
Account Type
Account Number
Step 6 – Credit References – Provide the name and telephone information up to three credit references:
Step 7 – Applicant must read and attest to the fact that all information they have provided is true to the best of their knowledge. You will then need to provide your name and date of signature, twice.
Step 8 – Authorization – Applicant must carefully read the statement allowing permission to investigate the information. As well, you will provide permission for a criminal background check. You must provide two dated signatures.