Updated August 07, 2023
A New Jersey rental agreement allows a landlord and tenant to set terms for the renting of commercial or residential property. In either type of property, the landlord will usually ask the tenant for their consent to run a credit report to verify their income and employment. If approved, a lease will be negotiated and signed. At the time of authorization, the tenant will commonly be responsible for the payment of the security deposit, first month's rent, and any other required fees or deposits by the landlord.
Rental Application
– Used as a tool for the landlord to check the identity and employment status of the tenant before signing a contract.
Agreement Types (7)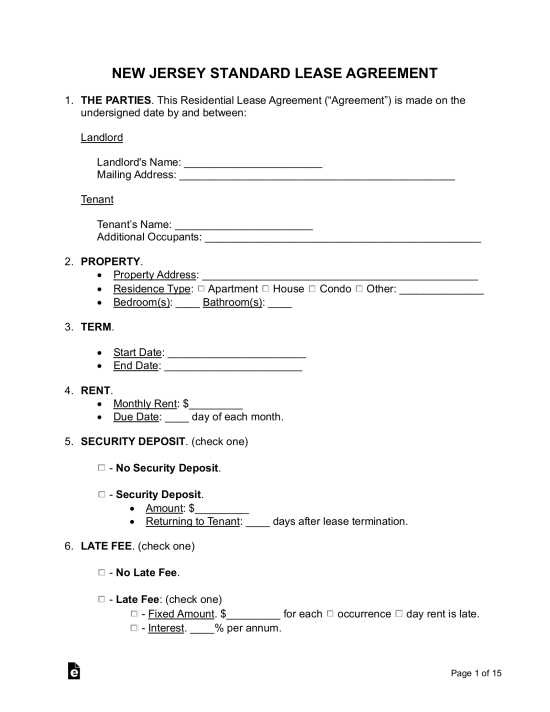 Standard Residential Lease Agreement – General contract for a fixed term of usually one year.

Download: PDF, MS Word, OpenDocument
Association of Realtors – Provided by the Association of New Jersey Realtors for a fixed-term arrangement.

Download: PDF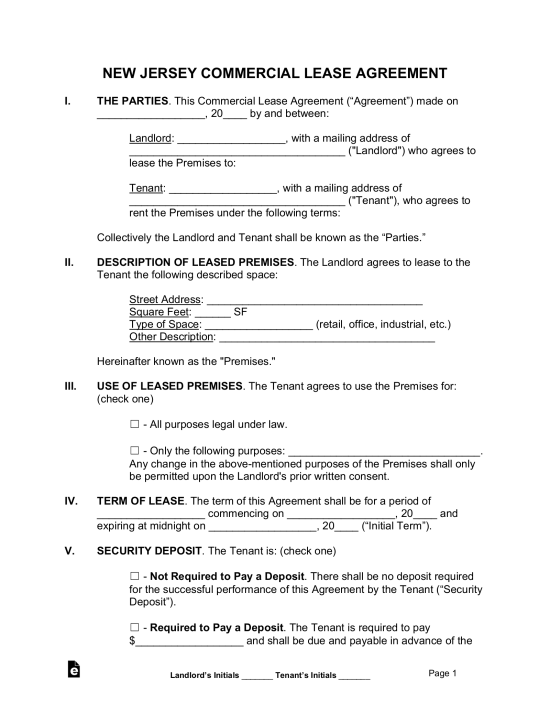 Commercial Lease Agreement – Used to rent a property for the purposes of a business-related venture, such as industrial operations, office space, etc.

Download: PDF, MS Word, OpenDocument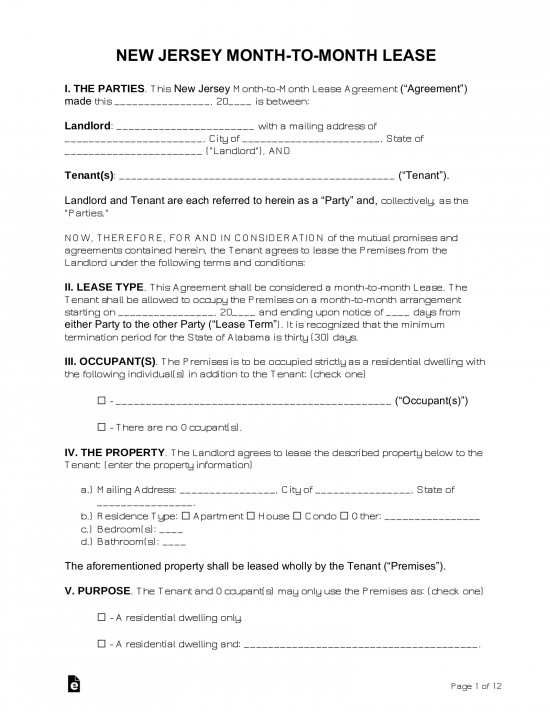 Month-to-Month Lease Agreement (§ 2A:18-56)- Known as a tenancy at will that can be terminated at any time with a notice to quit with one (1) month's notice.

Download: PDF, MS Word, OpenDocument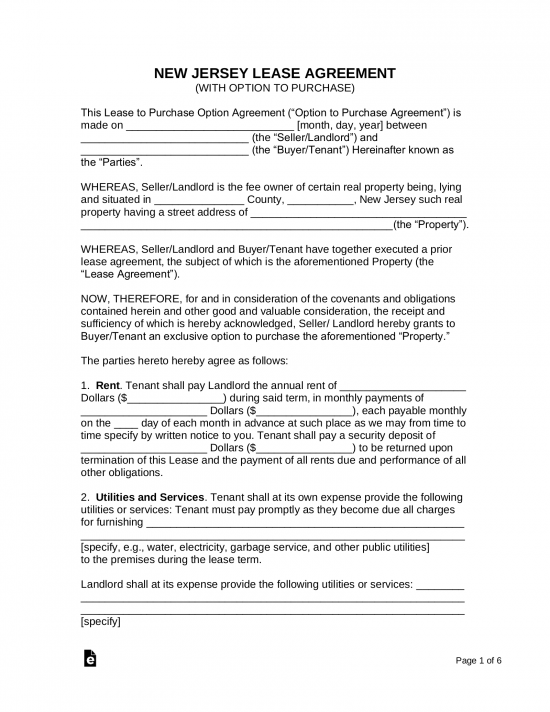 Rent-to-Own Lease Agreement – Form that gives the lessee the right to buy the premises for an agreed-upon amount.

Download: PDF, MS Word, OpenDocument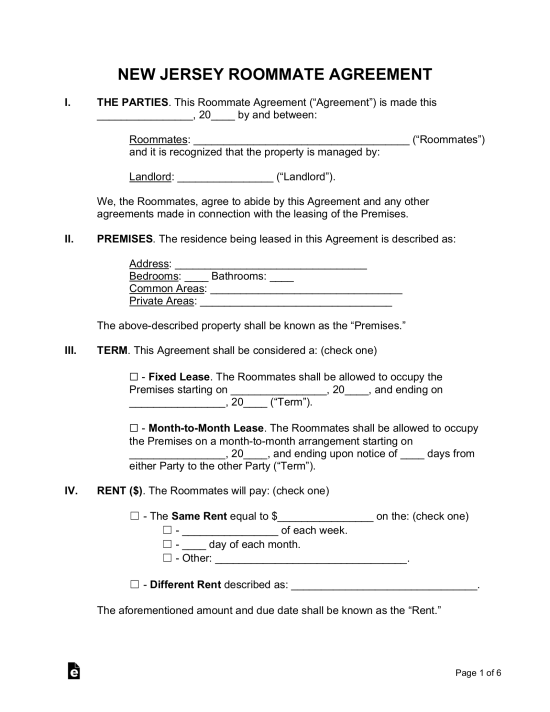 Room Rental (Roommate) Agreement – To establish the terms of a living situation between the members of a housing arrangement where the activities of cleaning and paying bills are shared.

Download: PDF, MS Word, OpenDocument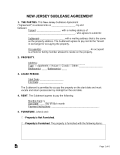 Sublease Agreement  – Used by a tenant who decides to rent their space to someone else. In most cases, the subtenancy is conditional upon the landlord's approval.

Download: PDF, MS Word, OpenDocument
Required Disclosures (4)
Flood Zone (§ 46:8-50) – If the landlord's property is located in a flood zone, it must be stated to the tenant. An owner may find out if the real estate is located in such a zone by using the Flood Zone Lookup Tool provided by FEMA. This applies to landlords of residential and commercial property other than dwelling units in a property containing not more than two (2) such units, or in an owner-occupied property of not more than three (3) dwelling units.
Lead-Based Paint Disclosure – Federal law that makes all property owners of units built before 1978 to inform their tenants of the presence of this type of dangerous paint.
Truth in Renting Act (§ 46:8-45) – The landlord must provide a copy of the Act to all tenants except for those in residential dwellings of two (2) or fewer units and three (3) or fewer units if the landlord occupies a unit within 30 days of lease signing.
Window Guard Disclosure (§ 5:10-27.1) – The following statement must be in every residential contract and in bold font:
The owner (landlord) is required by law to provide, install and maintain window guards in the apartment if a child or children 10 years of age or younger is, or will be, living in the apartment or is, or will be, regularly present there for a substantial period of time if the tenant gives the owner (landlord) a written request that the window guards be installed. The owner (landlord) is also required, upon the written request of the tenant, to provide, install and maintain window guards in the hallways to which persons in the tenant's unit have access without having to go out of the building. If the building is a condominium, cooperative or mutual housing building, the owner (landlord) of the apartment is responsible for installing and maintaining window guards in the apartment and the association is responsible for installing and maintaining window guards in hallway windows. Window guards are only required to be provided in first floor windows where the window sill is more than six feet above grade or there are other hazardous conditions that make installation of window guards necessary to protect the safety of children.
Security Deposits
Maximum Amount (§ 46:8-21.2) – The landlord may not charge more than one and a half (1.5) months' rent for the initial deposit. If the tenant remains on the property for more than one (1) year, the landlord may not request more than an additional ten percent (10%) of the monthly amount.
Returning (§ 46:8-21.1) – The landlord must return any and all funds related to the deposit within thirty (30) days of the termination date.
When is Rent Due? (Grace Period)
A tenant is allowed five (5) business days to pay rent. Late rent fees or penalties cannot be assessed during such periods (§ 2A:42-6.1). A business day is any day other than Saturday, Sunday, or a State or federal holiday.
After the 5-day grace period, if rent is not paid, the landlord can send the tenant a 30-day notice to quit that grants them the month to pay back-rent or move out of the premises.
Late Rent
Maximum Penalty – No maximum. There are no laws mentioned in the state statutes.
NSF Fee (§ 40:5-18(c)) – $25 is the maximum amount to charge tenants for a bad check.
Right to Enter (Landlord)
The landlord must provide at least one (1) day's notice to the tenant before entering their property (§ 5:10-5.1(c)).
Resources