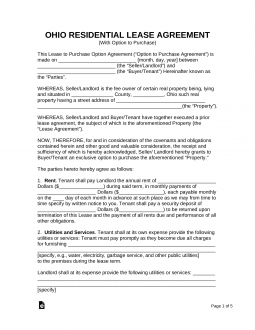 The Ohio Residential Lease with Option to Purchase is a legal document that is designed to begin as a lease agreement between a landlord/seller and tenant/buyer, with an option during the lease period for the tenant(s) to purchase the property.
One may use this particular document to clarify all of the terms with regard to the use of a residential property. This document will act as a typical lease inasmuch as it will outline all the monthly payment information and any responsibilities to be assumed by both the lessor and the lessee. Additionally this document will offer with explanation how the purchase option will operate. This document will carefully detail everything needed in writing for both the landlord/seller and the tenant/buyer
The tenant(s), should they choose this avenue as a possibility, must carefully review this document from beginning to end. If the tenant(s) finds that they're not completely clear with the legalities, they should consider a consultation with an attorney that has a real estate specialty to ensure that you understand exactly what you're signing and how it will work over time.
How To Write
Step 1 – Download the document-
In the first blank field enter the date that the document is being completed in mm/dd/yyyy format
Enter the name of the Seller/Landlord
Enter the name(s) of the Buyer(s)/Tenant(s)
In the next paragraph, enter the county where the property is located
Enter the City
Enter the street address
Step 2 – Rent – Landlord shall provide the following:
Enter the total annual amount of rent that would be paid
Enter the monthly installment amount
Enter the amount of the security deposit (to be refunded at the lease termination and payment of all rents)
Step 3 – Utilities and Services –
Enter the utilities and service that the tenant(s) will be responsible for
Enter the utilities and services (if any) that the landlord will be responsible for
The tenant(s) must read the remainder of this section very carefully along with the any further tenant agreements (A through G)
Step 4 – Option Term –
Enter the commencement date of the offer in mm/dd/yyyy format
Enter the expiration date of the offer in mm/dd/yyyy format
Step 5 – Notice Required to Exercise Option –
The tenant(s) will be required to pay a nonrefundable fee should they wish to attempt to purchase the property
Landlord must enter this amount into this section and provide a receipt to the tenant(s)
The purchase price shall be established at the amount agreed upon and stated under the Purchase Price section of the document
Enter the agreed amount of the monthly rent that the landlord is willing to put toward the price of the property should the tenant(s) decide to purchase
Step 6 – Titled Sections – Tenant(s) must read all of the following information as follows:
Exclusivity of Option
Closing and Settlement
Financing Availability
Financing Disclaimer
Remedies for Default
Commission
Recording of Agreement
Acknowledgements
Timing
Governing Law and Venue (enter the county where any disputes will be settled)
Option to Purchase Controlling
Entire Agreement
Step 7 – Signatures
Seller/Landlord's Signature
Print Name
AND
Buyer(s)/Tenant(s) Signature(s)
Print Names
AND
Agent's Signature
Print Name
AND
Witness' Signature
Print Name