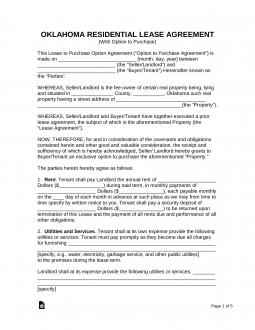 The Oklahoma Residential Lease to Own Agreement is a legal document that is created to begin as a lease between a Lessor/seller and Lessee/buyer and will offer an option to purchase, during the period of the lease agreement for the premises that the Lessee(s) are leasing.
A Lessor may use this document to offer a clear understanding of all of the terms and conditions with regard to the use of a residential property as well as explain the option terms. This document will perform as a lease agreement initially, as it will outline monthly payment information and any responsibilities to be assumed by the lessor/seller and the lessee/buyer.
This document will also offer explanation with regard to how the purchase option will work between the parties and will carefully detail in writing, all of the needed information for both the landlord/seller and the tenant/buyer
The Lessee(s), should they choose this option as a possibility of home ownership, must carefully review, understand and agree to the entitre document before application of signatures. If the Lessee(s) find that they are not in complete understanding with regard to the language, they may wish  to consider consulting with an attorney who specializes in real estate law, to ensure that they understand and are very clear with what they are signing and how it will work to their benefit.
How To Write
Step 1 – Download the document- Provide the following information
Enter the date that the document is being completed in mm/dd/yyyy format
Enter the name of the Seller/Lessor
Enter the name(s) of the Buyer(s)/Lessee(s)
Enter the county where the property is situated
Enter the City where the premises is located
Enter the street address
Step 2 – Rent – Lessor must provide the following:
Enter the total annual amount of rent
Enter the monthly installment amount of the annual amount
Enter the amount of the security deposit to be paid at the signing of the lease option
Step 3 – Utilities and Services –
Enter the utilities and service that the lessee(s) will be responsible to pay
Enter the utilities and services (if any) that the landlord will be responsible to pay as part of the rental payment
The lessee(s) must read and agree to the remainder of this section, along with the any further tenant agreements (A through G)
Step 4 – Option Term – Lessor must:
Enter the commencement date of the purchase offer in mm/dd/yyyy format
Enter the expiration date of the purchase offer in mm/dd/yyyy format
Step 5 – Notice Required to Exercise Option –
The Lessee(s) must begin by delivering notice to the Lessor of their intention to purchase the premises
The Lessee(s) will be required to pay a nonrefundable fee to the Lessor
Lessor must enter this amount into this section and provide receipt
The purchase price shall be established at the amount agreed upon and stated under the Purchase Price section of this contract
Enter the agreed amount of the monthly rent that the Lessor is willing to pay toward the agreed price of the property should the Lessee(s) purchase
Step 6 – Titled Sections – Tenant(s) must read all of the following information as follows:
Exclusivity of Option
Closing and Settlement
Financing Availability
Financing Disclaimer
Remedies for Default
Commission
Recording of Agreement
Acknowledgements
Timing
Governing Law and Venue (enter the county where any disputes that may arise will be negotiated)
Option to Purchase Controlling
Entire Agreement
Step 7 – Signatures
Seller/Lessor's Signature
Print Name
AND
Buyer(s)/Lessee(s) Signature(s)
Print Names
AND
Agent's Signature
Print Name
AND
Witness' Signature
Print Name