Updated February 20, 2023
A real estate (lease) personal guarantee requires a third party ("guarantor") to fulfill the obligations of a lease in the event of default by the tenant who is under contract. This means that if the tenant doesn't pay rent or breaks the lease for other reasons, the guarantor would be held liable.
Related Forms
Download: Adobe PDF, MS Word, OpenDocument
---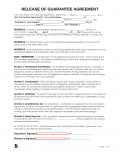 Release of Personal Guarantee – To be executed at the completion of a lease or if the guarantor is to be released for another reason.
Download: Adobe PDF, MS Word, OpenDocument