Updated August 08, 2023
A Washington rental application is a document that landlords, property owners, and management companies provide to applicants seeking to rent a property. The application will require that the applicant provide employment history, rental history, and other personal information, that, with signed permission, the landlord will have a right to investigate and verify. These aspects will provide a clearer view as to whether or not the applicant would be a reliable candidate for the rental property.
By Type (2)
---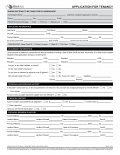 Outside Seattle Rental Application
Download: PDF
---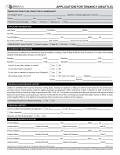 Within Seattle Rental Application
Download: PDF
---
Fees and Deposits
Maximum Application Fee (§ 59.18.257(1)(b)) – Landlords may charge an application fee only for costs incurred in obtaining screening reports.
Maximum Security Deposit (§ 59.18.280) – There is no limit expressed in state statutes regarding the maximum amount for security deposits.
Seattle Only Disclosure
Criminal History Prohibited (SMC 14.09.025) – A notice to the tenant prohibiting discrimination in housing against renters with arrest records, conviction records, or criminal history.