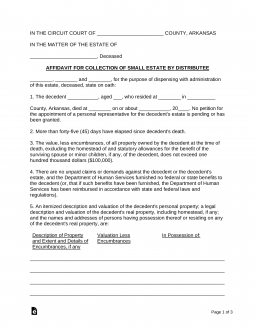 The Arkansas small estate affidavit is used to collect personal property of a person who died in situations where the person did not have an estate valued more than $100,000. It cannot be filed until 45 days have elapsed since the death of the decedent. This allows for a successor in interest to obtain the decedent's property of a small estate without having to go through a court proceeding.
Once the form is filled out, it will need to be signed by the Local Probate/Circuit Court Clerk.
Maximum – $100,000
Laws – § 28-41-101
For questions about the process reference the Avoiding Probate: The Small Estate
How to Write
Step 1 – Write in your name and the names of any others entitled to decedent's property.
Step 2 – In Section 1, write in the name, age, residence, location, and date of death of the decedent.
Step 3 – Attach an itemized description and valuation of the decedent's personal property.
Step 4 – In Section 6, write in the names, ages, relationships to decedent and addresses of those entitled to decedent's property.
Step 5 – Sign and date in front of the probate court clerk.
Step 6 – It can then be used to collect the property of the decedent by showing it to those who hold the property.