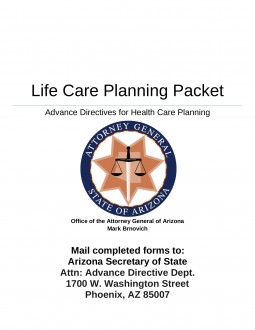 4.8 Stars | 6 Ratings
177 Downloads
Updated June 28, 2023
An Arizona advance directive lets an individual select a health care agent to make decisions on their behalf and make end-of-life treatment selections. The agent selected should be a spouse, family member, or close friend. The agent will have the right to make any medical decision that is aligned with the person's wishes. For end-of-life treatment options, a person may choose to keep themselves alive as long as possible or negate food, water, and breathing assistance if they should be permanently incapacitated.
Advance Directive Includes
Laws
Statutes – Title 36, Chapter 32 (Living Wills and Health Care Directives)[1]
Signing Requirements – One witness or a notary public.[2]
Registering
To register an advance directive, complete the Registration Form and send to the following address:
Secretary of State
Attn: Advance Directive Dept.
1700 W. Washington Street, Fl 7
Phoenix, AZ 85007
Versions (2)
---
Download: PDF
---
Download: PDF
How to Write
Download: PDF
Wallet Card
(1) Identification. Your name and the current date must be presented at the beginning of the wallet card provided. This will inform Arizona First Responders of your full name and how recently this card was completed.
(2) Executed Directives.The forms available in this directive package are listed on the wallet card – each accompanied by a bubble. Fill in or check each bubble corresponding to the form that has been completed and executed to define your medical directives as a Patient in the State of Arizona.
(3) Directive Contact. Identify the Institution or Party that can be contacted by future Reviewers seeking copies of this paperwork.Registration Agreement

(4) Patient Name.The registration form introducing this paperwork can be completed and sent to the Arizona Secretary of State to register the execution of your advanced directive. Report your full name as the Arizona Patient or Principal who has executed the directives in this package.
(5)Patient Street Address.Record the building number, street, and suite number in the Arizona Patient's address.
(6) Patient City, State, And Zip Code.
(7)Supporting Information.The telephone number, birth date, and last four digits of the Patient's social security number should be documented.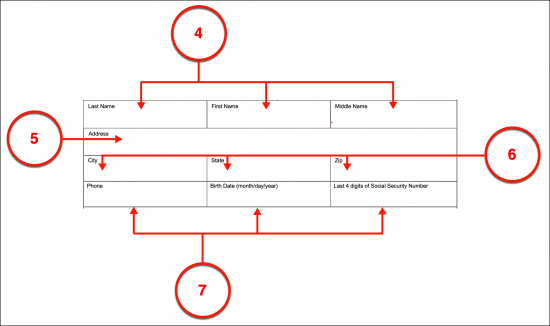 (8) Membership Presentation. As part of the registration process, the Arizona Secretary Of State shall return an identification card to you. Record the name you wish used as identification on the registration card that shall be returned.
(9) Return Address.The mailing address where you wish your material sent to you should be documented if it is different from the home address you presented above.

(10) Purpose Of Registration. Use the checklist displayed closing the registration chart to indicate why this form is being completed. You may choose one or more statements to define your intent to start storing your directives with the Arizona Registry, replace your currently stored directives, add a new directive to the ones currently on file, remove your paperwork from the registry, request a replacement wallet card, or change your registration information (i.e., a new phone number or home address).

(11) Registration Acknowledgment. Once you have read the disclosure regarding the registration form, you must sign the registration agreement, provide the date of signature, and print your name as the Patient.
Durable Health Care Power Of Attorney
Article 1. Information About Me (Principal)
(12) My Name. The full name of the Principal who intends to authorize a Health Care Representative to inform Arizona Medical Professional of his or her preferences, consents, and refusals over treatments will need to be clearly identified to achieve this task, thus, assuming you are the potential Patient, present your name as that of the Principals.
(13) Address. Your complete address should accompany your name on this form.
(14) My Telephone. Your current telephone number should be included with your information.
(15) Age. Report your current age.
(16) Date Of Birth. Enter your birth date.

Article 2. Selection Of My Health Care Representative And Alternate
(17) Health Care Representative. The full name of your Health Care Representative is mandatory for this appointment to be made. It should be mentioned that Arizona Health Care Professionals will assume that your Health Care Agent will be fully abreast of your treatment preferences.
(18) Health Care Representative Contact Information. Make sure that your Arizona Health Care Representative's current address and contact telephone numbers (home, work/business, and cell phone) are documented where requested.

(19) Alternate Arizona Health Care Representative. In addition to an Arizona Health Care Representative, you should appoint an Alternate Health Care Representative. This Party will be able to assume the role of your Arizona Health Care Representative if your original appointment can no longer represent you, refuses this role, or is unable to fill act in this capacity.
(20) Alternate Representative Contact Information. Furnish the address, home telephone number, work telephone number, and cell phone number where your Alternate Health Care Representative can be reached.

Article 4. Decisions  I Expressly Do Not Authorize
(21) Limiting The Arizona Health Care Agent. The powers needed to act on your behalf to confer with Arizona Medical Professionals and make treatment decisions that will be administered when you are incapacitated with a serious medical condition are granted through this document as a default. It is important that you read through this document then address any limitations to your Health Care Representative's power of representation or restrictions directly in this paperwork. Document all such limitations or restrictions making sure to include any direct instructions to your Health Care Representative, Arizona Medical Professionals, or both.

Article 5. My Specific Desires About Autopsy
(22) Arizona Autopsy Directive.  If the state does not request an autopsy, you can approve or refuse a voluntary autopsy such as a request made by a family member in this directive, or you can name your Arizona Health Care Representative to make this decision for you at the time. One of the statements in this appointment's fifth article should be initialed to indicate your directive on this matter. 

Article 6. My Specific Desires About Organ Donation
(23) Consent Or Refusal. One of two statements should be initialed to demonstrate your desire to make an anatomical donation or refuse to make one. If you have decided to refrain from donating any organs and body parts upon death, then only Statement A should be initialed to define the sixth article. Otherwise, leave this statement unmarked and continue to the next definition. To approve of anatomical donations made upon your death in the State of Arizona through this document, you (as the Principal) must initial Statement B. This decision will require additional definition through the follow-up content of this selection.

(24) Approved Organ Donations. If you intend to make your organs and body parts available for donation upon death then the level of your donation should be defined by indicating you wish to make an anatomical gift of your whole body, any body parts that are needed, or to donate only organs and tissues that you list. Fill in or mark the appropriate bubble to display your intent. Make sure to provide any additional information requested.

(25) Intended Purpose. After providing approval for the organs or body parts that may be donated upon your death, you are encouraged to establish the approved purpose the Recipient has for the donation. You can authorize organ donations or anatomical gifts for any legal purpose, only to satisfy a transplant or therapeutic need, or only research by selecting the appropriate statement however, if none of these options are adequate, you may define the purpose you authorize anatomical gifts made through the final option.

(26) Authorized Donation Recipients. Finally, in regard to an approved organ donation, you can define the type of Recipient you approve. If an agreement to receive your anatomical gifts is already in place, then use the area in Bubble A to list this Recipient's name and contact information (once you have selected this statement) or you can list a specific person or institution that you approve of receiving your anatomical gift. An additional statement, corresponding to Bubble C will place this decision in the hands of your Arizona Health Care Representative.

Article 7. Funeral And Burial Disposition
(27) Your Post-Death Instructions. Initial one of the statements making up the seventh article. This area allows you to dictate (generally) that you wish your body to be buried or cremated, produce specific instructions for your burial or cremation preferences, or name your Health Care Representative as the Party to make this decision.
Article 8. About A Living Will
(28) Living Will Discussion. Arizona Medical Professionals reviewing your directive will seek confirmation that all your directives are present. To this end, use your initials to indicate that your living will should be sought out or to inform Reviewers that you have not issued a living will.

Article 9. About A Prehospital Medical Care Directive Or Do Not Resuscitate Directive
(29) Your DNR Status. If you have issued a Do Not Resuscitate Order with your Physician then initial Statement A to present this fact, otherwise, initial Statement B to show that you have not issued a Do Not Resuscitate Order.

Article 10. HIPAA Waiver Of Confidentiality For My Agent/Representative
(30) Granting Agent Access. Specific approval must be given to your Health Care Representative if he or she is to have access to the medical records governed by the Health Insurance Portability And Accountability Act of 1996. This can only be done by initialing the waiver provided before you sign this document.

Verified Signature
(31) Arizona Principal Signature. Your signature is required to execute this paperwork and must be produced before a qualified Witness or Notary Public. Gather with one of these Parties then sign your name and report the current calendar date.

Signature Of Witness
(32) Proxy Signature. If you are not the concerned Arizona Patient but rather an approved Health Care Proxy signing for the Principal then, you must print your name, sign your name, and date your signature in response to the declaration made in Statement B.

Witness Affirmation
(33) Witness Name. If a Witness shall be used to verify that the signature on this document was produced by the Principal (You) or an appointed Health Care Proxy, then he or she should review the "Signature Of Witness" declaration made. If the Witness agrees with this statement, then he or she must begin the signature process by printing his or her name.
(34) Dated Signature. The Witness's signature and date of signature must be supplied by this Party to show that the testimony above it is accurate.
(35) Address Of The Witness. The Witness must provide his or her mailing or home address. This must be an address where he or she can be reliably reached for further testimony regarding your signature.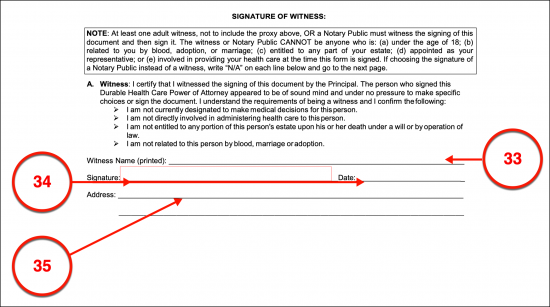 Notarial Jurat
(36) Notary Verification. If a Notary Public has been obtained to view the signature execution of this document, then he or she will attend to the "Notarial Jurat" section provided.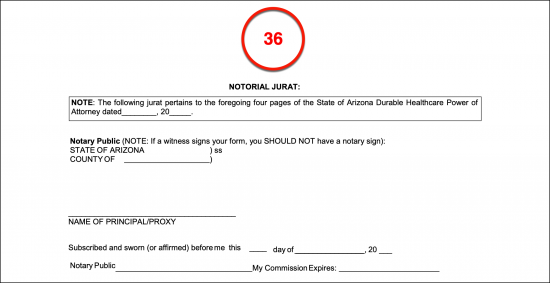 Statement Of Discussion
(37) Doctor Name. It may be useful to verify to future Reviewers that you have had a discussion or consultation with a licensed Physician concerning your directives. This Physician should verify this conversation by executing a signature. The Physician providing this verification should first print his or her name.
(38) Doctor Acknowledgement. The Physician should continue the confirmation process for the concerned consultation by signing his or her name and recording the current calendar date.
(39) Physician Office Address.

Durable Mental Health Care Power Of Attorney
Article 1. Information About Me
(40) Name And Contact Information. A separate appointment can be made through this paperwork in the State of Arizona. The next segment of this document will enable a Mental Health Representative to be appointed to the Arizona Patient or Principal. Such an appointment will begin with identifying the Principal the Mental Health Care Representative shall speak for. It is assumed that the Preparer of this document (You) and the Principal are one and the same. As the Arizona Principal, document your full name to the first article or section.
(41) Your Address And Phone Number.
(42) Your Age And Birthday.

Article 2. Selection Of My Health Care Representative And Alternate
(43) Mental Health Care Representative. The first, middle, and last name of the Party for who you wish to convey your mental health requirements to Arizona Mental Health Professionals should be produced. This Party will be expected to be up-to-date on your desired mental health treatments and those you do not approve of.
(44) Representative's Address And Telephone Number(s).
(45) Alternate Representative For Mental Health Care. Regardless of how up-to-date or reliable your Arizona Mental Health Representative can be there may be circumstances that cause him or her to be unable or unwilling to act in this role. You can name an additional Alternate Arizona Health Care Representative who can be asked by Medical and Mental Health Professionals for your mental health treatment directives and be appointed with the same representational powers this role holds if, or when, the first Party you named as your Mental Health Care Representative is or can no longer be effective. Begin the process by recording the full name of the Alternate Arizona Mental Health Care Representative you would grant principal powers to when such a scenario occurs.
(46) Alternate Arizona Mental Health Care Representative Address And Phone Number(s).

Article 3. Mental Health Treatments That I Authorize If I Am Unable To Make Decisions For Myself
Select All Checkbox Statements To Define The Agent's Authority
(47) Records Access. A few checkbox statements lettered A through D enable a clear description of the authority you are granting to your Mental Health Care Representative. Statement A grants the Mental Health Care Representative the ability to handle, review, and manage (i.e., disclose) your medical records on your behalf.  To grant this Agent the authority to perform such actions with your information, fill in or mark the checkbox provided.
(48) Medication Decision. Your consent or your refusal of medications can be determined then delivered through your Arizona Mental Health Care Agent's efforts with your approval by selecting Statement B.
(49) Treatment Setting. Statement C will grant your Mental Health Representative the ability to determine if you should be placed in a structured treatment setting if you select it by marking the corresponding checkbox.
(50) Other Granted Powers. You can grant your Mental Health Care Representative additional (legal) powers or include specific directives using Statement D to do so.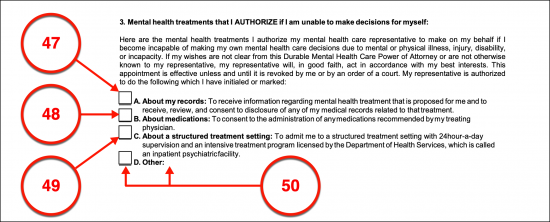 Article 4. Durable Mental Health Treatments That I Expressly Do Not Authorize
(51) Refused Treatments. Any mental health care treatment that you wish avoided and that you do not consent to under any circumstances should be explicitly documented.

Article 6. Additional Information
(52) Applicable Concerns. An area to provide any additional and relevant information regarding your mental health requirement, treatment preferences, and refusals can be included with this paperwork before you executed it.

HIPAA Waiver Of Confidentiality For My Agent/Representative
(53) Acknowledgment Waiver. Complete the information and actions requested by this document with a waiver that allows your Mental Health Care Representative to work with the medical records that are protected under the Health Insurance Portability And Accountability Act Of 1996 by supplying your initials.

Arizona Patient Signature Or Proxy Verification
(54) Dated Signature Of Execution.  Your signature must be submitted with the current date to complete Statement A. This act should be performed either before a Witness or a Notary Public whose license is recognized by the State of Arizona. 
(55) Proxy Signature. If the Mental Health Principal does not have the capability to sign this document, then he or she can approve a Proxy to do so on his or her behalf. If so, then the printed name, signature, and the signature date of the Proxy must be supplied by this Party before the Witness or Notary Public. It should be noted that the Proxy may not be either of these Entities.

Signature Of Witness
(56) Accompanying Witness Verification. If a Witness is present at the time of your signing then he or she must verify your act of signing by printing his or her name, signing his or her name, recording the current date, and documenting his or her address as an acknowledgment to the testimonial provided regarding his or her identity and the act of your signing.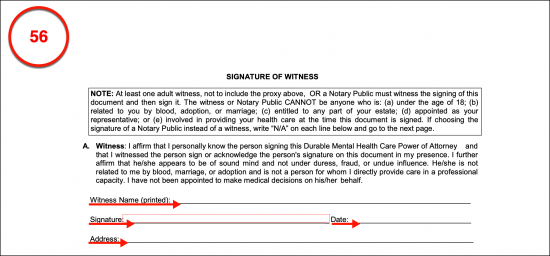 Notarial Jurat
(57) Arizona Notarization. The Arizona Notary Public observing the signing may have additional or different signature instructions to the Principal (You). If so, these must be followed to satisfy the notarization process applicable to the county where this document is signed. The Notary Public will complete the section provided to verify your signature.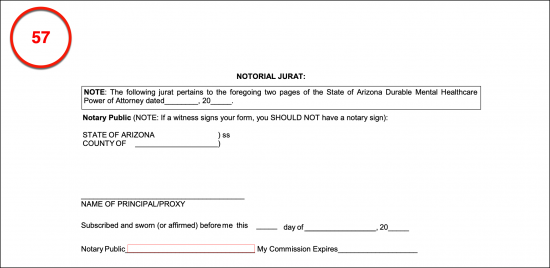 Representative's Acceptance Of Appointment
(58) Arizona Mental Health Care Representative Acknowledgment. It is recommended that your Arizona Mental Health Care Representative be given a copy of this completed form for storage. Before this act is completed, obtain his or her acknowledgment and acceptance of the role being appointed through his or her printed name, signature, and signature date.

Living Will
Article 1. My Information
(59) Name, Address, Phone Number.  The Arizona Patient or Declarant issuing the living will must be attached to this document with a record of his or her full name as well as his or her permanent address and current telephone number.
(60) Arizona Declarant Age And Birthday

Article 2. My Decisions About End Of Life Care
Select Applicable Declarations Between Items 61 Through 64 OR Select Item 65
(61) The Comfort Care Only Directive. Your medical preferences will be the topic of the next article. You can adopt one or more of the directives defined in the list provided as your own treatment instructions to attending Arizona Physicians who seek your preferences while you are unable to communicate them. By initialing the first of these, you will be able to use this document to inform Arizona Medical Professionals that you wish medical treatment to focus on keeping you comfortable and pain-free.

(62) Specific Limitations On Medical Treatments. If you wish to place specific limitations on the treatments attending Arizona Physicians wish to use by refusing CPR (cardiopulmonary resuscitation), food and water delivered through tubes (artificially), and/or being taken to a hospital then provide your initials to the statements you wish to adopt as your directives from this list.

(63) Pregnancy. If desired you can issue an instruction to disregard any directive that would hasten your death or deprive your body of nutrients/water if it is known that you are pregnant and, despite the medical condition you are in, can carry the embryo successfully to birth by initialing Statement C.

(64) Treatment Until Medical Condition Is Known. Statement D can be initialed to indicate that you wish all treatment legally possible and needed to be applied until it is known that your medical condition will definitively cause your death and is untreatable.

(65) Direction To Prolong Life. Notice that Statement E will directly contradict all other statements in this list by stating that you wish all life-sustaining measures employed when you are incapacitated and suffering a long-term and incurable medical condition or are permanently unconscious. Initial this statement only if you wish to request life-prolonging procedures administered and have not indicated that any other item on this list applies to your medical preferences.
Article 3. Other Statements
(66) Attachment Status. Naturally, you may wish to issue additional instructions to Arizona Medical Personnel attending to a life-threatening medical condition while you are unable to communicate. If so, then furnish a document with your preferences, instructions, and relevant concerns to this paperwork and check Statement A. If no such attachment will accompany this document, then initial Statement B

Signature Verification
(67) Your Signature And Current Date. To complete this living will the Patient or Declarant must sign his or her name then report the current date.

(68) Proxy Act Of Signing. If the Arizona Patient or Declarant does not have the physical ability to sign this document but wishes to execute it, a Proxy can attend to this task by presenting his or her printed name, signature, and date as verification that you wish this document issued even if you cannot sign it.

Signature Of Witness
(69) Arizona Witness Testimonial. Regardless of whether you are able to sign this paperwork as the Arizona Principal or Declarant or if a Proxy signed on your behalf, the executing signature of the living will must be delivered either in the presence of a Witness or Notary Public. If a Witness will verify that an authentic signature was produced then he or she must review the Witness statement, provide his or her printed name and current date along with the address where he or she can be reached.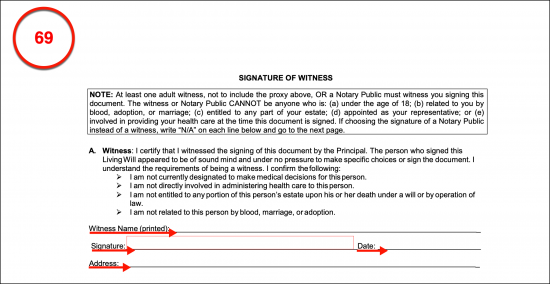 Notarial Jurat
(70) Arizona Notarization. If you have opted to have your signature authenticated through the notarization process conducted by a Notary Public, then this Party will complete the next section with the testimony and credential required.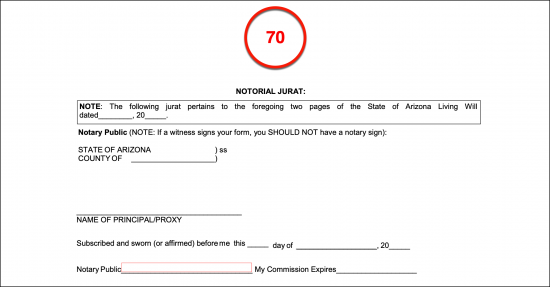 Letter To Representatives
(71) Address Each Representative Directly. A letter that will state your expectations to each Health Care Representative named can be completed and delivered to help each of these Parties understand his or her role. To engage this letter, produce the name and address of each Representative Recipient at the opening of this letter.

(72) List Issued Directives. Place a checkmark next to every directive that you have issued. It is recommended that a copy of each document you issued is included with this letter.

(73) Closing. The closing of this letter must be populated with your signature, the date you signed this letter, as well as your printed name.

Prehospital Medical Directive (Do Not Resuscitate)
Article 1. My Directive And My Signature
(74) Patient Name And Acknowledgment. You may use this document to refuse CPR (cardiopulmonary resuscitation) with the cooperation of a licensed Physician. The first article of this declaration will state your directive. Verify its accuracy, then sign your name, print your name, and furnish the current date.

(75) Identify Yourself To Arizona Responders. Your physical identity must be presented on this document for the benefit of First Responders and other Arizona Emergency Personnel. You may either use the area provided to define your birthday, sex, race, eye color, and hair color or affix a current photograph of yourself.

Article 2. Information About My doctor And Hospice
(76) Physician Name And Telephone Number. If you have a Hospice Physician that you wish contacted during a medical event that leaves you incapacitated, then list his or her Name, Phone Number, and any Hospice Program that you are enrolled in.
Article 4. Signature Of Doctor Or Other Health Care Provider
(77) Licensed Physician Acknowledgment. The Physician who has discussed this declaration with you must sign his or her name and report the current date.

Article 4. Signature Of Witness To My Directive
(78) Signature And Date. The Witness who has witnessed the Physician and you supply your signatures should also sign this document to demonstrate that he or she has seen you provide your signature and the physician provide his or her. The Witness must also record the current date in his or her signature area.

Related Forms
---
Durable (Financial) Power of Attorney
Download: PDF
---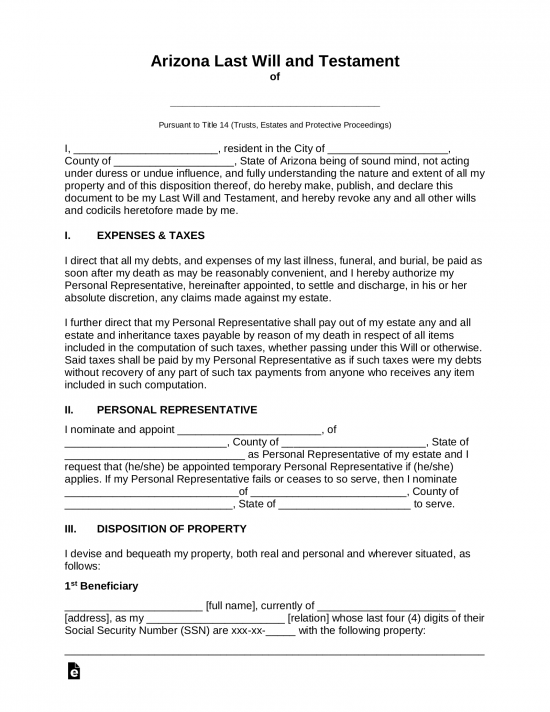 Download: PDF, MS Word, OpenDocument
Sources