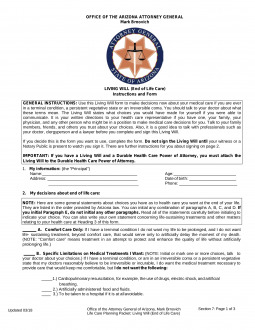 An Arizona living will is a legal document that would allow one to provide a written statement outlining their desires with regard to their medical treatment in the event circumstances change and they are no longer able to provide instructions about their medical care on their own. With this document, the principal states the decisions they wish to express while of sound mind. No family member or friend will have the legal ability to change these decisions and so you may wish to speak with a qualified attorney, member of the clergy and/or your Doctors before putting this information into your medical file.
Laws – § 36-3261 and § 36-3262
Signing Requirements (§ 36-3261(b)) – One (1) Witness or a Notary Public.
---
Medical (+) Power of Attorney – Allows a person to select someone else to make health care decisions on their behalf only if the person is not able to make the decisions for themselves.
Durable ($) Power of Attorney – Allows a person to select someone else to make financial decisions on their behalf at any time. This designation remains valid even if
How to Write
Download: Adobe PDF
Step 1 –