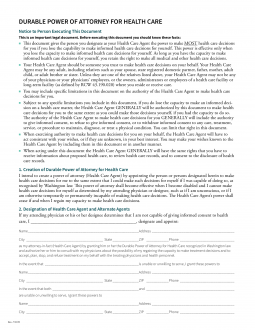 A Washington advance directive is a document that lets a person select their end-of-life health care options and to choose an agent to carry them out. The form allows a person to decide whether or not they would like to receive or refrain from life-sustaining treatments. Such treatments include artificial breathing and feeding assistance. After an advance directive is written and signed, by either a notary public or two (2) witnesses, it may be used if a patient becomes incapacitated.
Advance Directive Includes
Table of Contents
Laws
Statute – RCW 70.122.030, RCW 11.125.090
Signing Requirements (RCW 11.125.050, RCW 70.122.030) – Two (2) witnesses or a notary public.
Versions (9)
---
Download: Adobe PDF
---
Download: Adobe PDF
---
Download: Adobe PDF
---
Download: Adobe PDF
---
---
Download: Adobe PDF
---
Download: Adobe PDF
---
Download: Adobe PDF
---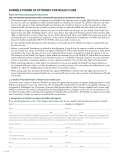 Washington State Medical Assoc.
Download: Adobe PDF
How to Write
Download: Adobe PDF
Step 1 – Access Then Download Your Washington Advance Directive
The Washington Advance Directive on this page can be downloaded using the "Adobe PDF" link in this section or the button presented with the preview image. Initiate your download by selecting the above link (or appropriate "PDF" button) then store this file in a readily available folder on your network or system.
Step 2 – Read Through The Material Introducing Washington Durable Power Of Attorney For Health Care
The introduction to the "Durable Power Of Attorney For Health Care" is aimed at the Washington Principal or Grantor of health care powers. Several points will be made regarding you rights as a Washington Grantor and the expectations you may have of your Health Care Attorney-in-Fact or Agent. 

Step 3 – Declare Yourself As The Washington Principal Appointing A Health Care Representative
Once you have read through the introduction and the first article ("1. Creation Of Durable Power Of Attorney For Health Care") it will be time to turn your attention to the second article titled "2. Designation Of Health Care Agent And Alternate Agents." The statement provided in this area requires some effort to be applicable to the appointment being made. To begin, make sure your identity is supplied to the first blank line of this statement. Locate this line after the language "…Informed Consent To Health Care, I" then display your full name as its content. This will allow you to assume the role of the Washington Grantor of medical decision-making authority. 

Step 4 – Identify The Washington Health Care Agent Who Shall Act In Your Name
The first line after the term "…Designate And Appoint" is reserved for the complete name of the Washington Health Care Agent. Furnish this information then proceed with the building number, street/road name or number, and (if relevant) apartment number of the Washington Health Care Agent's home "Address" on the next line. 

Continue producing the contact information needed to complete the Washington Health Care Agent's home "Address" with his or her "City," "State," and "Zip" code before concluding with the "Phone" number where the Washington Health Care Agent can be reliably reached.

Step 5 – Engage The Option To Name Alternate Washington Health Care Agents
If your Washington Health Care Agent cannot effectively represent you either because he or she is unable to or because he or she is unwilling to carry out your wishes. Should this occur when you are unconscious without a back-up set in place then Washington Doctors will be left without clear consent or instructions regarding treatment. Therefore, this paperwork allows for the appointment of a Successor to the Washington Health Care Agent. To be clear, the Successor Agent will not be granted principal power unless the role of the Washington Health Care Agent become vacant. A basic statement will enable this precaution but requires information to be complete. Find the term "In The Event That…" then populate this item with the name of the Washington Health Care Agent that you named above.

Use the two lines following the term "…Grant These Powers To" as a display area for the Successor Agent's "Name" and the first line of his or her home "Address."  

The statement being completed requires that the "City," "State," and "Zip" code from the second line of the Successor Agent's home address be recorded along with his or her "Phone" number.   

Should both your Washington Health Care Agent or Successor Agent be unable to fulfill the expectations of this role or is unwilling to act according to your directives then Washington Doctors can approach a Second Successor to the Health Care Agent role. This can only occur if you specifically authorize this action in this document and identify the next person in line for the Washington Health Care Agent role. To do so, seek out the next line labeled "Name" then report the identity of the Second Washington Successor Agent as its content and his or her street "Address" on the blank line that follows.   
The "City," "State," and "Zip" code where the Successor Agent's home street "Address" is found should be produced along with the Second Washington Successor Agent's "Phone" number using the final four lines of this statement.  

Step 6 – Review The Medical Decision-Making Powers Granted To Your Washington Health Care Agent
The third article, "3. General Statement Of Authority Granted," discusses the powers being granted along with its interaction with other documents. The language presented here contains the necessary authorizations for the Washington Health Agent to legally act as your Representative when delivering medical decisions regarding your treatment or care. 

Step 7 – Set Your Treatment Instructions In Writing To Your Agent(s)
If you wish to add extensions of powers (excluding the list of powers requiring a court order), place specific restrictions on what your Washington Health Care Agent may view, decide upon, or act upon in your name, or include definitive (or general instructions) to Washington Medical Staff and your Health Care Agent to better reach a decision on your care then use the blank lines provided in Article "4. Special Provisions" to include them in this granting of powers. If there is not enough room, you may use a separate document with a full record of you wishes, title it appropriately, physically attach this extra document, then report its title in this area. 

Step 8 – Furnish The Date You Execute The Washington Power Of Attorney For Health Care
Reviewers of this granting of power will wish to know if it is the most recent document you have issued naming a Washington Health Care Agent. Generally, the most recent power document issued is taken as the current intent of the Principal and an Advance Health Care Directive in Washington State will follow this rule (unless the courts decide otherwise). As such, record the date of the signing on the lines displayed after the words "Dated This." Present this date as a statement when utilizing these lines so that the two-digit calendar day, the full name of the month, and the four-digit year of your signing are established with this presentation. 

Step 9 – Formally Assume The Role Of The Health Care Power Grantor By Signing This Appointment
The line labeled "Grantor" and "Grantor's Signature" displayed beneath the documented signature date can only be satisfied by the Washington Health Care Declarant authorizing his or her principal power for the use of the above-named Health Care Agent and Successor Agents. Print your name on the first line ("Grantor") then sign the second line ("Grantor's Signature"). If you have performed this action before two Witnesses, then give this paperwork to the First Witness. If you have signed this document under the observance of a Washington Notary Public, then relinquish the signed directive to him or her. For your signature to be considered a valid one provided in good faith and with the (mandatory) power of informed consent then it must be performed either before two Witnesses or a Notary Public qualified to act as such in the State of Washington. 

Step 10 – Demonstrate The Satisfaction Of The Washington Witness Requirements
The Witnesses observing you signature must be qualified to testify to its authenticity by signature. Thus, each must read the "Witness Requirements" section which exclude parties related to you or the Washington Health Care Agent (i.e., blood relative, marriage, state registered domestic partnership, etc.), may not be anyone working for, with, or operating the any Health Care Facility, Provider, Adult Family Home, or Long Term Care Facility responsible for your care, and may not be any currently active Agent or Attorney-in-Fact. Once both Witnesses can verify that neither fall within these categories, they can sign a unique "Witness" signature line to support the authenticity of your signature. 

Step 11 – Display Acknowledgment Of This Signing By A Washington Notary Public
A distinct area has been provided if you have opted to have your signing notarized by a Washington Notary Public. He or she will fill in the area starting with the words "State Of Washington" with the Washington "County Of" the signing, the date this action was performed before him or her, and the identity of the Washington Health Care Declarant signing the Power of Attorney document to effect. Once done, he or she will then provide the signature, credentials, and notary stamp needed for notarization to be complete. 

Step 12 – Continue To The Washington Health Care Directive With Its Date Of Issue
The Washington Health Care Directive is set to deliver specific instructions over treatments you wish employed or refuse to consent to when you are unconscious and your death is inevitable. In this condition, you may wish to refuse certain treatments that Washington Doctors will use to prolong your life but are unable to do so because you cannot communicate. To take control of this situation before it occurs you can set your health care preferences to paper so that Washington Physicians and Medical Staff can act accordingly. The language set here is compliant with Washington State Law, thus, it should not be changed without the oversight of a qualified professional. You are not required to complete this section however if you have decided to include the Washington Health Care Directive with the Advance Directive, then begin by setting a specific date for these medical instructions to the blank lines following the term "Directive Made This." The day of the month (two-digit number), the month name, and the year of this document are expected as separate entries. 

Step 13 – Supplement The Washington Health Care End-of-Life Declaration With Your Name
Your name must be provided on the blank line immediately following the date you recorded for this document. This line is set in a declaration that will be assumed to be made directly by you to Washington Medical Responders and Physicians so make sure to record your full name on this line. 

Step 14 – Perform A Review Of The Instructions Being Delivered To Washington Physicians
Read through the lettered points of your declaration ("A" through "F"). It is important that you are aware of every point being made. The first declarations ("A" and "B") state your instruction to remove or deny life-prolonging procedures from being employed when you are incapacitated with no hope of recovery and have a fatal or incurable condition that will result in death (see Statement "A") and when you are in a "…Irreversible Coma Or Persistent Vegetative State, Or Other Permanent Unconsciousness" (See Statement "B"). 
Step 15 – Indicate Your Terminal Conditions Instructions To Washington Physicians
The lettered Statement "C" will discuss artifical nutrition and hydration being administered when you are in a "Terminal Or Permanent Unconscious Condition." If you authorize Washington State Physicians to ensure that you are well-hydrated and nourished even if food/liquids must be delivered through a tube or intravenously then select the blank line immediately after the choice "I Want." 

If you wish to refuse artificial nourishment and hydration when there is no other way to maintain these levels in your body, then initial the blank line after the words "Do Not Want." 

Lettered items "D" through "F" do not require any participation as the wording here will verify that you are aware of the ramifications of this directive, when it will be ineffective, that you are emotionally and mentally ready to issue this directive and you acknowledge your right to revoke this document at-will. 

Step 16 – Conclude Your Review Of These Instructions With Any Remaining Medical Directions
If there are any conditions you wish placed on the above statements, any preferences, or instructions that you wish followed when unconscious either permanently or during an end-of-life event, then you may use the blank lines "G) to deliver them. 

Step 17 – Obtain Washington Witness Testimony Or Notary Verification For Your Signature
You have already dated this portion of the advance directive in the first statement. When you are ready to put this document in effect, provide your signature (as the Washington Declarant) on the line labeled "Signed." 

Two Witnesses must sign the blank "Witness" lines underneath the "Witness Requirements" section. This is considered mandatory for your signature to be assumed as valid and delivered while mentally and emotionally competent. 

If this paperwork is being notarized to prove authenticity then, it will need to be signed by the Washington Principal before a Notary Public. This Entity may issue specific signing directions that must be followed at the time. When he or she is satisfied with the Washington Principal's signing actions, he or she will notarize this directive with a record in the Notary section on the final page then return it. The returned paperwork should display a verification of the location, date, and Washington Signature Principal's identity along with the Notary Public's seal, signature, and credentials.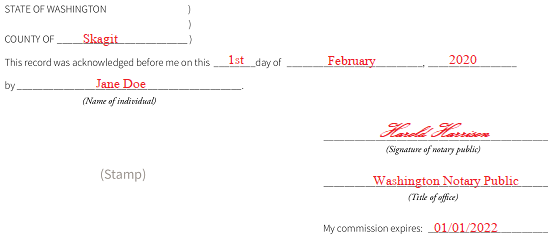 Related Forms
---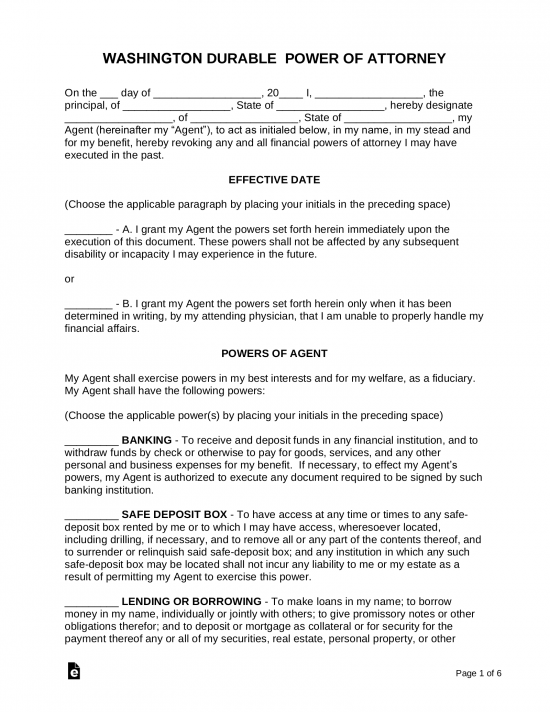 Durable (Financial) Power of Attorney
Download: Adobe PDF
---
Download: Adobe PDF, MS Word, OpenDocument