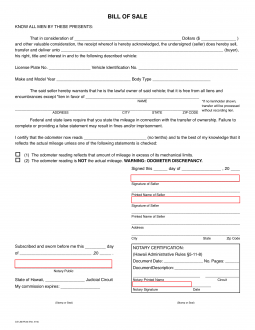 5.0 Stars | 7 Ratings
275 Downloads
Updated April 13, 2023
A Hawaii motor vehicle bill of sale (Form CS-L(MVR)40) establishes the formal purchase and sale of a vehicle between a buyer and seller in the State of Hawaii. A bill of sale will be required upon registering the vehicle under new ownership, along with an odometer disclosure statement and several other documents. Not only is it required, but it also serves as proof of the private transaction between two or more parties.
Signing Requirements – Both the buyer and seller must have their signatures notarized.
Registering a Vehicle
Hawaii law requires all vehicles to be registered under their rightful owner. Upon transferring ownership through a private sale, the seller and buyer must take appropriate measures to transfer the vehicle's title as well as the rights of ownership. The new owner must then register the vehicle with their respective county's division of motor vehicles, four of which are linked below. A renewal of a vehicle's registration is required annually.
There may be certain slight differences in requirements for the registration of a vehicle in the five counties of Hawaii. Contacting the Motor Vehicle Registration & Licensing Office to verify all information is highly recommended.
Where to Register
Hawaii residents will register at different locations depending on their county of residence. Below are the webpages of the main four counties' motor vehicle divisions:
Required Documents
The required documents may vary depending on the county. For more information visit dmv.org.