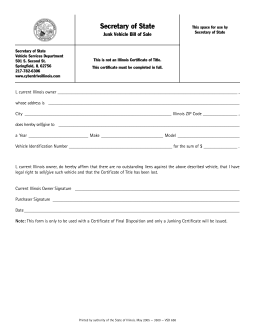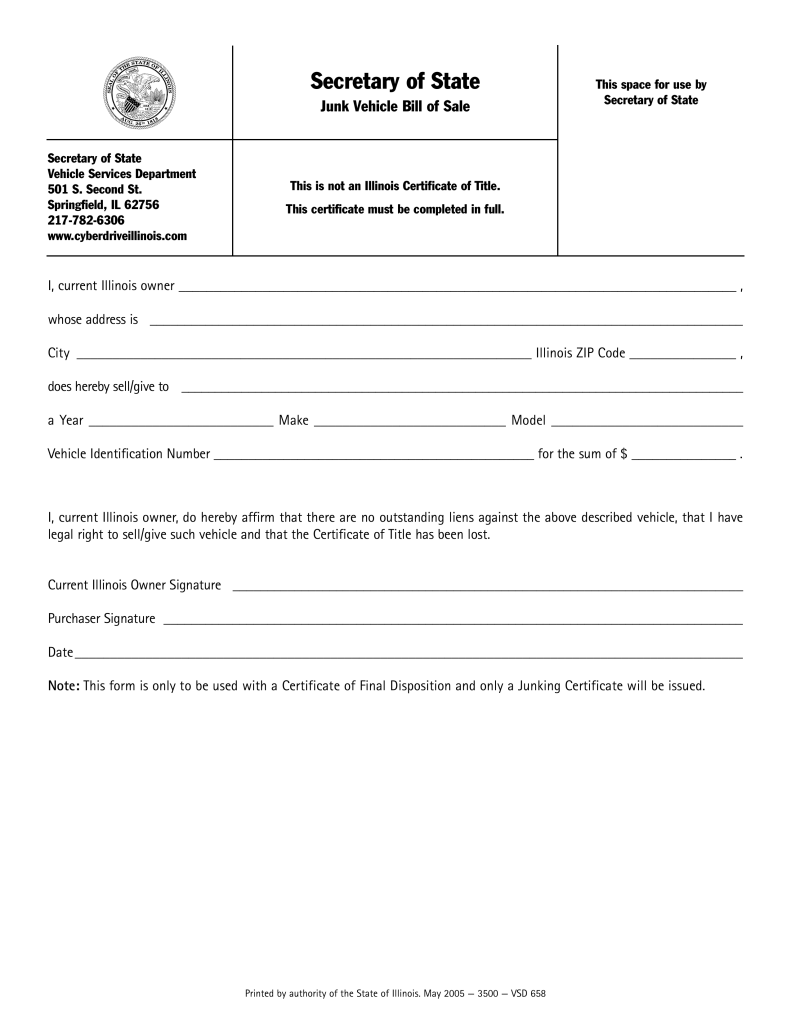 4.0 Stars | 5 Ratings
167 Downloads
Updated June 01, 2022
An Illinois junk vehicle bill of sale VSD 658 is a legal document that proves there has been a sale, purchase, or gifting of a junked vehicle in the State of Illinois. This document is necessary to finally disposition the vehicle for a certificate of title and registration. This form will prove the change of ownership. There is no notarization necessary with this document.
Register a Salvaged Vehicle in Illinois
Whenever a motor vehicle has suffered damage by accident, flood or in any way that would cause the cost to be more to repair than the vehicle's market value, it is generally declared salvage. It will be issued a salvage certificate of title and removed from the road―a salvage vehicle cannot be registered. However, If a licensed automobile re-builder performs all of the necessary repairs on a salvage vehicle that would bring it back to road-worthiness, then the "salvage" branding that has been placed upon the title may be changed to "rebuilt." The vehicle may then be registered and used again.There will be steps that must be taken before a "rebuilt" title can be re-titled.
Where to Register –The Illinois Vehicle Code 625 ILCS 5/3-301 mandates that the Secretary of State Police physically inspect all salvage vehicles that are eight model years old or newer before a rebuilt title may be issued. You may visit one of the following inspection sites for the required inspection, go to the station closes to your county:
103 W. Roosevelt Rd. • Villa Park, IL 60181 • 630-693-0551
3710 Winchester Rd. • Springfield, IL 62707 • 217-557-2088
400 W. Main St. • Belleville, IL 62220 • 618-236-8755
Needed to Register – The following documents must be with you and presented before your inspection are as follows:
Properly assigned salvage certificate that is in the name of the re-builder and exactly as it appears on the re-builder's license
Upon arrival at the station – the odometer reading must be noted on the application
A properly completed application, in the name of the re-builder, for a rebuilt title presented
A properly completed salvage affirmation identifying all essential parts that have actually been replaced on the rebuilt vehicle
The original uniform invoices/bills for all essential parts changed, any junking titles/applications in the name of the re-builder for vehicles from which essential parts have been used to rebuild the salvaged vehicle
IDOT vehicle inspection report and properly affixed non-expiring sticker
A valid driver's license of the driver of the salvaged vehicle
Be prepared to pay all fees that must be paid by check or money order prior to the inspection of the vehicle.Be advised that cash will not be accepted
You will need a separate check or money order payable to Secretary of State for the $94 inspection fee
Another check or money order made payable to the Secretary of State for the $95 title fee
How To Write
Step 1 – Seller and Buyer Information – Enter the following in the spaces provided on the form:
The Seller –
Current Owner's Name
Physical Address
City
Zip Code
AND
Buyer's Name
Year
Make
Model
Vehicle Identification Number (VIN)
Sale Price
Step 2 – Signatures – The seller must read the statement in this section. If in agreement enter:
Seller's Signature
Buyer's Signature
Date of Signatures in mm/dd/yyyy format
As stated at the end of the form, seller and buyer must review "Note: This form is only to be used with a Certificate of Final Disposition and only a Junking Certificate will be issued".