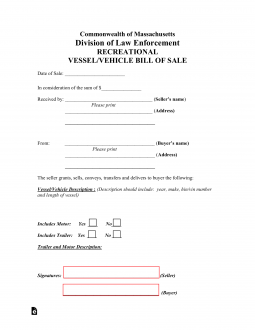 The Massachusetts Bill of Sale Forms are legal documents that provide proof that a sale and purchase transaction has legally taken place between a dealer and individual or two private parties. These forms will provide information with regard to the people making the sale as well as description of the item or items being sold and purchased. Some forms are required for registration of vehicle, boats, trailers etc… Some forms have to be notarized. If so, it's recommended that the signing parties withhold signatures until a notary is present to witness the signatures of the participating signatories.
Types
---
General Bill of Sale  – This form would usually be used to provide proof of sale and purchase between two private parties in the sale of personal items.
---
Gun Bill of Sale – To be used to provide proof of an agreement to sell and purchase a firearm. This form will prove change of ownership.
---
Vehicle/Vessel Bill of Sale – This versatile form may be used to purchase and prove a change of ownership of a motor vehicle or a vessel/boat, being sold and purchased.
---
Massachusetts Vehicle Registration Forms
New or used, dealer or private party, you will need to complete an  Application for Registration and Title (Form RMV-1)
New vehicles – Manufacturer's Certificate of Origin which must include date of the sale, odometer reading, purchase price amount, and the dealer's original signature on the back side of the form.
New or Used -A bill of sale and previous registration of the purchased vehicle
New or Used – Odometer Reading Statement
A photo ID (Driver's License)
Proof of MA auto insurance
You must have an inspection completed within 7 days of registration
You'll receive your new title within 8 weeks of registration
Massachusetts Vessel Registration Forms
For vessels 14 feet or longer provide the following in formation
Complete a Registration and Titling Application.
A bill of sale.
The title (used boats only)
Manufacturer's Certificate of Origin ( for new boats only
Proof of payment of sales tax.
You must acquire a pencil tracing of Hull ID number
Photo ID
Be prepared to pay all of the required fees
For vessels under 14 feet long-
You must complete a Registration and Titling Application.
A bill of sale
You will require proof of payment of sales tax
Acquire a pencil tracing of Hull ID number
Photo ID