Updated February 21, 2023
A Michigan bill of sale allows for the ownership transfer of personal property, commonly a vehicle, from a seller to a buyer. Unless gifted, the exchange must be for cash or trade. The buyer and seller are required to sign the document after the transaction is complete.
The buyer must maintain a signed copy if they are to register the property post-sale (i.e. for vehicle transfers).
Forms (5)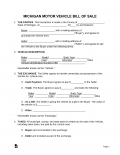 Vehicle Bill of Sale– This form will show proof of sale and purchase of a motor vehicle. It will show a change of ownership and is generally needed to register a vehicle.

Download: Adobe PDF, MS Word, OpenDocument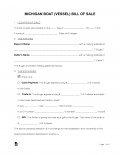 Boat Bill of Sale – This form would be used to provide legal proof of purchase and change of ownership of a vessel/boat.

Download: Adobe PDF, MS Word, OpenDocument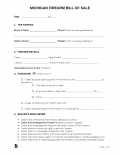 Firearm Bill of Sale – Used to prove sale and purchase, as well as a change of ownership of a firearm of any kind.

Download: Adobe PDF, MS Word, OpenDocument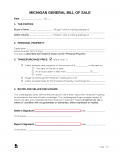 General Bill of Sale – For personal property and can be used in any circumstance when transferring its ownership.

Download: Adobe PDF, MS Word, OpenDocument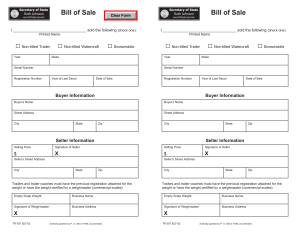 Trailer/Watercraft/Snowmobile Bill of Sale – To be used to provide proof of sale and purchase of any Trailer, Watercraft or Snowmobile. This document will prove a change of ownership.

Download: Adobe PDF
Vehicle Registration Forms
Boat Registration Forms
Certificate of Title; and