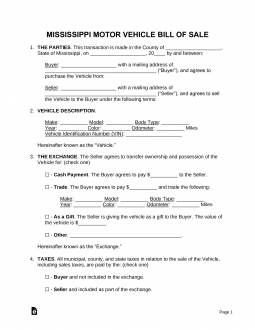 The Mississippi Bill of Sale Forms are considered legal documents that will establish proof of sale for any type of vehicle, boat/vessel, or any number of items for sale by a dealership or individual. These documents will also prove a change of ownership and will provide various articles of required information. Some documents require notarization.
Types
---
Boat Bill of Sale – This form would be used for the sale and purchase of a vessel and will establish a change of ownership.
---
General Bill of Sale – This document is most usually generated between two private parties for the sale, purchase, and change of ownership with regard to personal items.
---
Gun Bill of Sale – This would be used to provide legal proof that a firearm has been sold and purchased, therefore proving a change of possession.
---
Vehicle Bill of Sale – This form is to be used to show proof that a vehicle has been legally sold and purchased. Also establishes a change of ownership and is often a necessary document needed for registration.
---
Mississippi Vessel Registration Forms
You must have completed a Mississippi Motor Boat Registration Application – Should you be unable to download and print one for any reason, you may acquire this application from a county tax collector's office, a Mississippi Department of Wildlife, Fisheries, and Parks office, or nearly any vessel/boat dealership.
A copy of a notarized bill of sale (or dealer's invoice)
If your vessel/boat has been purchased outside of the state, you will need a copy of a paid Mississippi tax receipt
A check or money order payable to the Department of Wildlife, Fisheries, and Parks
Mississippi Vehicle Registration Forms
A vehicle title that has been signed over to you from the previous owner
A bill of sale
Photo ID – State issued ID or Driver's license
The Vehicle Identification Number (VIN)
An accurate Odometer Reading (in miles)
Proof of auto insurance
Be prepared to make all required payments in order to achieve vehicle registration