Updated September 12, 2023
A Mississippi bill of sale is an official document that recognizes the sale of personal property. It includes the details regarding the sale, such as the parties involved, purchase price, date of sale, and a property description.
The buyer must keep a copy for their records and if they decide to register (if a motor vehicle).
Forms (4)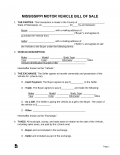 Vehicle Bill of Sale – To prove that a vehicle has been legally sold and purchased. Also establishes a change of ownership and is often a necessary document needed for registration.

Download: PDF, MS Word, OpenDocument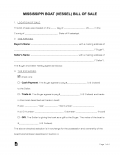 Boat Bill of Sale – This form would be used for the sale and purchase of a vessel and will establish a change of ownership.

Download: PDF, MS Word, Open Document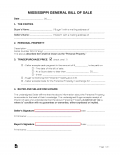 General Bill of Sale – This document is most usually generated between two private parties for the sale, purchase, and change of ownership with regard to personal items.

Download: PDF, MS Word, OpenDocument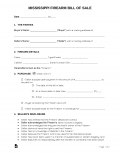 Gun Bill of Sale – This would be used to provide legal proof that a firearm has been sold and purchased, therefore proving a change of possession.

Download: PDF, MS Word, OpenDocument
Vehicle Registration Forms
Boat/Vessel Registration Forms