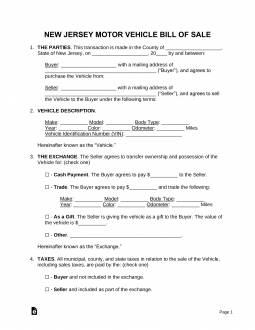 The New Jersey Bill of Sale Forms are legal documents that will provide proof that a legal transaction has been executed. The forms will provide specific information with regard to the sales and purchases being transacted, seller and buyer information, change of ownership and more. Some documents will require notarization.
Types
---
Boat Bill of Sale – Required if a new owner would like to register their watercraft and prove a sale.
---
Firearm Bill of Sale – For the record-keeping of both parties so that a receipt for the transfer can be provided.
---
General Bill of Sale– A standard form that may be used to transfer any type of personal property.
---
Vehicle Bill of Sale – Required by the Vehicle Commission Office to register a new or used car/motorcycle.
---
New Jersey Vessel Registration Forms
A bill of sale
A completed boat registration application (Form BA-51), that is currently available at any NJ MVC office
Proof of age and identification
Be prepared to pay any registration fees
New Jersey Vehicle Registration Forms
The vehicle title
A bill of sale
Proof of auto insurance
An Odometer Reading statement
Proof of identification/driver's license
Receipt to prove payment of sales tax if you've just purchased the vehicle
If you're new to the state you will require a safety and emissions inspection
Be prepared to pay any registration fees