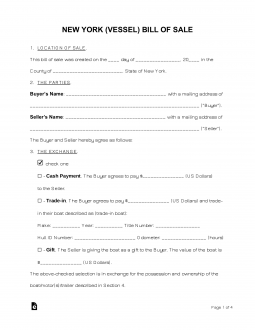 The New York Boat Bill of Sale is a legal document that will provide proof that a boat in the state of New York has been properly and legally sold and purchased. This form will provide needed information with regard to the seller and the buyer will provide proof that the vessel has changed ownership. The form will also provide identifying factors regarding the vessel. This form must be notarized for authentication.
Register a Boat in New York
In the state of New York, your boat must be registered to operate in New York Waterways
Where to Register – You will need to apply in person at any New York Department of Motor Vehicles (DMV) office to register.
Needed to Register – Gather the following documentation to register your boat:
How to Write
Step 1 – Seller and Buyer Information – Each party must enter their respective information:
The Seller – 
Name
Driver's License Number
Physical Address
City
State
AND
The Buyer –
Name
Driver's License Number
Physical Address
City
State
Step 2 – Vessel Detail – Enter the required information regarding the vessel:
Make
Length
Year (the vessel was built)
Hull ID Number
Registration ID Number
Odometer Reading (hours)
Title Number
Will a Trailer be included with the sale? (check yes or no)
If Yes – Enter the Make and Year
Will an Outboard Motor be included with the sale? (check yes or no)
If Yes – Enter the Make, Year and Horsepower (HP)
Step 3 – Purchase Price – Check all boxes that apply to this transaction:
Selection of this box will indicate the desire of the seller to only accept monetary payment – Enter the worded dollar amount
Enter the dollar amount in numbers
Enter the date that the parties have agreed that payment will be made, in mm/dd/yyyy format
Submit the date in which this document will be known as completed, in mm/dd/yyyy format
Check the box if it has been decided that the parties agree that payment will be due on a later date, enter the date in mm/dd/yyyy format
Other – Should the parties decide on other arrangements with regard to the agreement, enter a summation of the agreement
Select the box if the boat is a gift to the buyer
Check the final box if it is agreed between the parties that this will be an even trade. Enter any information with regard to the trade agreement
Step 4 – Seller's Disclosure – The seller should carefully read the statements:
If, in fact, there are any known defects with the vessel, disclose the defects here
The seller may then proceed to provide their signature in agreement on the "Seller's Signature" line
Step 5 – Signatures – If all signing parties are before a notary public provide the following:
The Seller –
Signature
Print Name
AND
The Buyer –
Signature
Print Name
AND
The Witness –
Signature
Print Name
Step 6 – Once the notary had witnessed all signatures, he or she shall then complete the remaining portion of the document and affix the state seal
Make copies for record keeping
Make the original available to the buyer