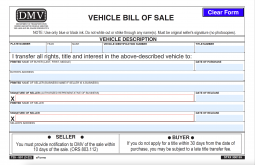 4.8 Stars | 19 Ratings
379 Downloads
Updated September 18, 2023
An Oregon bill of sale details a transaction between a buyer and seller for the purchase of personal property (most commonly a vehicle). It represents an official record of a transaction that took place and the exchange (cash or trade). A bill of sale should be completed at the time of sale and any Certificate of Title that may exist should also be transferred.
Forms (4)
Vehicle Registration Forms
A Bill of Sale;
A valid driver's license;
Payment of all licensing, title, and registration fees;
Proof of compliance with Oregon's minimum insurance requirements;[1]
For vehicles ten (10) years old or less, an Odometer Disclosure Statement;
For vehicles with fewer than 7,500 miles and of the model year 2009 or newer, proof of compliance with Oregon's Low Emissions Vehicle Requirement:[2]

Hybrid, electric, and government vehicles are automatically exempted; others that do not meet the requirement must file a Declaration of Exemption;

For vehicles new to Oregon:

Some kind of original ownership documents, such as the title from the state where the vehicle is coming from for used cars or the Manufacturer's Certificate of Origin for new cars:

Used cars new to Oregon will require a Vehicle Identification Number Inspection that may be scheduled at the local DMV Service Center;

Vehicles new to Oregon and belonging to people living in the Portland Metro Area or Rogue Valley Area will need to pass an emissions test conducted by the Department of Environmental Quality to obtain and submit a Certificate of Compliance;
For vehicles acquired outside the United States:

For the transfer of vehicles within Oregon:
For vehicles that are not purchased but bequeathed through an inheritance, proof of the previous owner's death and information regarding the probate status of the estate. View the state's Inheritance Affidavit.
If the vehicle was at some point subject to a lien, proof of a lien release on the exchanged title. Unlike other states in which a recorded lien will follow a vehicle, Oregon does not allow the sale or donation of vehicles subject to a lien;[3] and
A Motor Vehicle Power of Attorney Form if an agent is buying the car on the owner's behalf.
Boat Registration Forms
A Bill of Sale;
Buyers of new boats will need the manufacturer's statement of origin;
Buyers of used boats with existing titles, either from Oregon or another state, will require that title signed over to them;
If the boat was purchased in Oregon, but if the title is unavailable, use the Lost or Replacement Boat Title Application;
For houseboats and those lacking title, proof of a Hull Identification Number (HIN) inspection from Marine Law Enforcement;
Payment of all registration fees per this fee schedule;
Firearm Registration Forms
You must be a U.S. citizen or a legal alien who would have the ability to document continuous residency in the United States for at least six months and have declared, in writing, to the Immigration Naturalization Service, your intention to acquire citizenship (Form N300);
You must be at least 21 years of age and have the ability to provide proof by way of state identification;
You may have no legal condition that would prohibit you from possessing a firearm under State or Federal law;
You may have no outstanding warrants for your arrest;
You may not have been dishonorably discharged from any of the Armed Services branches;
You may not be an unlawful user (documented or known) of or addicted to a controlled substance;
You may not be on any form of pre-trial release of any kind;
You  may not be required to register as a sex offender in any state in the United States;
You may not have been convicted of any misdemeanor or found guilty of a misdemeanor within four years before application of a firearm, except under ORS 161.295;
You may in no way be subject to any citation issued under ORS 163.735 or an order issued under ORS 30.866, 107.700 to 107.723 or 163.738 i.e., stalking or any restraining Orders;
 You must demonstrate competence with a handgun by any one of the following means:

Completion of any hunter education or hunter safety course approved by the State Department of Fish and Wildlife or any similar agency of a state if handgun safety was a required component of the course;
Completion of any National Rifle Association firearms safety or training;
Completion of any firearms safety or training course or class. It must be available to the general public. The course may be offered by law enforcement, community college, or private or public institution or organization, or firearms training schools;

Instructors must be certified by the National Rifle Association or any law enforcement agency, especially if handgun safety was a required  component of the course;

Proof of identification; and
Licensing fees.
Sources