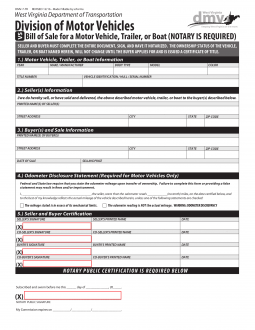 4.4 Stars | 20 Ratings
214 Downloads
Updated June 23, 2023
West Virginia bill of sale forms are legal documents that record the sale of property. A bill of sale should identify the buyer and seller, describe the property changing hands, and outline the terms of the sale. The forms should be retained for tax purposes, and are often required as part of the registration process.
Forms (3)
Vehicle Registration Forms
For vehicles less than 10 years old, an odometer disclosure statement
Proof of auto insurance meeting the state Insurance Commissioner's minimum requirements

$25,000 for an injured motorist
$50,000 for injuries per accident
$25,000 for property damage

Driver's license or state ID
Payment for all required fees and taxes
Proof of inspection from the West Virginia State Police, unless the car is relocated from a state with inspection reciprocity
Boat Registration Forms
A completed Application for Certificate of Title of a Motorboat (Form MB-6), unless the boat is already titled in West Virginia
If the boat has been previously owned, the existing title signed over to the buyer, or, if never titled or coming from a state that does not title boats, the previous owner's registration statement
For purchases from states that do not title boats, a Hull Number Certification completed by a state police officer
For boats with motors greater than three horsepower, payment of all registration fees. Registration fees vary depending on the length and class of boat.