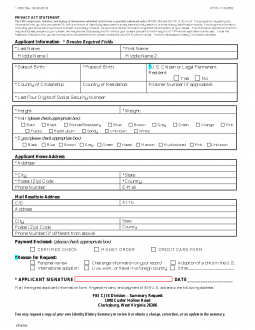 4.6 Stars | 40 Ratings
755 Downloads
Updated December 07, 2022
An FBI criminal background check form, otherwise known as 'Form 1-783', allows an individual to obtain a certificate of their criminal history. This is common for federal jobs, appointments, and for adoption. The applicant will need to fill in Form 1-783 and bring 2 copies of Form FD-258 to a certified fingerprint location.
Certified Fingerprint Locations
LiveScan Location (state-by-state) – $50 (processing time: 3 business days1)
Standard Location – $18 (processing time: 2-4 weeks2)
Forms
FBI Background Check Authorization Form 1-783 – Enter the personal details of the applicant.
FBI Fingerprint Form FD-258 – For the submission of fingerprints. If sent by mail at least 2 different copies should be conducted at the LiveScan or Standard Location.
Credit Card Authorization Form – Attach and enter the credit card details to be used for the $18 fee. Otherwise, the applicant may also send a Certified Check or Money Order made to the "Treasury of the United States". Checks are not allowed.
Request Release (Attorney) – If the applicant would like the criminal history report to be sent to their attorney they may do so by sending this form along with the application.
How to Get an FBI Background Check
Step 1 – Download Forms 1-783 and FD-258
Form 1-783 – Use to enter your personal details.
Form FD-258 – Print at least 2 copies as your fingerprints will be placed on these forms. Due to smudging the FBI requires at least 2 copies. The applicant may feel comfortable making more copies as it won't be accepted unless all 10 fingers have clear prints.
Step 2 – Find a Certified Fingerprint Office
If you are located near a metropolitan area there is a good chance a LiveScan Location is near you. This will allow you to send off your application to the FBI electronically and immediately. Otherwise, a Standard Location is required.
The fee for obtaining your fingerprints is $20
Step 3 – Mail the Application
If you were not able to find a LiveScan Location, then you will need to mail your application.
You will need:
MAIL TO
FBI CJIS Division – Summary Request
1000 Custer Hollow Road
Clarksburg, West Virginia 26306